Connection Logistics – 'Small enough to care but big enough to cope'.
20/11/2023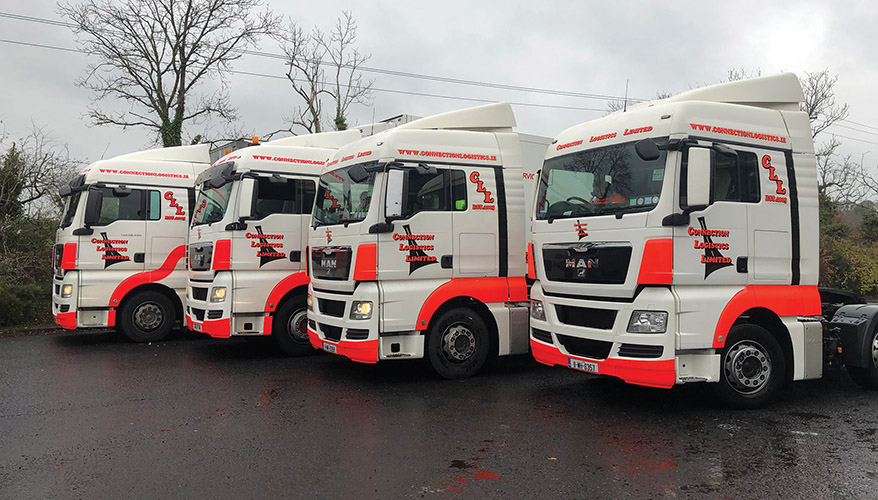 Operating out of Summerhill, Co Meath, Connection Logistics Ltd provides both high quality frozen, chilled, and ambient courier services tailored to the food, pharmaceutical and medical industries. Irish Trucker touched base with co-director Alan Garnett to learn more about what is a thriving business at present and its plans for further down the road.
These are busy times at Connection Logistics Ltd and the plan for Alan Garnett and Shay Friery, along with the rest of the team in Summerhill, is to try and keep things that way for the foreseeable.
When the two co-directors founded their venture back in 2005, they did so with the ambition of providing clients frozen, chilled, and ambient courier services of the highest quality.
Today, Connection Logistics Ltd is an expert in this field while also providing freezer storage services on its premises, as well as a pallet, parcel, and envelope distribution service to the manufacturing industry.
Irish Trucker spoke with Alan Garnett to hear all about the state of business at the moment for the company and the recent additions made to its impressive vehicle fleet.
"We're out in Summerhill in Co Meath now, we have our own warehouses here," he outlined.
"We provide storage and distribution for the largest Japanese food supplier in the UK (Tazaki Foods Ltd), and we act as their hub for Europe.
"So, we moved out of our original premises in Blanchardstown – which had limited capacity and we moved out to a bigger place here in Summerhill five years ago, we now have two warehouses on the go at the moment."
Right now, Connection Logistics Ltd is operating with 26 full-time staff on its books and 30 vehicles including vans, rigids and tractor trailers in total in its fleet.
The wide variety of services it offers across different industries saw the company remaining busy throughout the Covid-19 pandemic, however, like for so many businesses, that period wasn't without its challenges. Connection Logistics were proud to be able to support the Feed The Heroes initiative which seen them deliver over 75,000 meals and 10,000 hampers to frontline staff during the lockdown.
As Alan himself explained, business is good but, at the same time, is also "tough" given the impact that the pandemic had in recent times.
"We're still in the recovery period after Covid," said the Dublin native.
"We were in a position after Covid hit where we had to stay open because we had a lot of pharmaceutical company work and, obviously, we do a lot of work for food companies as well, but business dropped considerably but yet we still had to service the customers that were open.
"So, we had a tough couple of years like everybody else had, and we're in the recovery period now and it's going quite well.
"That's why the fleet upgrades were put on hold for a while, but we've come back around now to being in a position to be able to upgrade them and we've purchased two tractor units, two units and a van and we also have another four vans on order. They're all MAN vehicles."
Indeed, MAN has been the first choice of vehicle for Connection Logistics Ltd since the company's inception 18 years ago.
Plans are currently in place for the fleet in Summerhill to be completely turned around over the next year-and-a-half.
"We now have 10 of the fleet that would be MAN and we just find them very reliable and good to deal with. They were able to turn the vehicles around for us very quickly as well," Alan pointed out.
"We find that it's reliability, availability, and price with the MANs. The three things go hand in hand."
He added: "We have the four vans ordered and some of them won't come in until the new year at this stage, but the plan is to change seven vans in total along with other tractor units.
"Obviously, we're not big enough to just change the whole fleet in one go. There's an 18-month plan there to change the whole fleet, so we have a lot more coming online."
At Connection Logistics Ltd, they guarantee a dedicated distribution service, and an order is tracked at every stage and its status can be communicated to customers however they choose.
The company also guarantees that its drivers and vehicles are smart, uniformed, and presentable, as standards of high quality are maintained throughout the operation.
All of that considered, the burning question is what has been the secret behind the success of this logistics firm to date?
How has a small start-up grown into what is today a thriving business with an excellent reputation amongst its clients.
"I'd like to think that we pride the business on reliability, honesty and respect," said Alan.
"Respect would be the biggest thing and that goes for both customers and staff. We have staff that are with us a long time and they're a genuinely great team of drivers and staff as well that's in the office.
"It's just a good atmosphere to work in and I think that filters down to the customers as well. We are reliable and I think that's why customers stay with us – it's that old saying 'small enough to care but big enough to cope'.
"In relation to customers, we have a lot of multinational customers that keep coming back to us, so we must be doing something right. We have recently signed a multi-year deal with one of the world's leading logistics providers Nippon Express in which we will provide contracted vehicles for the ground services of their Irish operation."
It certainly seems to be the case and, as it stands, the company is targeting further growth as it nears closer and closer to its 20-year milestone.
With the demand from big name clients such as Tazaki Foods Ltd having to be met, strength in numbers is the approach Alan and Shay are taking going forward.
"We're actively recruiting and advertising and the hope is to double the staff here in the next 24 months.
"With the growth of this Japanese food company that I was talking about, they've just recently transferred over their whole European operation to us, so that's going to bring increased business.
"Therefore, the intention would be to grow and double the number of drivers in the next 24 months, if we can get them."
Looking at the coming months for the business and into 2024, keeping up the trend of annual growth remains the priority for Alan, Shay, and the team in Summerhill.
"We'd just hope to continue the growth and steady pattern and, as I say, keep the fleet up to date.
"We want to keep our fleet modern and hopefully keep providing the high quality of service we have been for the customers. As well as that, maybe add a couple more new customers to the pool which would be great.
"We were established in 2005 and, since then, we've grown year on year and we just want to continue that trend and keep pushing forward," Alan concluded.
Fantastic to hear.
Connection Logistics Ltd
Unit 5a Summerhill Enterprise Centre,
Summerhill,
Co. Meath,
A83 P599.
Tel: 01 899 1015
Shay Friery – 087 834 2163
Alan Garnett – 087 237 5395
Fax: 01 899 1015
Email: [email protected]
First published in Irish Trucker magazine Vol 26 No 6, October/November 2023