Crowley Transport - a family business to its core  
16/11/2023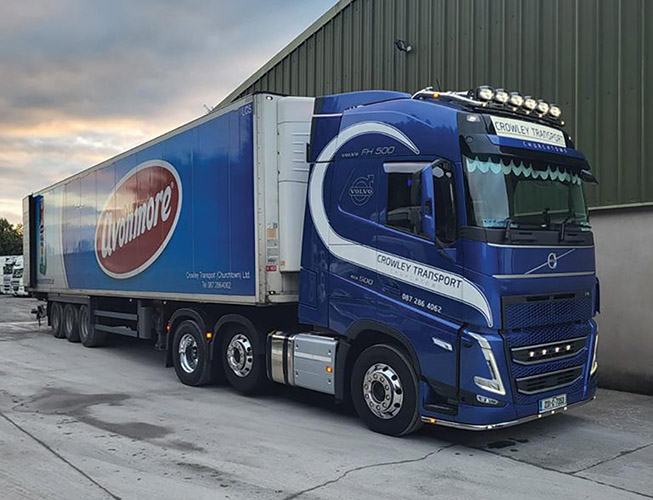 Operating out of Churchtown, Mallow, Co Cork, Crowley Transport Ltd offers a refrigerated transport service using its fleet of excellent lorries that are maintained to top standards by main dealer McCarthy Commercials Ltd. Irish Trucker spoke with Managing Director Liam Crowley about the firm which has its main contract with Tirlán (formerly Glanbia), while also providing a modest warehousing service for customers as well.
These are busy times at Crowley Transport Ltd and the plan for Managing Director Liam Crowley and the team in Churchtown, Mallow, Co Cork is to try and keep things that way right through to next year.
With 12 full-time on its books, this family-run company specialises in a refrigerated transport service which is second to none and primarily for Tirlán.
Liam Crowley's son Adam is an integral part of the company and he's heavily involved in the day-to-day running of the business.
All in all, it's very much a family firm down in Churchtown and Liam himself took some time from a busy schedule to fill Irish Trucker in on the details of a company which is thriving at the present time.
"We're based in Churchtown, Mallow, Co Cork and I have a yard in Ballyhea as well near Charleville," he outlined.
"The company is established since 1995, it was my father, Michael John Crowley, that set-up the company first. There are 10 full-time drivers and myself and Adam as well."
He continued: "Our main contract here is with Tirlán. We're all full-time with that. It's refrigerated (transport) to their secondary networks, delivery from their depots out to the milk delivering agents.
"I do a bit of the ingredients of butter, cheese and that kind of stuff from Ballyragget and Portlaoise. It's more Portlaoise than Ballyragget I would do."
The origins of Crowley Transport Ltd date back to a time when Liam Crowley himself first got out on the road and began driving part-time in the family business.
The Co Cork native had followed in the footsteps of his late father Michael John Crowley by entering into the transport game and later joining up with the business on a full-time basis.
Now, some decades later, he's running his own show.
"I've been involved in driving all my working life more or less and always had an interest in it," said Liam.
"I worked as a production manager with the Kerry Group in Limerick and I always had the haulage license for the family business in my name.
"When the factory closed down then, I started off with two trucks and a van doing the runs for Tirlán and, basically, built it up to where it is today.
"We have 10 trucks now, two vans and two rigids on the road at the moment."
Two new Volvo FH Turbo Compounders have been added to the yard in Churchtown where all of the machinery is maintained to the highest standard, as Liam explained.
"The arctics I have here are all Volvo, I have a DAF rigid and a Mercedes rigid. The rigids do short deliveries for Tirlán," he said.
"I added two new Volvos here recently and I have another one on the way in the next few weeks as well. Two Turbo Compounders FHs and I bought an unlimited edition one in 2011. I took a chance on it and the fuel consumption has been outstanding on them.
"The turbo compounders are way different to drive, but they're very economical if you have good drivers on them and they're driven properly.
"So, I bought one in 2011 and I bought two more three months ago and I have another one joining the fleet soon.
"They're an excellent lorry, very reliable and you get a good service as well from McCarthys and I have a good relationship with the staff in Clonlara and the Sales Manager there, Micheál Walsh."
It's all necessary in order to ensure that the demand from the company's clients is met.
As Liam himself says, things are "very busy" at the moment for Crowley Transport Ltd and the aim is to try and keep things that way for the foreseeable.
Along with its long-standing work with Tirlán, the business also offers "a small bit of warehousing", with companies like O'Brien Refrigeration and Western Brand currently availing of the service which is operated from Ballyhea.
All of that considered, the burning question is what has been the secret behind the success of Crowley Transport Ltd to date?
How has a small start-up grown into a thriving transport company which holds an excellent reputation amongst its customers?
For Liam, much of it comes down to the quality of service and he credits his staff, in particular, for delivering it year-round.
"The reliability I think has a lot to do with it. All of my drivers are with me a long time and they know the job," the Managing Director pointed out.
"You need to know the business and you have to have fellas trained up to do it. We have the right fellas here to do it.
"All my drivers are with me since I became Managing Director of the company, so that's 2010/11, and I have three or four that have been with me since the very start. They're very good drivers and reliable as well."
He added: "Staff have been loyal to me and they've been with me for a long time now. The working relationship I have with Tirlán is because of them because they do a great job for me week in, week out."
Looking at the months ahead for the company, Liam says he's very much optimistic for what's around the corner.
Business is good and, with two new Volvos on the road, you can be guaranteed that the trend of an excellent service will continue to flow at Crowley Transport Ltd.
"I've updated the fleet and, hopefully, things will work away for the next three or four years. If we can keep going as we are at the moment, I'd be happy enough," he concluded.
Crowley Transport Ltd
Churchtown,
Mallow,
Co Cork.
Mobile: 087 286 4062
First published in Irish Trucker magazine Vol 26 No 6, October/November 2023