A prompt, flexible and efficient oil distribution service
13/11/2023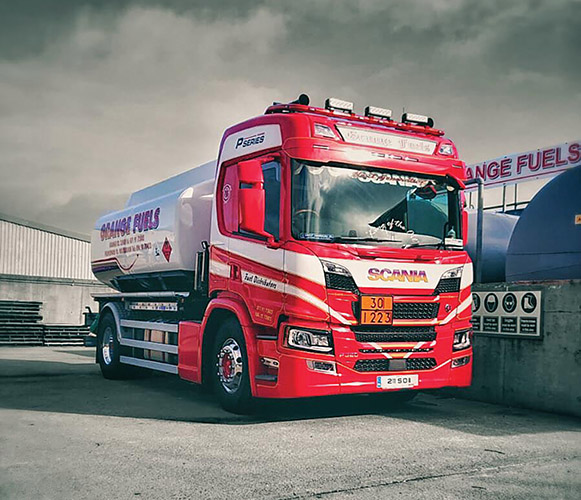 Established 15 years now, Grange Fuels is an independently owned oil distribution company operating out of Grange, Co Sligo. Irish Trucker spoke with Managing Director Trevor Farrell recently to hear about the recent additions made to his fleet and the overall state of business at the moment.
Having started from humble beginnings, Grange Fuels has grown to become of the leading kerosene, diesel (green and white), petrol and gas oil suppliers to the domestic, agricultural and industrial sectors in the country's North West region.
The company currently employs five full-time staff and has six vehicles on the road, including four rigids and an arctic which draws fuel out of Dublin.
Since 'Day One', it has been committed to providing its customers with a prompt, flexible and efficient service six days a week, delivering to all areas throughout Co Sligo and to north Roscommon, east Mayo, north Leitrim and south Donegal.
Irish Trucker heard more from Managing Director Trevor Farrell on what they've been up to lately out in Grange.
"Last year was as good as any for us. I don't see any difference in the last 10 years here," he outlined.
"If anything, I would say that the last five years have been the same anyway and the only thing really is that the price of fuel is a disaster.
"The biggest problem is that it's expensive for people, but it's the fuel companies that enviably have to carry the credit and pray that the price of it comes down because the cheaper it is the better it is for everybody.
"It's gone up 16 cent a litre in the last two weeks. Do I see it coming down? I hope and pray that it does. Three months ago, it was down and I was hoping that it would stay down, but nobody knows and it's relentless at the minute, especially for hauliers."
Indeed, hauliers have taken the hit as much as anyone when it comes to the rising cost of fuel.
As for heating oil, last year was one of the toughest for customers and Trevor himself saw it first-hand.
"On the heating oil side of things, last year was tough on people; there's no two ways about it," said the Roscommon native.
"The price of it was absolutely insane. It eventually did come down at Christmas and then everybody wanted it in the month of December and that's what I'm saying.
"You'll do the same amount of stuff every year but it all depends on trends and different things – if people buy early, it's easier on us and, if they leave it to the last minute, everybody wants it at the same time.
"That's the other side of this game, when we're busy everybody's busy. Yet, if everybody leaves it late to buy, there's an influx and some people won't have their kerosene for Christmas Day and that does happen.
"Other crowds won't take a delivery the week before Christmas, whereas we'll take a phone call on Christmas Eve and we'll go out to you. It's the nature of a smaller business too, as in when the pressure's on you have to push it and that's just it. You have to get it done."
Grange Fuels have made a habit of getting the job done to its customers' satisfaction over the past decade-and-a-half and continue to do so to this day. It's able to do this through having an excellent team of drivers which operate a top-quality fleet.
The company continually invests in the latest technology and its delivery trucks are installed with electronically controlled metering systems which record the exact time of start and finish of each delivery, guaranteeing received quantities.
Trevor revealed details on some of the additions which have been made to the fleet as of late.
"We added a fairly special truck in 211, there's no two ways about it. There aren't too many oil trucks with leather seats, alloy wheels, the works," he stated.
"The driver himself actually organised the ordering of it and I didn't care what was on it to be straight up with you.
"It's probably one of the first hi-cab 4x2 rigid oil lorries that was built in the country. I see a few more have done it since and so far, so good."
And as Trevor explains, they are well looked after when it comes to sourcing new additions to the fleet: "James and Kevin in Cawleys sourced the last truck for us and then Alan and Brian in Culkins in Ballina built our last new tanker."
So, the burning question is, what has been the secret behind Grange Fuels' success to date?
How has a small start-up grown into a thriving fuel supplier in the north west region that holds a golden reputation amongst its customers?
For Trevor, he cites two qualities in particular that have stood to the company since the very beginning back in 2008.
"I'd say same day service and reliability," said the company's founder. "We're same day service in the winter time and nearly every 24 hours wouldn't pass when we have a delivery done. That's the reality and we might get mentally busy, but we don't get snowed under.
"I've drivers here, one of them is 26 years at oil now, and there's another lad there the last 12 years, so these lads know the business they're in probably better than myself at this stage.
"It is down to your drivers and they're prepared to go the extra mile when the pressure is on. They're not looking at the clock and saying 'I have to get home', it's a case of 'I have to get all this done before Friday or Saturday'.
"That's more or less it and, after that, we provide a service in the same area every day, so we're always passing your door, and if you ring me at 9 o'clock in the morning you could have fuel at 9.10am depending on the trucks in the area. It works and that's it."
Looking at the coming months for his venture, Trevor's as optimistic as ever as he simply hopes to see more of the same business-wise.
"If it's as good as the previous 15 years we've been in business, I'll gladly take it," the Managing Director concluded.
Grange Fuels
Grange,
Co Sligo.
Tel: 071 917 3805
Fax: 094 987 0453
Email: [email protected]
Web: grangefuels.ie
First published in Irish Trucker magazine Vol 26 No 6, October/November 2023