Breen Transport: 'You call – we haul'
09/11/2023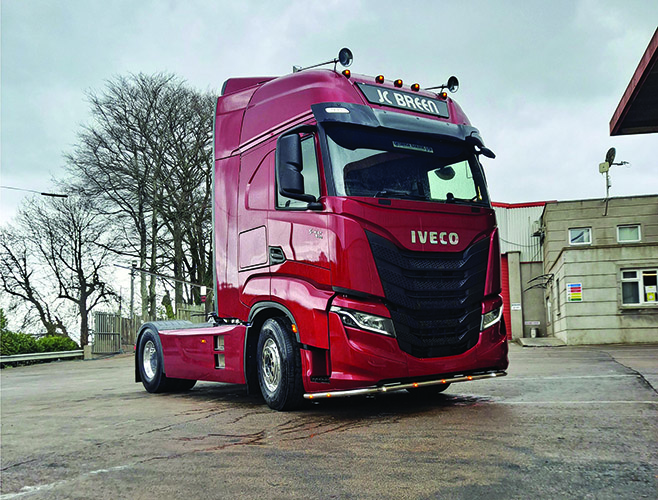 Breen Transport, also trading as JC Breen & Co Ltd, has been offering first-class transport solutions to a wide range of clients since 1986. From humble beginnings when the late John (JC) Breen started out with one truck and one other driver transporting poultry manure for the mushroom industry, the family-run business has grown to employ 94 people, and runs a fleet of 50 trucks and 38 trailers.
Based in Ballydonegan, Ferns, Co. Wexford, Breen Transport offers a nationwide next-day groupage delivery service. This is made possible through its alliance with JMC Van Trans and Ace Express Freight. The transport company is JMC Van Trans' service partner for Co. Wexford and also services the entire South-East region for Ace Express Freight.
Nick Breen took up the reins following his father John's passing in July 2020 and runs the business along with his brother Barry, sister Ashleigh, mother Teresa and brother-in-law Rainsford Kidd. The family is supported by a top-class and highly-motivated team of drivers, warehouse operatives, mechanics and administration personnel.
"My father set up the company 37 years ago and it's still very much a family business to this day," Nick proudly states.
"Barry looks after yard maintenance, Ashleigh looks after customer service and Teresa works in accounts. Ashleigh's husband Rainsford, better known as 'Rainy', is our head mechanic. We're fortunate to have some great people working for us who will always go the extra mile for our customers. It's all about customer service and teamwork."
The affable managing director continues: "Our core service offering is a nationwide next-day groupage delivery service. We have formed successful partnerships with JMC Van Trans and Ace Express Freight, and their hub networks, which allows us to meet our commitment of next-day delivery to our customers. With our own fleet, we service the South-East region for both collection and delivery, and tranship to those central hubs.
"We deliver between 600 and 800 consignments a day which gives you an idea of the scale of our operation."
Breen Transport also offers storage and 'pick and pack' services to customers at its 40,000 sq. ft. warehousing facility in Ballydonegan. One of the companies that avails of these services are Tirlán, formerly known as Glanbia.
"We look after the storage and 'pick and pack' for all their Gain dog food. The dog food comes in from Belgium, France & the UK and we pick, pack and deliver nationwide. We also collect the Tirlan online orders from Portlaoise and deliver these nationwide too. We distributed over 4,500 pallets of Gain for Tirlán in the first three months of this year," Nick explains.
"In recent times and with our proximity to the ever-expanding Rosslare Euro Port, we have pivoted into offering some transhipping and cross docking services. For example, we have offered a cross docking service to P&D Foley Transport, who transport frozen and ambient goods mainly to Scandinavia, while their new warehouse in Newbawn has been under construction. This temporary arrangement has helped our business and their business to grow.
"Our rigid and articulated refrigerated and curtainsider units allow us to provide services to a wide range of sectors. We transport hanging lamb for Irish Country Meats from their processing facility in Camolin. We also haul fruit and veg, and yogurt, into the retail sectors.
"In addition, we provide a nationwide groupage and bulk transport service for Burke Lubricants in Rathnew, Co. Wicklow. They are the largest importer and distributor of Mobil oil products in Ireland. Euro Blue Adblue in Clonroche and Halo Tiles in Camolin are other great customers of ours."
Breen Transport runs a modern fleet of Mercedes-Benz, Iveco and Scania rigids and artics. With every load being precious, the company is constantly upgrading its vehicles and recently took delivery of two new Mercedes-Benz Actros 1824 curtainsider rigids with tail-lifts from Somers Commercials in Camolin. The bodywork on both was carried out by Fitzgerald's Vehicle Body Builders in Cork. The second-generation logistics firm has also added a stunning new Iveco S-Way 530hp 6x2 artic to its fleet.
"We deal with Somers Commercials for Mercedes and Gethings Garage in Enniscorthy for Iveco. Both of them are on our doorstep and give fantastic service. We also have four or five Scanias in our fleet," Nick adds.
"All the fleet maintenance and repairs are carried out in house. We have four full time mechanics in the workshop, and nothing fazes them. We try to be as self-sufficient as possible in everything we do."
Breen Transport has come a long way since its inception in 1986. Within two years, it had expanded to a second artic truck and branched out to transport mushrooms across the UK for Walsh Mushrooms in Gorey, with back-loads of groupage from the UK into Dublin and the South-East.
In 1995, the company ventured into the courier industry and became a member of Nightfreight Ireland, handling groupage collections and deliveries in the South-East. It joined the ONCE NETWORK alliance in 2000 and eight years later delved fully into refrigeration transport, handling the distribution for Irish Country Meats and John B. Dockrell.
The company meets any delivery requirements, anytime, anywhere in Ireland and the UK. The fleet bears distinctive white curtain and red trim, and is always immaculately turned out. Behind the wheel of every Breen truck is a reliable, experienced and courteous driver. "Our drivers are the best in the business. They always deliver the goods," Nick asserts.
"The transport industry is ever-changing and every day brings a different challenge. At Breen Transport, we don't take things for granted and are not in any way complacent.
"The key contributory factors to our success is simply sheer hard work and commitment from a strong team of dedicated staff, from the professional approach of our drivers, the warehouse and garage personnel, customer service, operation and administrative teams who all keep this well-oiled machine moving."
As Breen Transport continues to go from strength to strength, Nick would like to take this opportunity to thank his clients and suppliers for their support as well as his team members for their hard work, dedication and expertise.
Breen Transport
Ballydonegan,
Ferns,
Co Wexford.
Telephone: + 353 (0)53 93 66486
E-mail: [email protected]
First published in Irish Trucker magazine Vol 26 No 6, October/November 2023