Dervla McKay appointed Managing Director of Go-Ahead Ireland
02/11/2023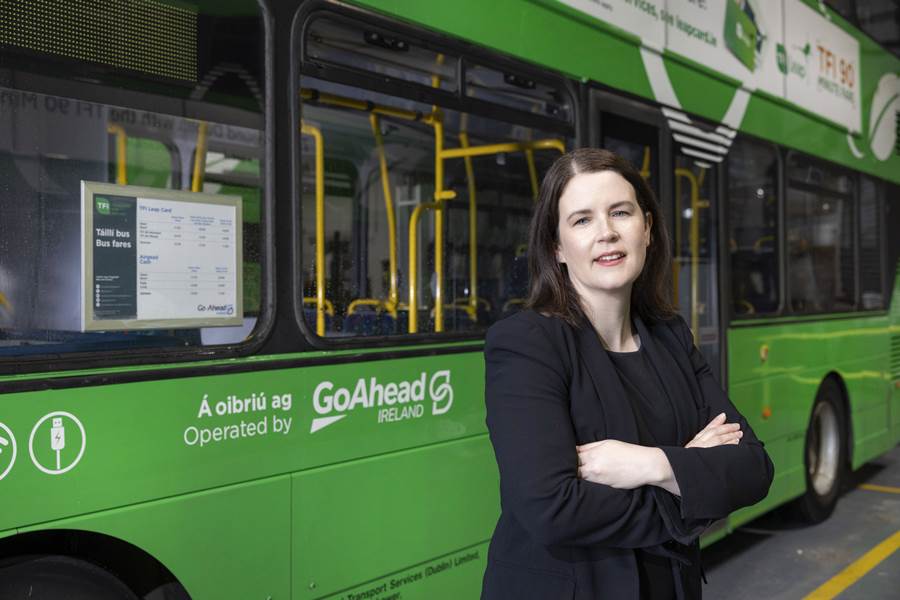 The Go-Ahead Group has appointed Dervla McKay as Managing Director of its bus company in Dublin, which operates services in and around the Greater Dublin Area.
Ms McKay, a Donegal native, joins Go-Ahead Ireland from her previous role as Managing Director of Aircoach and brings extensive experience in bus and coach operation across Ireland and England.
She took up her role last month and replaced Andrew Edwards, who moved to Go-Ahead London to become Operations Director after three years in Ireland.
With depot locations in Ballymount and Naas, Go-Ahead Ireland has a fleet of more than 225 buses operating on 33 routes and employs 760 colleagues. Go-Ahead Ireland was appointed by the National Transport Authority to begin running services in Dublin in 2018 and currently runs 28 services in the outer Dublin metropolitan area and five Dublin commuter routes, serving 14 million passengers per year.
Go-Ahead Ireland plays a key role in the NTA's BusConnects network redesign, and work is under way on expanding its Ballymount depot by 50% in readiness for new network routes. The company is also active in supporting its local communities and is the title sponsor of Dublin GAA's football, hurling, and camogie championships.
Upon her appointment, Ms McKay said: "Go-Ahead Ireland is an ambitious company which delivers great bus services to passengers, and I'm really excited to be taking on this new challenge.
"With the BusConnects network redesign comes the opportunity for Go-Ahead Ireland to demonstrate its continued dedication to providing safe, reliable, and accessible services for our customers.
"Go-Ahead Ireland is a trusted mobility provider across the Greater Dublin Area, and I'm thrilled to be at the helm of such an exciting business, one that continues to play an important role in Dublin's public transport."
Matt Carney, CEO of The Go-Ahead Group's bus division, said: "Dervla has an outstanding track record in the bus industry and an impressive depth of understanding of public transport in Ireland. It's a pleasure to welcome her on board.
"Go-Ahead Ireland has established itself as a successful bus operator in Dublin over the last five years. We're proud of the way we serve local communities and we have a terrific team in place.
"We look forward to investing further and building on the strong service we deliver to customers."