RIES supporting the vehicle recovery industry North and South
31/10/2023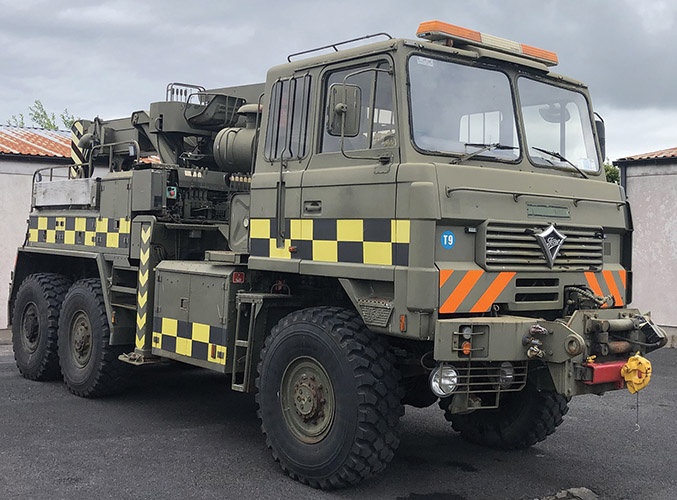 For coming up on two decades, Recovery Industry Engineering Standards (RIES) has been providing a specialist, value-added inspection service to the vehicle recovery industry across the island of Ireland. We touched base with their Engineering Surveyor for Northern Ireland, Eddie Burns,
Established in 2003 to provide professional services to professionals and operating across England, Scotland, Wales, Northern Ireland and the Republic of Ireland, RIES (Recovery Industry Engineering Standards) is a full-service organisation offering a range of inspection and accreditation services to the vehicle recovery industry.
Now with more than 400 clients – a number which continues to grow exponentially – RIES provides statutory inspections on recovery vehicles and also offers full LOLER / PUWER and pressure systems regulations certification for workshops.
RIES is the main organisation providing universally-recognised PAS43 [the specification for the quality working of vehicle breakdown and recovery operations] certification and LOLER and PUWER inspections which operates solely in the vehicle recovery industry, giving their assessors a clear knowledge advantage and unsurpassed experience.
Their cost effective services – including general applications inspections of recovery vehicles; general applications inspections of garage equipment; bespoke inspections for police forces; PAS43 certification; compressor inspections; ISO 9001:2015 accreditation; ISO 14001: 2015 accreditation; and OHSAS 18001 accreditation - are carried out efficiently and professionally by a team of assessors who are approachable, knowledgeable, credible and competent.
All inspections are carried out by engineers who are members of the Society of Operating Engineers or belong to equivalent professional bodies. Coming from a background of working extensively with recovery operators during his time working for the AA, Eddie Burns, Engineering Surveyor for Northern Ireland, boasts a wealth of experience of working within the vehicle recovery industry, which is invaluable when dealing with operators and carrying out RIES audits, which are effectively quality assessments of their vehicles, workshop equipment and systems.
While RIES is of course a business first and foremost, there is simply no escaping the fact that they provide an invaluable service to recovery vehicle operators on the island of Ireland. "Through our widely-recognised accreditations, we're helping them demonstrate that they are fulfilling their statutory and legal requirements, which of course must be adhered to," says Eddie.
"The accreditation essentially shows that they are running a high-quality business that is fully compliant. What we also do is provide that platform to their own customer base, who can see that accredited vehicle recovery operators are working to a standard that is recognised by the PSNI, An Garda Siochana, the AA, all the insurance companies and literally every motoring organisation. When we sign them off after an audit, what we are saying essentially is that their business is fit for purpose and everything is legal, safe and fully above board.
"Even private clients are aware of this standard now and they are looking for it. It's a recognised accreditation and it takes a bit of worry away from customers in that they know their quality stands to them."
Eddie Burns joined the RIES team in September, 2018, having previously worked for the AA for a total of 33 years. As opposed to being a cold and indifferent inspector / auditor, he had tremendous respect and empathy for recovery operators and understands exactly how their industry works and where they are coming from.
"I started with the AA in 1985, working in Patrol initially before moving into a supervisory role and I was Area Manager for Northern Ireland and the Isle of Man when I left," reflects Eddie, who is also a fully-qualified ISO auditor. "From my time with the AA, I have a background of working with recovery operators and I can see things from both sides.
"While I was with the AA, I looked after their supplier network management, which included recovery garages. So, even before I started with RIES, I would already have known about 50 per cent of my existing customer base – those who were AA contracted at the time or had been.
"When carrying out inspections, what you are looking for is quality … ensuring that the required quality and compliance are in place and that the recovery vehicle operator is therefore giving customers a top-class service, following all environmental and Health & Safety regulations and operating as a professional company."
In Northern Ireland, there are currently around 30 recovery operators who RIES audit annually to ensure that they maintain their PAS43 ISO 17020 & ISO 10021 certification. for their management systems as well inspecting and certifying their equipment, which comes under LOLER [Lifting Operations and Lifting Equipment Regulations]. It's a straightforward and inexpensive procedure and it really is in the recovery vehicle operators' best interests to ensure that they achieve and maintain all these industry accreditations.
Is there much scope for RIES to increase its customer base in Northern Ireland? "The network is growing but as time goes on you also have some operators retiring, etc. But there are more people coming into the industry than leaving it, so it's growing. We don't have to go out looking for new business, however. With more organisations familiar with these specifications and looking for them, the business tends to come to us. In Ireland, we are the main providers of this service, with Conor Brady looking after the network in the Republic of Ireland."
Like everybody else associated with RIES, Eddie was deeply saddened by the passing in 2022 of company MD Davy Holmes and he finishes by paying tribute to a man who brought so much to the organisation during his 13 years at the helm:
"Davy was MD from 2009 until he passed away last year, covering the North and South of Ireland. It's been a very difficult year for all of us at RIES since he passed away last May. He was very well-known and well-liked by operators, especially in the Republic of Ireland. His passing is a big blow. His enthusiasm and leadership are going to be sorely missed by RIES going forward."
First published in Irish Trucker magazine Vol 26 No 5, August/September 2023