More All-Star accreditation for Jerry O'Brien Coach Hire 
25/10/2023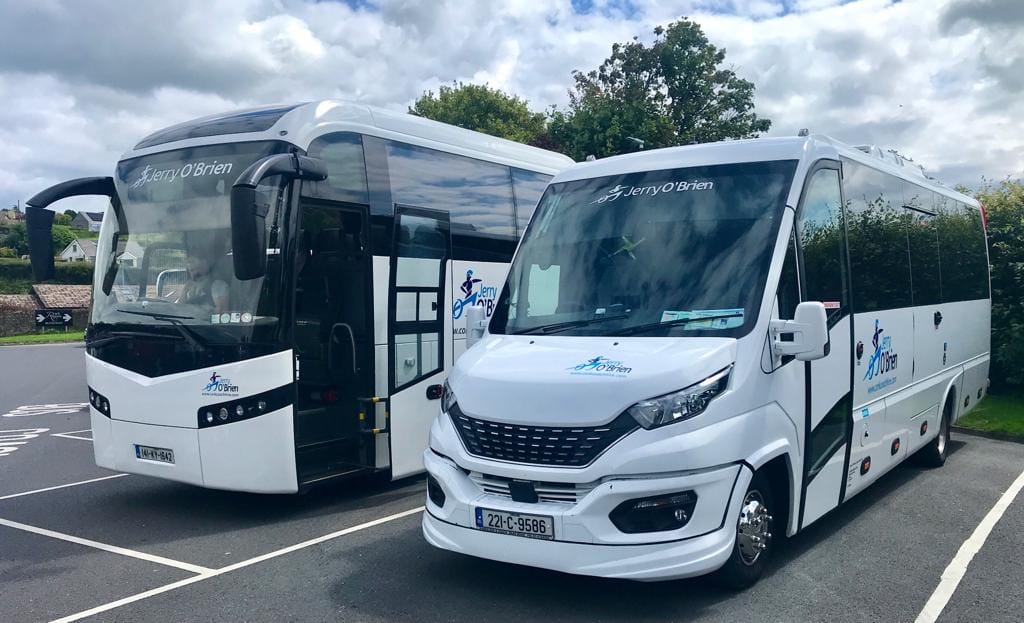 Delivering unparalleled, passenger-friendly luxury coach transport across Ireland for coming up on three decades, Jerry O'Brien Coach Hire has been awarded its third successive Cork All-Star award by the All-Ireland Business Foundation. We travelled to Bishopstown and touched base with director David O'Brien to find out more about this industry-leading, award-winning family operation.
Winners previously in 2021 and 2022, Jerry O' Brien Coach Hire came up trumps once more at this year's All-Ireland Business Foundation awards where they were recognised for their team's conduct in the areas of trust, performance and customer centricity and accordingly named All-Star Cork Coach Hire Company Of The Year 2023. Accepting the prestigious award on behalf of the entire team at Jerry O' Brien Coach Hire, director David O'Brien said he was immensely proud and thanked his clients from across Cork and Ireland.
"It was absolutely brilliant to get the All-Star award for a third successive year," he reflects. "The first year we got it we went through a very rigorous interview process and the judges checked with our suppliers and customers to make sure we were performing to the highest standards. Thankfully, we have been able to retain the accreditation for the past two years as well."
Holding a Business All-Star mark underlines the fact that Jerry O' Brien Coach Hire – who operate a range of modern coaches to satisfy all passenger travelling// touring needs – is a best-in-class Irish business. "It's great to have an accreditation that provides us with a platform to push the business forward and gain new customers," David continues. "This is a very strong endorsement of what we are all about as a company and it provides our customers with the peace of mind of knowing that they are dealing with a fully-accredited company that is totally customer-focused."
Not that Jerry O' Brien Coach Hire need to accumulate industry awards to justify their existence, as the company's storied history and exceptional track record for excellence since its inception in 1994 speaks for itself!
Operating from their Bishopstown, Cork base and serving customers nationwide for 29 years and counting, Jerry O'Brien Coach Hire is firmly established as a market leading provider of a full array of coach and mini coach transport services, catering for a multitude of different journeys ranging from airport transfers, golf outings, school tours, school transport, team/sports club transport, weddings, colleges, liner tours, extended tours around Ireland and much more besides
Priding themselves on reliability, sustainability, flexibility and outstanding customer service, Jerry O'Brien Coach Hire invest continually in a versatile fleet of modern, safe and luxurious coaches to cater for all needs. Through consistent dedication to excellence, from humble beginnings this model family-owned and –operated business has come a long way since the eponymous Jerry purchased his first passenger bus in the mid-'90s:
"My father started out in '94 with one minibus and we have a fleet of 17 coaches now," reveals David. "Dad actually started off the business secondary to what he was doing at the time and it just took off. He bought that first minibus to do weekend work, then picked up a school bus run and built it up gradually from there. He always placed a massive emphasis on making sure customers travelled in comfort and enjoyed an excellent passenger experience.
"I got my own bus licence when I was 21 and joined the family business with the intention of striving to push it on to the next level. Our aim is to maintain the customer base and business that we already have, and retain good working relationship with existing customers, whilst also trying to explore new avenues and push things on."
The fresh and immaculately-presented coaches in the fleet range from 14- and 16-seaters up to 55-seater coaches. "We have coaches to suit all lines of work and we work for customers near and far serving a number of different industries, from the modest school bus to state-of-the-art luxury coaches to modified Mercedes-Benz highly spec'd with toilets and charging ports in the seats, etc.," says David.
"In recent years, we have invested a lot of money into bringing the fleet up to a very high standard. You have to have vehicles to match if you want to provide unbeatable service. When you invest in your coaches it brings in more business and you will also have better quality work coming from that. When customers can see that you are running state-of-the-art, modern and sustainable buses, that is going to entice them to avail of your services."
Of course, a great fleet is of little or no consequence without fantastic operators! "We have a very good team of drivers. At the moment, we have 22 drivers and many of them have been here for 20 years or more, going back to when my father was starting out and building the business up. That's a good sign and it shows loyalty on their part and also that they obviously enjoy working here and feel that this is a good business to be part of."
The entire fleet is kept in tip-top running order at all times. "We outsource 90 per cent of the maintenance work to Specto in Fermoy," David states. "We find them to be an exceptional garage to deal with and they give an outstanding customer service. It's vitally important in today's climate to have a rigorous maintenance system and servicing plan in place and to be complaint with all RSA regulations. Specto are a good partner to work with, so we let them provide their specialist expertise and that allows us to stick to what we are good at."
David is joined in the family business by father Jerry, sister Deirdre and supported by uncles John, Donal & David. As regards the plan for the future of Jerry O' Brien Coach Hire, the personable Cork man concludes: "To keep providing a very high level of service to our existing customers and to pursue more opportunities, whilst also continuing to invest in the fleet and to drive our standards as high as they can possibly go."
Jerry O' Brien Coach Hire,
18 Woodbrook Avenue,
Bishopstown,
County Cork.
Tel: 086 335 5579
Email: [email protected]
Web: www.corkcoachhire.com
Facebook: www.facebook.com/jerryobriencoaches
First published in Irish Trucker magazine Vol 26 No 5, August/September 2023