Sligo Haulage & Distribution upgrade with new three new DAF
19/10/2023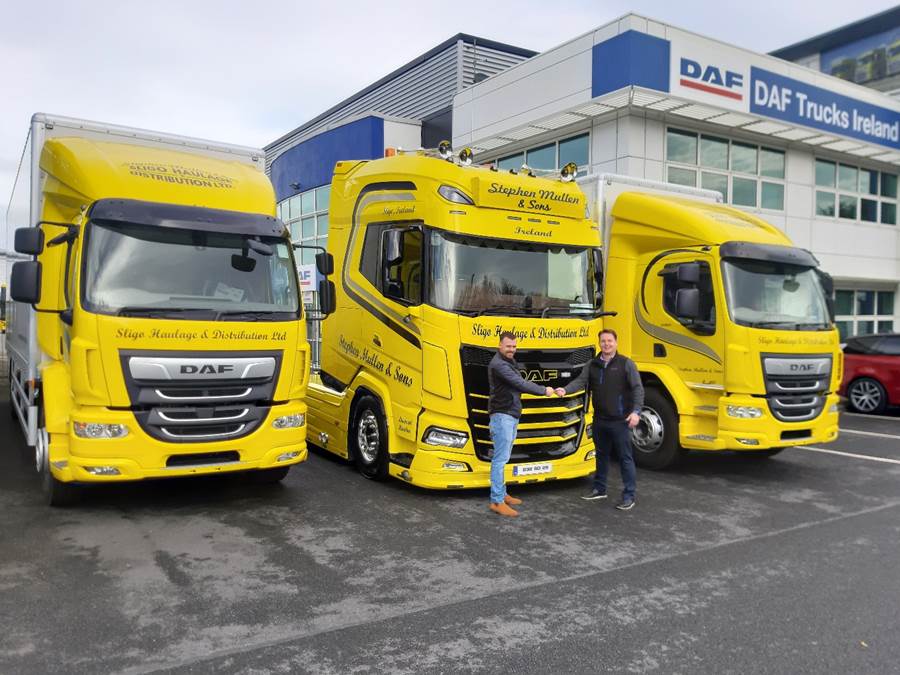 Sligo Haulage & Distribution Limited recently added three new units to their fleet from DAF Distributors.
Based in Tubbercurry, Co Sligo the hand-over took place at DAF Distributors in Dublin, with Keith Mullen of Sligo Haualge & Distribution there alongside Paul O'Reilly of DAF Trucks Ireland.
The new additions are a DAF XG+ 530 FT 4X2 fully equiped tractor unit, accompanied with two LF Sleeper Cab 290 HP Rigid Units.
-NGD XG+ CAB
-CAB AIR SUSPENSION
-TRANSLUCENT BLUE EXTERNAL SUN VISOR
-FRONT AIR SUSPENSION
-DAYTIME RUNNING LIGHTS
-INTEGRATED BUMPER MOUNTED FOG LIGHTS
-NGD LED ROOF SKY LIGHTING
- EXTENDED CATWALK
-LED INTERIOR LIGHTING
-NGD LEATHER SWIVEL COMFORT AIR SUSPENDED DRIVER & PASSENGER SEATS
-FULL RUSTICA UPGRADED INTERIOR,
-REFRIDGERATOR AND STORAGE COMPARTMENT
- FULL NGD LEATHER INTERIOR
-ELECTRIC COMFORT BED WITH UPDGRADED MATRESS SLEEPING COMPARTMENTS
-NGD INFOTAINMENT SYSTEM WITH APPLE PLAY
-MULTIFUNCTION SOFT GRIP STEERING WHEEL,
-RED SAFETY VISIBLE SEAT BELTS,
-LED CAB INTERIOR LIGHTNING SYSTEM,
- ECO FUEL PERFORMANCE SOFTWARE FOR MAXIMUM FUEL EFFIECENCY,
-ADAPTIVE CRUISE CONTROL, FORWARD COLLSION WARNING, ADVANCE EMERGENCY BRAKING SYSTEM, REVERSE WARNING
-MX-13 ENGINE 530 HP
-12 SPEED TRAXON AUTOMATED GEARBOX
-COLOUR CODED CAB
-ELECTRIC GLASS ROOF SKYLIGHT
-ALCOA DURABRITE ALLOY WHEELS
-MICHELIN TYRES,
-DAF CAB NIGHT LOCKING SYSTEM,
-1465 LITRE FUEL CAPACITY
-REAR LED SPOT LAMP FITTED TO REAR OF CAB
-PARK BRAKE ASSIST,
FACTORY FIR ANDERSON CONNECTION
-FULL DAF THREE YEAR FACTORY WARRANTY
ADDITIONAL WORK CARRIED OUT
-VANKESSEL TRUCKSTYLING, HOLLAND
-SPECIAL INTERIOR TRUCK UPHOLSTERY, HOLLAND
-STEEN COMMERCIALS DUNGANNON,
-RS DESIGN
-MONREAD BODY BUILDERS
-BALLINLOUGH REFRIDERATION