New Mercedes-Benz eActros brings all-electric benefits to haulage sector
16/10/2023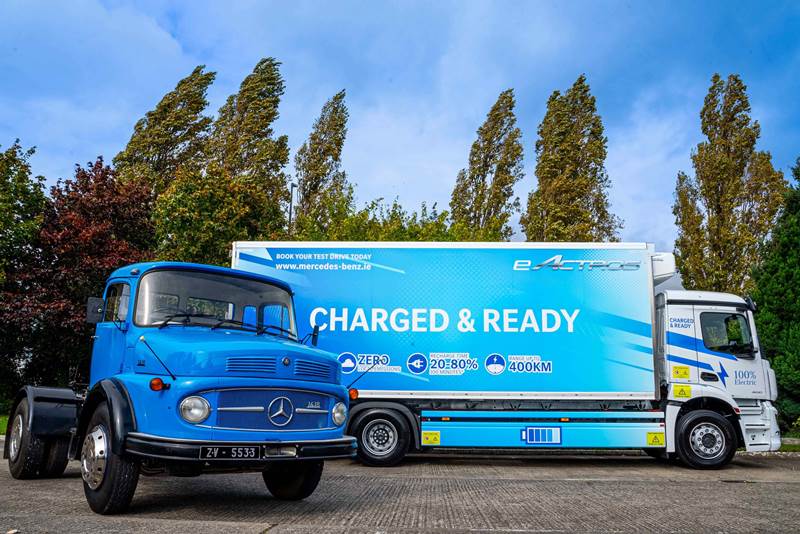 Mercedes-Benz has brought electrification to its heavy-duty truck range with the arrival here of their new all-electric, battery-powered eActros – a truck likely to attract the many Mercedes-Benz fleet owners wishing to offer customers an emissions-free, CO2-neutral, e-tractive haulage and delivery service.
Paralleling the ground-breaking work being done by the German manufacturer in the field of hydrogen-based fuel-cell technologies, the new eActros is intended primarily for heavy-duty short-radius distribution.
The first Mercedes-Benz heavy-duty truck to bring the appeal of electric power to its Irish fleets, the new eActros is described by Mercedes-Benz commercial vehicle sales manager in Ireland, Fergus Conheady as "yet another example of the work being done by Mercedes-Benz to maintain its position as a leading innovator in the field of heavy commercial vehicle development".
First presented to the public in 2018, the eActros was subjected to intensive research and customer testing before moving to series production. The model launched on Irish roads is an eActros 300 4x2 rigid unit which draws its energy from three battery packs of 105 kWh each. Also available is an eActros 400 6x2, equipped with four battery packs of 105kWh each. The technological centrepiece is its drive unit – an eAxle, with two integrated electric motors and two-speed transmission.
Positioned beneath the frame, within a protective aluminium housing, batteries produce a total capacity of 315kW to provide a range of up to 300 kilometres (WLTP). When fitted to a 160 kW DC charger, a 20 - 80 percent recharging time of just 75 minutes is quoted. The 400 6x2 model, with a range of up to 400 kilometres, recharges from 20-80% in 100 minutes.
As the first series-produced electric truck to bear the three-pointed star, the eActros heralds a new era for the German manufacturer. Amongst its many standard features are: an Electric Braking system with ABS and ASR, Predictive Powertrain Control, Cruise Control, Lane Keeping Assist, Attention Assist, fifth-generation Active Brake Assist 5 emergency braking system with pedestrian recognition feature, and an external Acoustic Vehicle Alerting System that emits warning noises to pedestrians and cyclists.
Inside its M Cab 'Classic Space' cabin, its driver-focused features include Automatic Climate Control, a full-suspension Driver's Seat, and Sideguard Assist which uses a Mirror Cam dashboard display to replace traditional exterior main and wide-angle mirrors.
Said to be especially suitable for night-time deliveries thanks to its silent drivetrain, for many fleet operators, its use in after-hours applications makes it particularly attractive by easing the strain on road networks that peak time usage creates.