Exceptional service by truckers, for truckers …
13/10/2023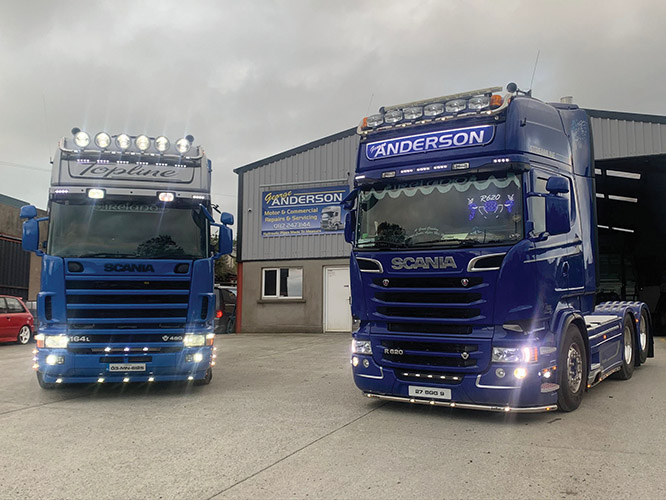 For coming up on two decades, George Anderson Commercial Repairs Ltd. has been providing unrivalled repair, maintenance and modification services to commercial vehicle owners across the North West. We popped into their modern Ballintra, County Donegal workshop and interrupted Kyle Anderson's busy schedule to get an update on an industry-leading family-run business which is imbued with a genuine passion for all things trucking.
Following in the footsteps of his father George, Kyle Anderson possesses an enthusiasm for trucks that is truly infectious. As the driving force behind second-generation family business George Anderson Commercial Repairs, Kyle's love of lorries shines through on every job carried out and this is why fleet and vehicle owners from both near and far entrust the Donegal man with the upkeep of their trucks.
Since its inception 18 years ago, George Anderson Commercial Repairs – which became a limited company in 2017 - has earned a stellar reputation for carrying out a full range of maintenance and repairs to trucks, trailers, buses and commercial vehicles at its state-of-the-art workshop in Ballintra, just off the main Donegal town to Ballyshannon road.
On the back of regular repeat business from satisfied and loyal customers as well as positive referrals through word of mouth., business is brisk in the workshop, which boasts cutting-edge diagnostic equipment for all makes and models of light and heavy commercial vehicles.
Renowned for invariably providing a prompt, professional, efficient, friendly and value-added service, George Anderson Commercial Repairs carries a wide range of spare parts, provides made-to-measure hydraulic pipes, welding and wheel alignment services, and is a recognised brake shoe relining specialist.
There's no rest for the wicked and a top-class 24/7 breakdown and recovery service is also provided, using the Andersons' own lovingly-restored Scania R620.
Since he was knee high to the proverbial grasshopper, Kyle was smitten by the trucking bug and it's no exaggeration to state that the popular Donegal commercial vehicle technician is a trucker to the very marrow of his bones. It's engrained in his DNA and this was the work he was always destined to do:
"I left school at a young age and it was always in my blood," he reflects. "From being around lorries all my life, I have always had a passion for trucks. Some people are mad into cars but for me, being around my father, it was lorries, lorries, lorries and I never really wanted to do anything else."
It shows in the attention to detail that is afforded to every vehicle that comes into George Anderson Commercial Repairs – be it for an aesthetic upgrade, repair, service or pre-test check-up. Kyle, who took over the running of the business from the eponymous George around five years ago, runs his own aforementioned restored and immaculately maintained Scania R620 twin-wheel tag for recovery, while he also occasionally purchases a second-hand truck and soups it up before selling it on. In this respect, he recently stripped down two bullnose Scanias and gave them a complete facelift, including new exhausts, lights and paintwork.
Between everything that's going on at George Anderson Commercial Repairs, Kyle and his co-workers – uncle George Anderson, who is a former truck driver, plus one other mechanic – are kept busy around the clock. "We're kept going the whole time so I can't complain," he states.
"There are days when you are run off your feet and there are quieter days but we are steady the whole time and you have to take the good with the bad. We are well known at this stage and have a good reputation and that stands to us. A lot of customers keep coming back to us, so that's encouraging."
Kyle knows trucks inside-out and goes out of his way to offer as comprehensive and dependable a range of services as possible. "You try to do your best for every man and give him whatever he asks for. We have a good client base from near and far and we make sure they are all looked after.
"I'd have boys ringing me every day because they have seen on Facebook or social media what we are doing with lorries and they are interested in having light bars, LED lights, tipping gear, walking floors, etc. fitted. We can do all that as well as general maintenance and repairs on all makes and models of trucks and vans.
"We've cut down on the bus work because it doesn't suit me and the focus now is very much on trucks and light commercials – repairs, maintenance and testing. We do a lot of wiring and have a good reputation for fitting light bars. We have all the diagnostics here for lorries and light commercials as well as stocking a wide range of parts for all trucks and trailers."
Fleet owners from not just Donegal but further afield avail of George Anderson Commercial Repairs' trusty services and to this end Kyle is grateful to be able to count the likes of SR Refrigerated Transport, Cherrymore Kitchens & Bedrooms, Nordstar International Transport, Keith Cleary Plant Hire, Danny McGee & Sons Plant Hire, Donegal Coach Hire, AC International Logistics & Freight, Tinney's Oil & Coal, Michael Kelly Haulage, Tony McBrearty & Daughters Livestock Haulage, Kerrigan Transport, John McDermott Transport, Axis Construction and many others amongst his ever-growing list of customers.
"We also do some commercial vehicle wheel alignment work for local tyre centres," Kyle concludes. "They are only set up to track wheels on cars and vans, so when they put new tyres on a truck or bus we track them and check them over fully to make sure they don't have any issues."
Indeed, George Anderson Commercial Repairs is synonymous with adopting a meticulous approach to ensuring absolute customer (and vehicle) satisfaction at all times and, with the second generation now at the helm, continuing upon the proud legacy established by his father, all the indications are that this exceptional company will continue to go from strength to strength for many years, nay decades to come!
George Anderson Commercial Repairs Ltd.,
Ballintra,
County Donegal.
Tel: 087 2473144 / 086 3747659
Email: [email protected]
Facebook: /GeorgeAndersonCommercialRepairsLtd
First published in Irish Trucker magazine Vol 26 No 6, October/November 2023