Fast Track Autos are one of the best in the west
13/10/2023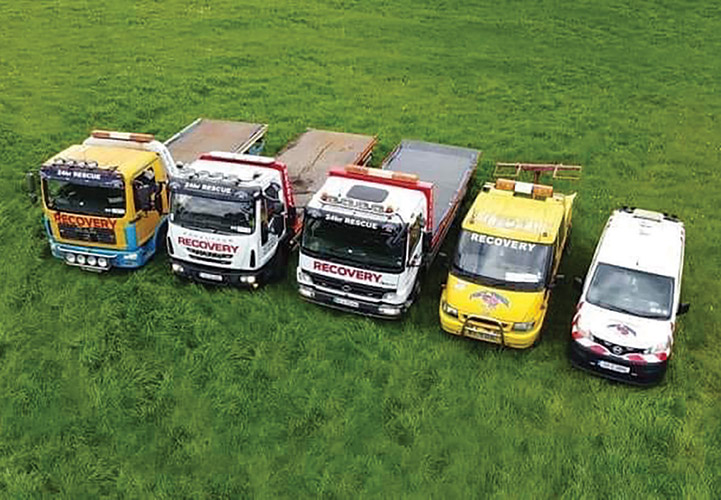 Based in Mountross, Co Galway, Fast Track Autos offers its customers excellent services in vehicle recovery and roadside assistance. Irish Trucker spoke with Managing Director Adrian Hynes to find out more about what is a thriving business at the moment out west.
Up and running eight years now, Fast Track Autos is perhaps as busy as it has ever been these days and the plan for husband-and-wife Adrian and Marian Hynes is to try and keep things that way right through to next year.
Operating out of Mountross, Headford, Co Galway, the company employs three full-time staff and has more than 20 years of experience at its forefront when it comes to vehicle recovery and roadside assistance.
At Fast Track Autos, they cater for tyre repairs, flat batteries, or if you lock yourself out of your vehicle, they will be on hand to help also depending on the variety of unfortunate circumstances you find yourself in.
Irish Trucker caught up with Adrian Hynes recently to hear all about the company, its fleet and overall hopes going forward.
"We're established since 2015 and we specialise in vehicle recovery from cars up to light commercials, even up to six or seven tonnes. We can cater for them," he outlined.
"We've a motorbike recovery service as well and do lockouts and jump starts."
Through providing an excellent service to its customers, Fast Track Autos has gained a glowing reputation for its work and, as a result, it is first choice for many in its region in need of vehicle recovery and roadside assistance.
Providing a 24-hour service, Martin and his team will come to your rescue at the time and place that you require them to take care of your emergency situation.
Fast Track Autos are second to none when it comes to this and, with Martin himself having more than two decades of experience in this field, he has steered his venture into the busy and successful state it finds itself in today.
The Galway native took the decision to concentrate on a vehicle recovery and roadside assistance service primarily after having originally started with a garage and body shop as well.
"We always had a recovery truck and we've been doing recovery the last 20 plus years," said Martin.
"We had a garage and a body shop but we closed it up because the recovery was too busy. We were getting more out of the recovery and less hassle as well."
Since its inception in 2015, business has grown steadily for Fast Track Autos although the Covid-19 pandemic did see it hitting a bump in the road a little over four years in, as Martin explained.
"Covid impacted us a bit but we were still kept busy," said the MD.
"There were still people with wheel changes and jump starts on cars and there was still stuff we were doing because people were at home and they were afraid that if they had to go to the hospital their car wouldn't start because it hasn't been started in a week. Stuff like that.
"At the time, I thought we were going to be quieter being honest, but we were kept going."
Fast-forward to the present and business is going strongly for the company, with its range of difference services helping to keep it busy year-round.
Its work sees it covering the Galway, Tuam and Ballinrobe regions with a fleet that is regularly maintained to the highest standards.
Right now, Fast Track Autos is operating with four trucks, a fuel drain van, a motor bike trailer and a jeep.
Martin hopes to add a new 16-tonne truck with a crane on it later this year, although he's made no concrete decision on it as of yet.
Busy times indeed.
All of that considered, the burning question is what has the secret behind the company's success to date?
How has a small start-up grown into a thriving venture which now holds and excellent reputation amongst its customers for the service it provides?
For Martin, it comes down to a combination of factors but he sees reliability as the one that stands out the most.
"We're straight up and we're honest. If we say we'll do a job, we do it and if they ring us at 2pm to 2am, it's the same thing," he stated plainly.
"If they're our customers, we'll look after them and even if they aren't our customers, we get calls all through the night and we just go out and do them.
"Our repeat customers last because we provide them with a great service."
Given the trend so far, it's safe to assume that Fast Track Autos' customers will continue to get that same great service going forward.
Looking at the months ahead for the company, Martin's as optimistic as ever that it can continue its gradual growth while maintaining its stellar reputation when it comes to vehicle recovery and roadside assistance out west.
"We want to try and keep it as busy as it is. We're growing all the time but I don't want to get too big too fast because the more you take on, the more headaches you have. It can be hard to balance it all," he concluded.
Fast Track Autos
Mountross,
Headford,
Co Galway
Mobile: 087 780 5877
Web: fasttrackautos.ie
Email: [email protected]
First published in Irish Trucker magazine Vol 26 No 5, August/September 2023