Monaghan Freight: Think Big, Move Bigger
09/10/2023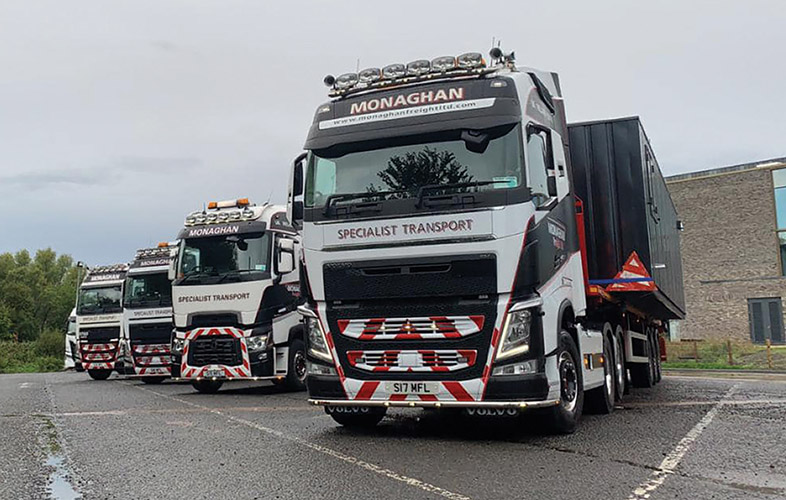 Established in 2014 by father-and-son Dermot and Stephen Monaghan, Monaghan Freight Ltd has grown into one of the leading specialists in the transportation of abnormal loads, machinery and project cargo within Ireland, the UK and Europe.
Based in Tempo, Co. Fermanagh, the family-run business continues to grow from strength to strength by providing professional transport services and solutions for Ireland, the UK and mainland Europe.
The FORS-accredited company employs 13 people and has a shipping office in London. Its clients are wide and varied, and include many large blue-chip companies. As part of the EPN (Exclusive Project Network), Monaghan Freight Ltd is focused on becoming a global name in project logistics.
"We specialise in the movement of oversized loads, machinery and equipment across Ireland, the UK and Europe," Stephen Monaghan explains.
"We transport everything from generators, heavy plant and machinery, cranes, tanks, quarry and recycling equipment to industrial engines, boats, wind farm components, modular homes and all sorts of weird and wonderful cargo. We move a lot of data centre units. We have a truck and a trailer for every job."
Offering a friendly, efficient and cost-effective service, Monaghan Freight Ltd utilises a comprehensive range of specialist vehicles, trailers and lifting equipment. The company runs a top-class fleet of seven trucks and 18 trailers to ensure complete customer satisfaction. The trucks are all Volvo with the exception of one Renault, while the trailers are a mix of Faymonvile MAX Trailers, Dennison flats and extendables, Goldhofer all-steers and Nooteboom low loaders.
As part of its continued modernisation and replenishment programme, the specialist transport company recently took delivery of a brand new Volvo FH540 6x4 from Dennison Commercials. This stunning custom 'Black Edition' is kitted out with a full leather interior, 20" smart TV, coffee machine, fridge and microwave, digital dash and Tom Tom truck nav integration, LED headlight, LED integrated roof spotlights, Alcoa Durabrite wheel rims and factory-fitted side skirts. A light bar, lo-bar and roof bars with rear hitch set up were fitted, fabricated and painted in Dennison Commercials' Ballyclare workshop, while the stunning livery and graphics were completed by Jonny Blair.
Monaghan Freight Ltd has also invested in a new five-axle Faymonville extendable low loader which sits beautifully behind the new Volvo. The new trailer was purchased from Ashbourne Truck Centre, while an order has already gone in to Dennison Commercials for two more Volvo FH540s which should be ready for collection in January 2024.
The modern fleet is very much at the heart of the operation, with all trucks and trailers preserved in immaculate condition at all times. "While we carry out some maintenance and servicing ourselves, most of it is done through Dennison Commercials' Dungannon depot and MK Truck Repairs here in Tempo, which is our local Renault dealership," Stephen says.
Behind the wheel of every Monaghan Freight Ltd truck is a reliable, experienced and courteous driver. "Our drivers are the best in the business. They always deliver the goods," he asserts.
The company can also look after permits and pilot / escort cars for third parties. Permits are required in Ireland, the UK and Europe when your abnormal / exceptional / oversize transport exceeds the following dimensions: 16.50m long x 2.80m wide x 4m high x 44,000kg (gross). Permit application and approval times vary in different constitutions, but Monaghan Freight Ltd's strong-bonded relationship with all contacts in police, highway agencies and local authorities ensures a smooth transition during the application and approval process.
To say that Monaghan Freight Ltd was Brexit-ready would be an understatement. By investing in new people, equipment and operating systems in advance, it is now reaping the benefits. "We have never been as busy," Stephen is happy to report.
As a member of the EPN, the company is now able to provide a global shipping service. The EPN was founded in April 2021 with the clear vision to form a global group of high-class experts in the field of project – and heavy lift – logistics. The network is made by professionals for professionals that possess outstanding know-how in project logistics.
The quality control of EPN's members result in a specific and exclusive business environment. Potential members must undergo a strict admissions procedure to meet entry requirements. This produces a first-class, high-quality business network. EPN's partners add special value to its members by providing strategic business opportunities that help their businesses to leap forward to a competitive advantage.
The strategic vision of EPN is to go much further for its members than simply holding an AGM. It wants members to find the right partner in every corner of the world and to establish qualitative and long-lasting business relationships.
"Being an EPN member allows us to join forces with other leading logistics experts across the globe that will enable us and them to widen the services we can offer to customers," notes Stephen, who previously worked as a transport manager.
In summary, Monaghan Freight Ltd prides itself on its professional, dependable, trustworthy, value-for-money and unrivalled service. Stephen and Dermot would like to take this opportunity to thank their clients and suppliers for their continued support as well as their drivers for their dedication, hard work and expertise.
Monaghan Freight Ltd,
19 Creagh Road,
Tattykeeran,
Tempo,
Co. Fermanagh,
BT94 3FW.
Telephone: +44 (0) 28 895 41918
Mobile: +44 (0) 774 66 33103
Email: [email protected]
First published in Irish Trucker magazine Vol 26 No 5, August/September 2023