Cork's bulk tipper work specialists
05/10/2023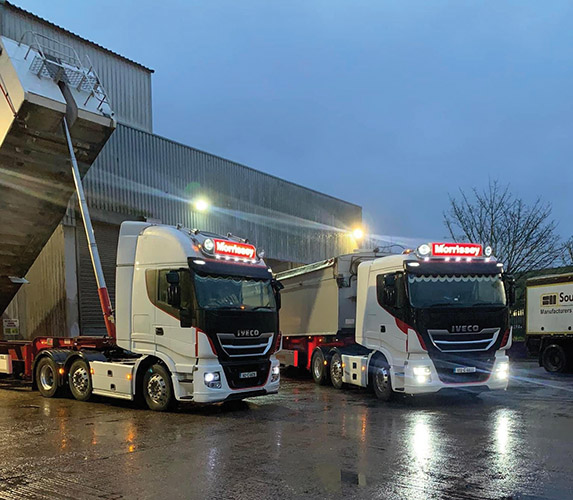 Last year saw Andrew Morrissey Haulage Ltd in Co Cork marking an even decade in business and today the bulk haulage specialists continue to provide an excellent service to their loyal customers. Irish Trucker heard more from Eoin Morrissey about the company's origins, its fleet of Ivecos as well as its overall hopes moving forward.
When Andrew Morrissey first set-up his haulage business as a limited venture in 2011, he did so with the vision of providing his clients with a first-class service.
Today, Andrew Morrissey Haulage Ltd holds an excellent reputation for its bulk haulage work around Cork and outside the Rebel County's borders and the plan is to continue to keep up the good work and further enhance the company's name and rep.
2021 saw Andrew's son Eoin coming on board with the business on a full-time basis and it has been all go for him ever since.
Irish Trucker caught up with Eoin recently to learn more about this second-generation family business which employs three full-time staff from its base in Firmount, Donoughmore, Co Cork.
"My dad Andrew would've started this business up on his own and he did so with one rigid Hino," Eoin outlined.
"He started working in Southern Milling (Cork city) when he was 18, so he's there all of his life. He was a mechanic there first and then he went into the mill, got into blowing and eventually went out on his own. My grandfather was working with him then for a while because he had his own lorry.
"That was the way it went and the father gave up blowing because he kind of got sick of the long road or whatever. I'm training up in blowing now myself."
Today, Andrew Morrissey Haulage Ltd specialises "in any kind of bulk tipper work", as Eoin puts it, and the majority of the company's work is with Southern Milling in Cork city.
It's work also sees it travelling to and from Paul & Vincent, which is owned by Southern Milling in Kilmallock, Co Limerick, while it also supplies Grassland Cork with a bulk fertiliser haulage service.
All in all, it keeps Andrew Morrissey Haulage Ltd busy year-round.
While recent times have saw plenty of tough challenges for the Morrisseys' haulage business, they've managed to motor through them and, so far, the signs have been good in 2023.
"Obviously, with the way diesel was, it was kind of tough last year with everything else," Eoin explained.
"It's starting to pick up slowly now but might not pick up like it did in previous years."
He continued: "Covid didn't have much of an impact on us as such. If anything, it made the job a lot easier with no traffic and that is because Southern Milling is based in the middle of the city as such.
"That was the main impact it had on us and other than that it didn't have that much of an impact work-wise."
For Andrew Morrissey Haulage Ltd, the trucks kept on the roads throughout the unprecedented times during the Covid-19 pandemic and the company has since managed to battle through the soaring fuel costs which followed.
At the moment, they are operating with four Ivecos (three flat-cab and one hi-cab) from the base of operations in Firmount, where all of the company's vehicles are regularly maintained to the highest standard.
Eoin also confirmed that there has been a new addition to the machinery fleet this year.
"We bought a new Schmitz Cargobull there just at the end of last year from Casey Trailers and we have five trailers here in total at the moment," he said.
"If it picks up, we might consider buying a lorry but not at the moment, especially considering the prices that they are nowadays. It has gone ridiculous."
It's a family venture which seems happy with its modest size, as it continues to deliver week in, week out for its satisfied clients.
All of that considered, the burning question is what has been the secret behind the success of the company thus far?
How has a small start-up grown into a thriving haulage venture which holds a golden reputation amongst its customers?
"We'd always put them first and we'd be efficient in the way we do it," Eoin replied.
"We try to keep the gear as clean and as good as we can and try to keep on time. We'd do whatever is asked of us in that kind of way."
Looking towards the months ahead, the Corkonian hopes to see fuel costs continuing to dip the same as ever haulier out there and, should the picture continue to get brighter, don't be surprised to see Andrew Morrissey Haulage Ltd with another Iveco on the road down the line.
Andrew Morrissey Haulage Ltd
Firmount,
Donoughmore,
Co Cork.
Mobile: 083 126 8955
First published in Irish Trucker magazine Vol 26 No 5, August/September 2023