Loughran Commercials – the Scania specialists for 20 years and counting!
02/10/2023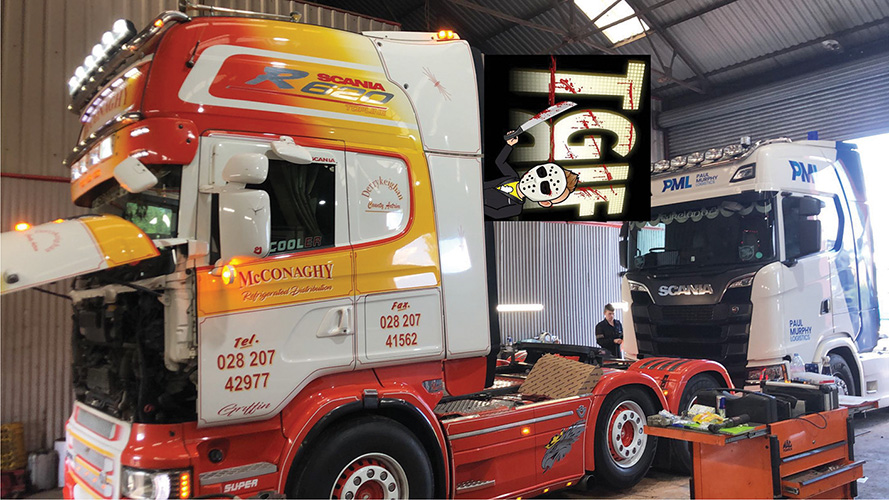 Since the business was established by Patrick Loughran in 2003, Loughran Commercials has established itself as one of Ireland's premier independent Scania specialist garages, offering a full-range of value-added services from diagnostics, maintenance and DPF reconditioning to full gearbox and engine rebuilds and everything in between. We travelled to Cookstown and touched base with Patrick to get an update on this industry-leading operation.
Patrick Loughran knows Scania trucks inside-out and has been providing invaluable truck upkeep, diagnostics and repair services to a who's who of fleet owners and operators across the island from his state-of-the-art, specialist Scania workshop in Cookstown, County Tyrone for the past 20 years.
When it comes to providing a professional, reputable service that won't cost an arm and a leg, Loughran Commercials have a proven track record for excellence and this explains why they are busier than ever as we head into the summer of 2023.
"It's very busy here these days," Patrick confirmed when we recently interrupted his schedule. "We got so busy that we had to do away with commercial vehicle test preps altogether as they were taking up too much time and we realised that time could be better spent doing something that customers needed more urgently.
"We're now more or less focused on engine repairs and emissions only. The day-to-day changing of springs etc. was eating up too much time and we had customers coming in who had bigger problems, so we had to dial down on the test prep work and turn our eyes fully towards the specialist work we're known for."
Loughran Commercials are experts in engine repairs and would generally completely rebuild one Scania Euro 6 engine per week. "There could be anything from 60 to 100 man hours involved in an engine rebuild and we'd usually need two men on that to make sure we get it finished within the week," the hands-on owner notes.
One of the many reasons why the business has thrived and become increasingly popular year on year is that Patrick is always thinking outside the box and coming up with new ways to look after customers and their trucks. When it comes to money-saving engine repairs and upkeep, the Tyrone man simply leaves no stone unturned.
For example, in recent years, some Scania lorries have developed a water leak at the engine liners and Loughrans have developed a low-cost repair for this problem rather than the high-cost repair that comes with oversized liners leading to engine blocks having to be cut. Patrick's solution is more effective and more economical, stemming from his background of having been brought up with lorries, understanding how they work and also understanding hauliers' pockets.
Patrick also undertakes some Scania servicing, warranty and repair work on vehicles imported from main dealers located outside Northern Ireland, including all servicing and warranty work for carry out repair warranty work for sum off the big independent Scania dealers.
"With an engine repair always going on in the background, we also deal with the full range of electrics and automotive problems on a day to day basis, offering full Scania diagnosis and repair," the personable founder and proprietor of Loughran Commercials continues. "We always have the latest updates of Scania diagnostic equipment and keep fully up to date with all the latest truck technology.
"It feels like we are always investing and spending money but you have to do it if you want to provide the best service; there's no other way. It's also very important to stay up to date with the latest Euro 6 regulations on emissions."
A 24-hour breakdown recovery service is also provided across the UK and Ireland and, outside the main dealer network, Loughran Commercials is the only commercial garage in Northern Ireland with qualifications to work on electric vehicles. Patrick works closely with the local technical college in Dungannon to keep his men sharp in diagnostics and two of his technicians completed the new course on EVs – the only such course being run in the province.
"If an EV happens to break down on a road, we have those courses done, which means we know how to go out and switch off the battery system properly and recover it safely," says Patrick, who is renowned as a leader in DPF and emissions repairs across the North and into the South as far as Wicklow and further afield.
Working daily on some of the most iconic trucks belonging to all the leading transport companies in Northern Ireland, Loughran Commercials has earned an unrivalled reputation for delivering professional, value-added services and has as such built up a large and loyal customer base.
"These are all fresh vehicles and we keep them all in line. Testing and prepping them doesn't take long, so we still offer that service on the newer stuff. For me, the biggest problem with fresh lorries is that they have that much electrics now that it's a miracle they keep going at all," the Tyrone man - known to some as 'The Emissions Doctor' - adds.
Patrick currently generates direct full-time employment for a team of four full-time technicians plus two girls in the office. With demand for Loughran Commercials' services at all all-time high, he is always on the lookout for hungry Scania mechanics with passion and experience.
The driving force behind Loughran Commercials has an inherent understanding of the challenges facing truckers as he is also involved alongside his father Pat and brother Rory in the family haulage business, Loughran Bulk Haulage, which operates a fleet of eight – you've guessed! - Scanias.
"Scania is what we know and what we are passionate about," he concludes. "We provide the fastest and cheapest repairs for Scania in Northern Ireland and have a facility to service DPFs rather than letting customers incur the expensive cost of replacing them. We can carry out a complete, same-day emissions service at a fraction of the cost a main dealer will charge to replace the filter. As I often say to customers: 'we clean your DPFs, not your pockets'."
Complementing the exceptional service levels at Loughran Commercials, that's also as good a closing line as you are likely to get!
Loughran Commercials,
18 Dunnamore Road,
Cookstown,
County Tyrone.
Tel: +44 7786 710268
Facebook: www.facebook.com/loughrancommercials
First published in Irish Trucker magazine Vol 26 No 5, August/September 2023