Richard Moore Transport always delivers 
28/09/2023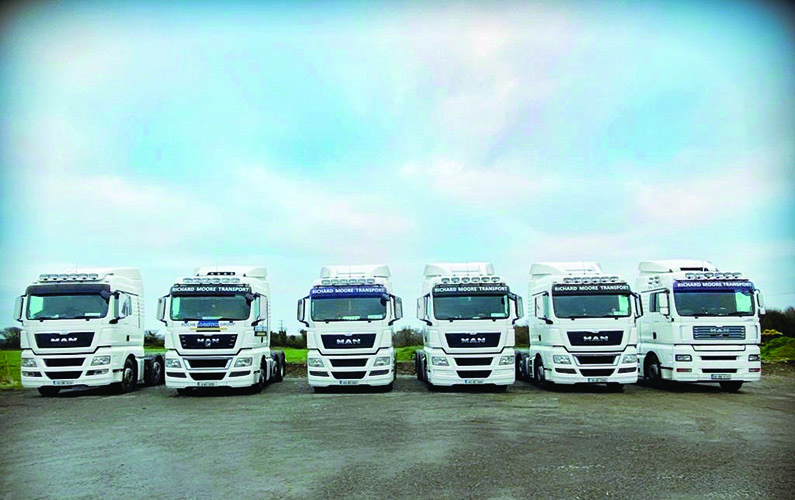 Coming up on 20 years in business, Richard Moore Transport Ltd is ideally located in Rosslare Europort to serve the entire country.
The general haulage firm was established in 2004 by Richard Moore as a sole trader before becoming a limited company in 2016. It has earned an enviable reputation for providing customers and trading partners with a cost-effective, friendly and reliable range of distribution, cargo handling and freight forwarding solutions.
Each consignment is meticulously planned, managed and tracked to ensure your delivery is handled with care, accuracy and speed. Richard Moore Transport has always got you covered, wherever and whenever it's needed. The company provides a collection and delivery service for a wide range of clients, including Perennial Transport, Baku GLS, P&D Foley Transport, DG McArdle International, Roche Freight and Kilbraney Transport.
"We pride ourselves on our exceptional service. We will always go the extra mile for our customers," Richard Moore stresses.
"For us, it's all about attention to detail. We care about our customers and our focus is on providing a first-class service for all, no matter how big or small. When you ring the phone, you get me. We're able to offer that personal touch you just don't get from many other transport companies. Customer satisfaction is number one with us."
Richard Moore Transport operates a modern fleet of trucks and trailers that are suitable for all transport needs. He runs seven MAN artics which include an 18430, a 26440, a 26500 and three 26480s. He also has two tipper trailers and a curtain-sider of his own and deals with Enterprise (MAN Parts and Service) in New Ross for sales, maintenance, service and parts.
Behind the wheel of every Moore truck is a top-class driver. The Co. Wexford company employs seven drivers who are supported by Richard and his wife Riccarda, who mans the office.
"Our drivers are professional, dependable and always deliver on time. They take tremendous pride in their work and look after the trucks as if they were their own. They are trained in ADR and have a wealth of knowledge and experience. They never let us down. It's a real team effort," the affable managing director explains.
From humble beginnings when he drew sand and gravel with a single truck and tipper trailer in the Wexford area, Richard started providing a full national and international collection and delivery service after forging links with Perennial Freight. Since Brexit, however, he has stopped doing international haulage.
"We used to work in the UK, but not since Brexit. Luckily, we have enough work here in Ireland to keep us busy without the stress and red tape associated with Brexit," he explains.
"About 90% of what we do is subcontract or tracker work. It's mostly curtain-side and tipper work. We collect trailers that come into Rosslare and deliver the consignment to its destination before returning the trailers with backloads. We transport a lot of agricultural goods like grain and fertiliser. Our customer service team has expertise in all areas of transport, so you're in safe hands."
With daily services to Fishguard, Pembroke, Zeebrugge, Cherbourg, Bilbao and Dunkirk, port volume at Rosslare has grown by a whopping 480% as Irish traders chose to bypass Britain and post-Brexit border checks. The port has added over 25 direct ferry routes since 2020, including the DFDS service that connects Rosslare with the French port of Dunkirk for the first time.
In 2021, 119,927 lorry freight units passed through the south-east port on 30 direct ferry services with Europe – an increase of 94,477 units on the previous year's figure. Freight volumes on 56 ferry services a week with British ports fell by 34% or 32,926 units, to 64,964 during the year, as fewer businesses sent goods across the once-favoured 'landbridge' route through Britain.
Overall, combined freight at the port, which is operated by Iarnród Eireann, grew by 50% to 184,891 units, making it the highest yearly growth in the port's history. In addition, passenger numbers passing through Rosslare increased by 68% or 98,621 people over the year, despite many Covid-19 restrictions being still in place.
It's set to get even busier in the years ahead with new technology and infrastructure projects on the way. However, these long-overdue improvements can't come quickly enough according to Richard.
"The harbour hasn't changed in 30 years. It was designed for two ships going and coming from France. It hasn't kept pace with the volume of traffic passing through and badly needs to be redeveloped. It should have been done years ago. Everyone knew Brexit was coming, but still nothing was done," Richard continues.
"The port is big enough, but the compounds are too small. If they were levelled, it would free up a lot more space. There has been talk about putting a new road out the back of the harbour for 40 years and we're still talking about it. You couldn't get through the village with the traffic when Brexit came into effect.
"It's a bit better now, but the traffic can still get very bad when there are five ships going out at the same time. Finnlines have put on two extra routes recently and Stena are putting on another one in July which will lead to even more traffic congestion.
"You have one weighbridge controlling 80-90 lorries which also leads to chaos. We need a modern port with the capacity to cater for the extra freight volumes."
As his business continues to go from strength to strength, Richard would like to take this opportunity to thank his clients and suppliers for their support as well as his drivers for their dedication, hard work and skill.
Richard Moore Transport Ltd
Kilrane Business Park,
Rosslare Harbour,
Co. Wexford,
Y35 AP95.
Telephone: 087 134 7879
Email: [email protected]
Web: www.richardmooretransport.com
First published in Irish Trucker magazine Vol 26 No 4 July 2023