Management of Toga Freight Services complete MBO
26/09/2023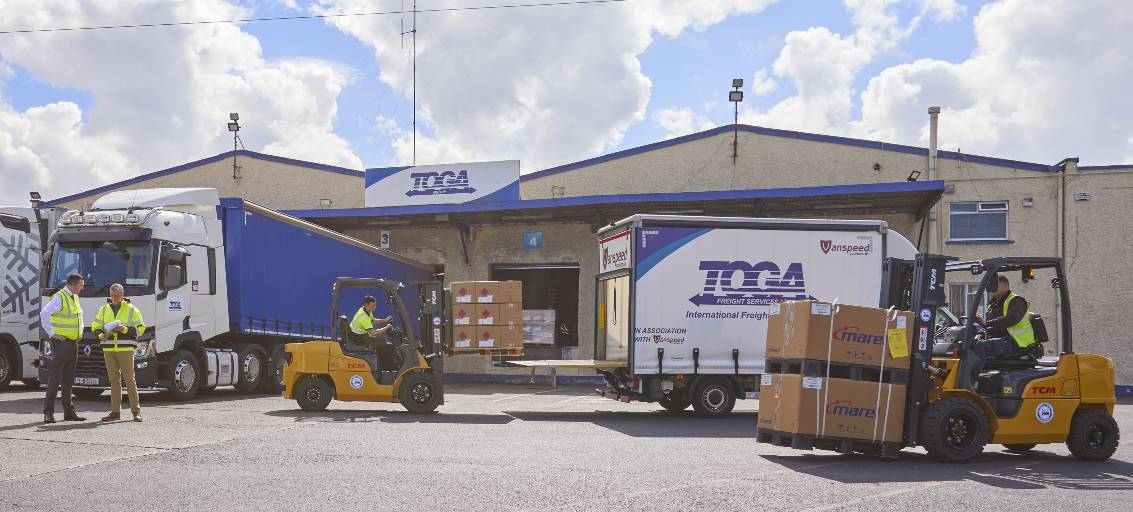 It has been announced today that the board of Toga Freight Services Ltd, consisting of Robert Dickinson, Muriel Corish and Darragh Toner, have completed a management buyout and acquired the full shareholding of the company, facilitating the retirement from the business of co-founder and majority shareholder, Martin Gately.
Toga Freight Services was founded in 1978 by Peter Toner and Martin Gately, hence the name "Toga", being a combination of the start of their surnames. Peter passed away in 2016 and since then the company has been owned and run by Martin Gately, Robert Dickinson, Muriel Corish and Darragh Toner.
Toga Freight will continue to operate from their Dublin 12 site and expect no fundamental changes to the business.
Toga employs 35 staff at their Dublin 12 site and operates a private delivery network of 15 partners in Ireland, and work with 8 partners in the UK and 11 major forwarders across Europe. Toga are also members of the Pangea Global Forwarding Network and have agents in the far east, the US and Africa. In September 2023 they successfully requalified as a "Deloitte Best Managed Company" for the fourth consecutive year.
The MBO team were advised on the deal by BDO Corporate Finance in Dublin and by the corporate law team at Byrne Wallace.
Speaking about the MBO, Muriel Corish, Financial Director of Toga said: "The purchase of Martin's shares was a straightforward process as the MBO team already had an intimate knowledge of the business for many years. We received very close support from Richard Duffy and his team at BDO who advised on all financial, funding and tax aspects of the transaction, whilst legal matters were handled by Eamonn Carey and the various department heads at Byrne Wallace. It was extremely reassuring to be advised by clear experts and leaders in their respective fields".
Darragh Toner, Operations Director of Toga commented: "It is a poignant time for me to become an owner of the business that my Father founded in 1978. I'm sure he would be delighted that the family's involvement is to continue for another generation. Toga is such a strong business operationally and we have some very exciting growth and development plans for the years ahead."
Robert Dickinson, new Managing Director of Toga explains: "We are very grateful to Martin for agreeing to sell us the business that he co-founded 45 years ago. We are very fortunate that we have been able to acquire such a stable and successful business that has enjoyed some of its strongest trading years in recent times. The new board have a defined and focussed strategy for stable and controlled growth, and we look forward to being able to offer additional services to our 5500+ customers in Ireland and across Europe. We are sure that our staff, who are a part of our "Toga Family" will enjoy the stability that this MBO has produced and will continue to enjoy the journey we are on in developing and growing our business"