Tom McGrath Transport is up to the TASCC
14/09/2023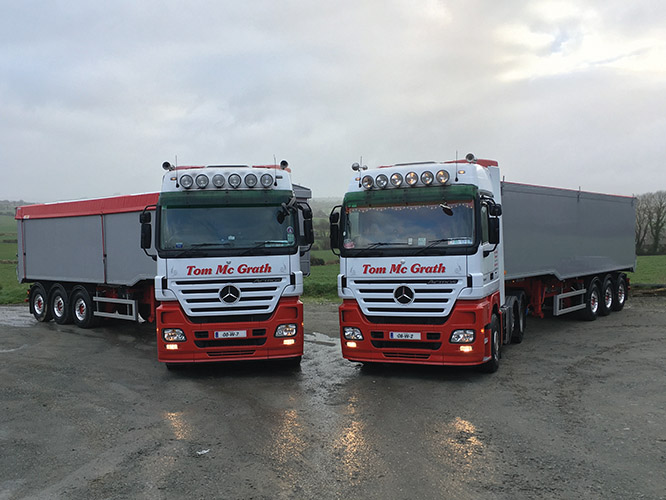 Coming up on 20 years in business, Tom McGrath Transport Ltd in Kilmallock, Co. Limerick offers exceptional bulk, liquid and refrigerated transport services to the agri-business sector.
With a client-base that includes Kerrygold, R&H Hall, Arkady Feeds, Southern Milling, CJ O'Leary (Millers), McDonnell Brothers and Southern Pork, the company is committed to providing the highest possible standards when it comes to transporting goods that are in accordance with food / feed safety legislation and customer requirements.
In fact, Tom McGrath Transport was adhering to the TASCC (Trade Assurance Scheme for Combinable Crops) code of practice for the haulage of animal feed and combinable crops three years before it became a requirement in 2014. The code of practice aims to combine food / feed safety legal requirements with recognised industry good practice and specific customer requirements to provide confidence in the food / feed chain. Tom McGrath's drivers are TASCC trained and up-to-speed with all current legislation. His team can arrange collection and delivery from farms, mills, docks, ships and stores locally and throughout Ireland.
"I never saw TASSC as an inconvenience," Tom says.
"The bar has risen and the standards have increased in terms of what customers expect of you. They want traceability, transparency, certificates and proof of where their goods come from and how they have been transported.
"Farming is an industry and, as such, it's very important to do things right. Everyone depends on it and the hauliers have a responsibility to ensure that their trucks and trailers are clean, and that cross-contamination doesn't occur.
"It was no big deal for us to join TASCC back in March 2011 when we were one of the first haulage contractors in Munster to do so. We have always adhered to the highest standards. The standard of trucks and transport has improved no end across the board. As an island, we get nothing without trucks."
Also approved by the Department of Agriculture and HSE for the transportation of food grade products or any product that ends up in the food chain, Tom McGrath runs a top-class fleet of trucks and trailers which gives his clients the peace of mind that their job is in safe and capable hands. He has 12 trucks, six of which are Mercedes-Benz Actros' and four Volvo. He also has a new Renault T480 and a new Scania that were purchased from Setanta Vehicle Sales and T Nolan's Scania respectively. For Mercedes-Benz, Tom deals with Surehaul (Ireland) Ltd.
The trailers are a mix of refrigerated, Wilcox bulk tippers and curtain-siders. "All our transport is based around agriculture, including animal feeds, dry goods, ambience, and milk powder," he points out.
Hailing from Glenroe near Kilmallock on the Limerick-Cork border, Tom has been driving trucks since 1977. He worked for some very reputable hauliers, including James O'Sullivan, who now runs Mallow Commercials CVRT Test Centre, and Monaghan's Transport in Kildorrery, which gave him a good education and insight into how the transport industry functions. He went out on his own in January 2004 and employs 13 people, most of whom are drivers. Tom's wife Bridie and son Tommy are also involved in the family business.
"I cannot praise our staff enough, from Biljana in the office to the lads who are out on the road representing us every day. Our drivers are professional, dependable and always deliver on time. They take tremendous pride in their work and look after the trucks as if they were their own. They have been very loyal to me down through the years. We have an exemplary safety record and that's down to the drivers. But it's a team effort between everyone."
Having started out providing a 'farm to factory' bulk milk collection service for Dairygold, which he discontinued last year due to a combination of rising fuel costs, driver shortages and the longer dairy season, Tom now concentrates on bulk animal feed transport for milling companies and refrigerated transport for Kerrygold who operate a state-of-the-art butter production and packing facility in Mitchelstown.
"We're very lucky in that we're centrally located as far as our customers are concerned," the affable haulier explains.
"We draw all the raw materials and ingredients into our customers' mills from ports like Ringaskiddy and Foynes. We also look after Southern Pork's transport requirements. Being TASCC-approved was a big factor in us securing that contract.
"We also draw butter and other dairy products from Kerrygold Park in Mitchelstown to CGI Cold Stores in Midleton, Colso in Cork and Lyonara Cold Stores in Portlaoise and Mallow. Most of the produce is destined for export. We have 12-14 refrigerated trailers dedicated to this work on a daily basis. In addition, we draw milk powder for Kerrygold, who we have been delighted to work with for almost 20 years."
Dedicated to providing unrivalled transport solutions and a fast, reliable, friendly, trustworthy and transparent service, Tom McGrath Transport would like to take this opportunity to thank all of its customers and suppliers for their continued support.
Tom McGrath Transport Ltd
Glenroe,
Kilmallock,
Co. Limerick.
Telephone: 086 609 1010
Email: [email protected]
First published in Irish Trucker magazine Vol 26 No 4 July 2023