A professional service for the professionals
07/09/2023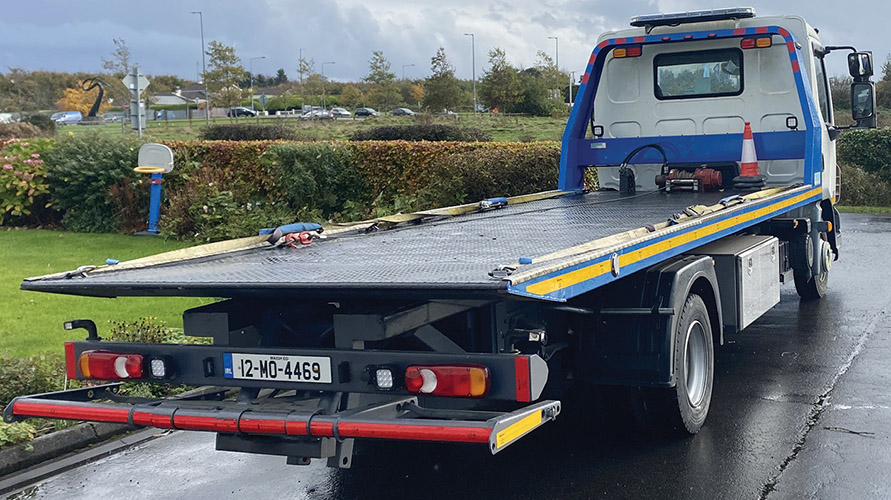 Since its inception in 2004, Recovery Industry Engineering Standards (RIES) has grown from strength to strength as it continues its practice in carrying out management system audits to PAS 43 standards. Irish Trucker recently found out more from Conor Brady, who is the company's Engineering Surveyor for the Republic of Ireland.
Business is good these days at Recovery Industry Engineering Standards (RIES) as the UK and Ireland-based full-service organisation nears closer to an event two decades in business.
Since 'Day One', the company has carried out management system audits to PAS 43 standards for its clients and is today recognised by all the breakdown clubs, including AA and RAC, and is a requirement of most state-issued tenders for transport-related contracts.
Conor Brady is Engineering Surveyor for the Republic of Ireland for the company, operating from Saggart, Co Dublin, and has been part of the RIES team for half a decade now.
Irish Trucker touched base with the Dublin native to discuss the services the company provides its clientele, the impact the Covid-19 pandemic had on it and the overall state of business at the moment.
"Business is good," said Conor. "It's kept going and there's a couple of new companies coming on, so there's slight growth there. It seems to be on the rise just ever so slightly."
He added: "Covid did hurt us a little bit. People were afraid to let me in and stuff like that, understandably.
"We could do some of it remotely. Obviously, the truck inspections themselves had to be done in person of course and we did give a three-month extension for them.
"Most of last year was pretty much back to normal."
Founded by Derek Beahan and Clive Heathcock, all of the organisation's surveyors/assessors are members of the Society of Operating Engineers and Bureau of Engineering Surveyors, and are also lead auditors for ISO standards.
Both Derek and Clive started their venture having had a strong background within the recovery industry in Ireland and are both past-presidents of AVRO (Association of Vehicle Recovery Operators), which continues to be aligned to RIES.
Conor himself had worked for Derek's company in Dublin for a decade before spending some time in the UK and then joining the RIES, where he has been since 2017.
"I'm a car mechanic by trade and I started working for Derek Beahan Recovery in Dublin and worked for them for 10 years doing both mechanic work and driving the actual tow-truck," he outlined.
"So, I was a Breakdown Recovery Operator and I also became a Transport Manager when I was there. I left them and went to England to do the same kind of thing really in a different sort of environment; it's a much busier place there than it is here.
"I got a little bit of experience there, came back and then started with RIES then."
He added: "It's a nice experience and a good job. I enjoy going out and meeting the people and seeing different parts of Ireland."
And RIES's service certainly sees Conor working on a nationwide scale. His role as Engineering Surveyor for the Republic of Ireland demands it, while Eddie Burns is the Engineering Surveyor for Northern Ireland.
Indeed, the demand for the company's service is high and, nowadays, it provides services to both AVRO and non-AVRO members. To meet this need, RIES needed to ensure its engineers were up-to-speed with all equipment they were inspecting and so a training programme was embarked upon and courses were organised.
It means that the company now delivers the following services for its clients: General Applications inspections of recovery vehicles; General Applications inspections of garage equipment; Bespoke inspection for Police Forces; PAS43 certification; Compressor inspections; ISO 9001:2015 accreditation; ISO 14001: 2015 accreditation; OHSAS 18001 accreditation.
All of the inspections are supported with in-depth inspection reports and where necessary, written schemes of inspection.
All of that considered, the burning question is what has been the secret behind the success of this organisation over the past two decades?
How has a small start-up grown into a thriving business which holds a golden reputation amongst its clients?
The way Conor sees it, much of it comes down to the fact that RIES focuses on and specialises in recovery trucks only.
"We specialise in recovery operators and that's all we do. There are others that will inspect tower cranes, passenger lifts whereas we specialise in just recovery trucks and that's all we do," stated the Engineering Surveyor.
"We have an in-depth knowledge and we visit recovery body builders to gain insight on how they construct their vehicles and that way we know what to look for when we're doing our inspections for any faults and common breakages.
"It's definitely the main reason why they come to us."
As for the clients he works with, Conor points out the majority of his work derives from "repeat business".
"Every year the inspections are required by law for the vehicles and then the pass is required by a lot of the insurance companies and schemes and then the Garda as well," he said.
"So, 90% of my business every year is the same and, obviously, as businesses grow year on year, there'd be new lorries to look at and new employees and training has to be kept up as well."
Looking towards the months ahead, Conor is hopeful that the busy trend right now can continue and perhaps see RIES gain a couple more clients along the way.
"I definitely want to grow the business and expand it as much as I can and get everybody up to a great standard. It's not just for me, it's for the industry," he concluded.
RIES is an organisation that supplies a first-class service at competitive rates and the quality and content of its reports more than meet the requirements needed. It will continue to attain this standard while also constantly striving to identify any shortcomings it may have at the same time.
*For further information about RIES, please feel free to email Conor Brady at [email protected]
First published in Irish Trucker magazine Vol 26 No 4 July 2023