MAHA Ireland Ltd celebrates 25 years 
04/09/2023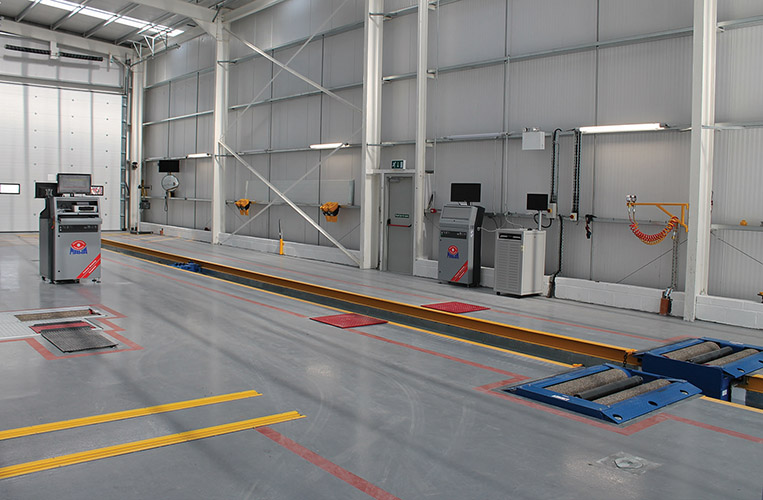 MAHA Ireland Ltd is celebrating 25 years as Ireland's number one specialist in vehicle testing and lifting equipment.
A wholly-owned subsidiary of the MAHA Group, which has its headquarters in Germany, MAHA Ireland Ltd belongs to one of the most important manufacturers of automotive, testing and lifting technology in the world today. Founded in March 1998 by John Mallon and now fronted by his son Eoin, the company has firmly established itself as the market leader for test lane and workshop equipment in Ireland.
MAHA Ireland employs a staff of 23 which is made up of 13 service mobile service engineers strategically located across the island with eight sales and administrative staff based out of its 12,500 sq. ft. purpose-built premises in Rathcoole, Co. Dublin which it relocated to in 2015. The ever-expanding company also has a satellite office and warehouse located in Lisburn to service customers in Northern Ireland.
MAHA products are renowned for their quality and reliability. Indeed, its policy is to provide the highest standards of professional practice and to maintain the quality of its service to all customers. Over the past quarter of a century, MAHA Ireland has built up an extensive and loyal customer-base from single bay workshops, to premium motor dealerships, to large testing bodies such as the National Car Testing Service (NCT), Driver Vehicle Testing Agency (DVA) and Commercial Vehicle Roadworthiness Testing (CVRT).
MAHA Ireland also provides service to a mix of semi-state bodies such as Technical University Dublin (TU Dublin) and Northern Ireland Fire & Rescue Service, transport companies like Bus Éireann and Wrightbus, fleet companies, franchise dealerships and independent workshops.
Furthermore, MAHA Ireland is proud to give its customers the peace of mind of being a quality-orientated company. It was awarded the ISO 9001 Quality Mark in 2005, while in 2011 it was accredited by the Irish National Accreditation Board as a Calibration Laboratory to the International Standard of ISO 17025. The company's basis is technology and quality leadership.
"We're delighted to celebrate our 25th anniversary. It's a nice milestone to reach," managing director Eoin Mallon enthuses.
"We were set up to supply, install and maintain the full range of MAHA products throughout Ireland which we continue to deliver on. Back in 1998 soon after we were established, we hit the ground running with the awarding of the contract to fit out the original 43 NCT test centres and we are proud to remain the chosen supplier to this day, currently mid-way through our third ten year contract.
''In addition, we are responsible for maintaining close to 200 lanes for the independently-run CVRT test centres, which equates to 70% of the market share. We are also the sole supplier to the DVA centres in Northern Ireland.
"As mentioned above, we also supply our products to truck workshops and transport companies as well as to what are predominantly German car dealerships. The likes of BMW, Audi, Volkswagen and Jaguar Land Rover choose MAHA because we're a premium brand."
Working closely with their customers, ensuring their vehicle testing equipment needs are met and taking account of the required regulatory criteria, MAHA Ireland has had multiple large equipment addition, replacement and upgrade programmes completed over the twenty five years – the return business being a testament to the Company's strong reputation.
A worthy point to note is that MAHA Ireland customer base has grown over this period. For example NCTS has expanded its number of test lanes, as have many CVRT customers. Numerous retail motor outlets have had full workshop fit-outs. With advances in road safety criteria to be met, many transport operators have turned to MAHA's brake testing technology to facilitate their fleets. With these progressions, MAHA Ireland, over the years has grown suitably to ensure it caters for their customers' needs.
"As a wholly owned subsidiary of the MAHA Group, MAHA Ireland is the sole distributor of MAHA products in Ireland," explained Eoin. "The difference is we're not at an agent for MAHA and that gives us a major advantage over our competitors. All MAHA products are manufactured by our parent company in Germany. We can provide full project management, provide a full fit out of test centres and workshops and, basically, we are a one stop shop for all our customers' needs."
MAHA Ireland places a huge emphasis on support and aftersales, according to the affable managing director: "We pride ourselves on the quality of our products and our exceptional aftersales service.
"Good customer service is paramount. Our target response time for urgent breakdowns is less than 24 hours. We have 13 service technicians dotted across the island – eight in the Republic and five in the North – to support the test centres and our other customers. This allows us to attend to our clients in a prompt and quick manner."
He continues: "Because we're wholly-owned by MAHA, we also have direct access to spare parts which can be delivered within 24 hours. This, along with our superior products and engineer support, gives us a competitive edge."
The service engineer's vehicles are dedicated mobile calibration units carrying the required equipment to facilitate calibration needs, while a selection of parts is also at hand to enhance the possibility of first-time fixing. Suitably trained both internally and off-site at the training facility in Germany, MAHA Ireland's highly-skilled team are committed to carrying out installations, calibrations and repairs to the highest possible standards.
With MAHA Ireland's people being its greatest asset, the company recently presented stylish commemorative trophies and hotel vouchers to long-serving staff members Ivan Swarbrick and Dave Delaney as a 'thank you' for their dedication and loyalty.
"Both Ivan and Dave have been consummate professionals during their 20 years with us,".," Eoin says.
"Their proficiency, commitment and likeability have served their customers and colleagues well over that time. Their work is outstanding, and we hope they'll continue to offer this service for a long time to come."
As MAHA Ireland continues to go from strength to strength, Eoin would also like to take this opportunity to thank the company's other valued team members and customers for all their support.
Here's to the next 25 years!
MAHA Ireland Ltd
629 Jordanstown Avenue,
Greenogue Business Park,
Rathcoole,
Co. Dublin.
Tel: +353 1 458 7548
Email: [email protected]
Website: www.mahaireland.ie
First published in Irish Trucker magazine Vol 26 No 4 July 2023