Your vehicle graphic specialist
31/08/2023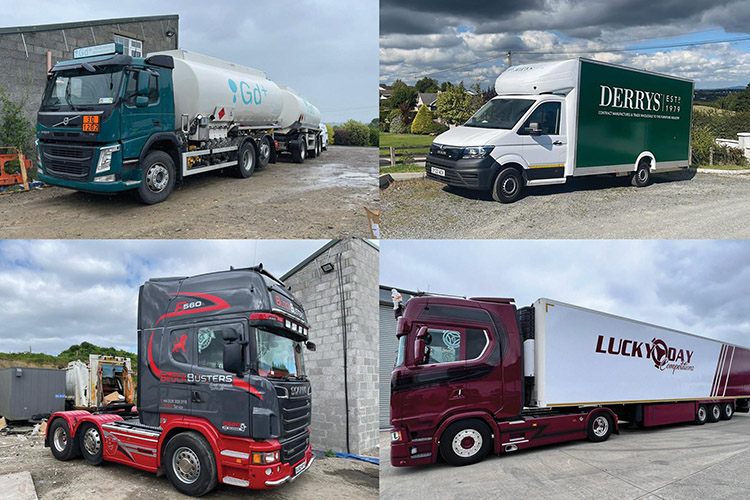 Established in 2015, C Clarke Graphics Ltd is a leading specialist in vehicle wraps, graphics and signs. The Newry-based company can take on any job, from cars up to large trucks and trailers.
What have Lucky Day Competitions, Warde Groupage, KMC Transport, Re-Gen Waste, Cole Groundworks, G&J Derry Furniture, Kearns & Murtagh Truck Repair and GBF (Green Biofuels) to name but a few got in common? They all use C Clarke Graphics Ltd to advertise their business and get their message across.
Committed to providing complete customer satisfaction, C Clarke Graphics Ltd has become the 'go to' name for vehicle wrapping, graphics, logo design and graphic design. Vehicle graphics are an effective and cost-saving way to advertise your business. A good looking and well-maintained fleet is your company's show window and the exposure opens up your business to a vast audience of potential new customers.
Companies choosing to advertise their brand, services and contact details can count on C Clarke Graphics Ltd for an eye-catching professional design that will make a lasting impression on their target audience. For the past eight years, Conor Clarke and his team have been helping their clients to increase the visibility of their business with their exceptional signage and logo design solutions.
"I set up the company in November 2015," Conor recalls.
"I've been working in graphics since I was 17. My father Kevin runs his own business, KC Hire, and we bought a machine to do our own stuff. As time went on, people asked me to do work for them and it grew from there. Things got busy. I started out with three employees and now we have 10 working with us."
He continues: "We offer our clients a 'start to finish' service on whole fleet branding. We have also diversified into other areas such as commercial printing.
"We pride ourselves on our unique designs and the quality of our work. Everything has to be perfect because, as far as we are concerned, there is nothing worse than someone saying: 'would you look at the state of that truck'. We stand by our work and that's why our customers keep coming back to us. They know we are very particular in what we do and our track record speaks for itself.
"Most of our business is secured through word of mouth, and referrals and recommendations from our existing clients."
Open from 9am to 5pm Monday to Friday, the Co. Down concern also offers the following products and services: brochure design, banners, advertising agencies, commercial artists, corporate identity, design consultants, drawing office equipment and supplies, flyer design, folder design, menu design, newsletter design, packaging design, point of sale displays, poster design, business stationery design, computer aided design services and exhibition displays.
From vehicle graphics to business cards, you can count on C Clarke Graphics Ltd for all of your printing needs. The Clarke team understands the importance of time and money for your business and offers excellent design and printing services. All of their work is completed as quickly as possible to minimise downtime for your operations.
With the ability to manage both small- and large-scale fleet branding projects, they are dedicated to supplying and installing effective vehicle wrapping to the highest level of quality and service possible. They help their clients create bespoke designs which make the best use of the whole space of the vehicle, no matter how big it is, and, most importantly, they can help get your brand noticed.
An old head on young shoulders, Conor is constantly reinvesting in his state-of-the-art equipment to keep his company at the top of its game. He recently purchased a HP Latex printer which produces high-quality indoor and outdoor signage, vehicle wraps, wallcoverings and more. He has also upgraded two of his five graphic plotters.
Conor continues to carry out a lot of work for KC Hire, which recently opened a second depot in Dundalk. "My father still puts a few jobs our way. He set up KC Hire in Newry in 1991 and now has a second branch in Newry where we installed new LED shop signs for him. The business specialises in plant hire and sales," he explains.
As C Clarke Graphics Ltd continues to go from strength to strength, Conor would like to take this opportunity to thank his customers and suppliers for their support as well as his staff for their hard work, dedication and expertise.
C Clarke Graphics Ltd
35 Flagstaff Road.
Cloughoge,
Newry,
Co. Down
BT35 8NR.
Telephone: +44 (0)77 60164321
Email: [email protected]
Web: www.cclarkegraphicsltd.co.uk
First published in Irish Trucker magazine Vol 26 No 4 July 2023