Strong growth continues at Deerpark Haulage Ltd
28/08/2023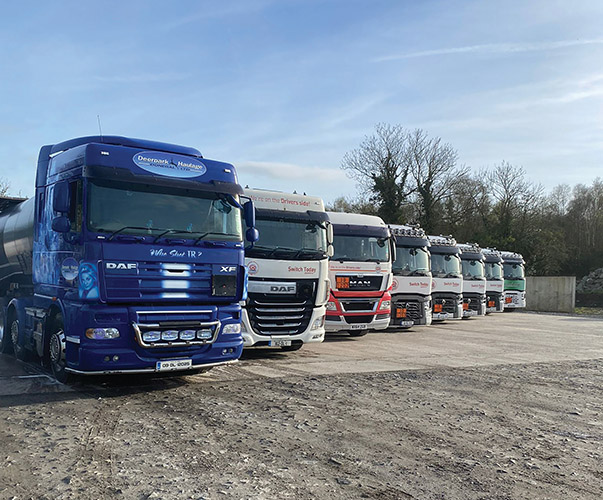 Based in Newtowncunningham, Co Donegal, Deerpark Haulage Ltd specialises in the transportation of bulk liquid and uses its fleet of 10 trucks to deliver to filling stations in and around Dublin, Dunshaughlin, Portlaoise, Wicklow and Dundalk. Irish Trucker touched base with Transport Manager Davy Lyle recently to learn more.
Business continues to thrive at Deerpark Haulage Ltd and the plan for the team up in Newtowncunningham is to try and keep things that way right through to next year.
Established by Joe and Priscilla Dolan in 2006, the company has grown from strength to strength to the point where it now employs 10 full-time drivers, as well as two part-time and a Transport Manager.
Deerpark Haulage currently has 10 trucks (five Renaults, three DAFs, a Mercedes and a MAN) on the road which service filling stations around the Leinster region solely for Lissan Coal Company (LCC).
Irish Trucker caught up with Davy Lyle (TM) to hear about the current state of business at the moment for the company and its overall hopes moving forward.
"Last year was a good steady year for us here. Our work has changed slightly in our favour over the last year-and-a-half or two years in that it's not as seasonable as it used to be," he outlined.
"We used to haul a lot of kerosene and that during the winter time and it would've got quiet then over the summers, but LCC have acquired a number of filling stations around the south of Ireland in around Dublin, Dunshaughlin, Portlaoise and Wicklow – down that country. So, we're servicing those stations every day and then we're still bringing the biofuel as normal back up from Wexford.
"It just means that our work is much steadier now and not as seasonal as it used to be."
The LCC Group are the only customer Deerpark Haulage work for, having been set up shortly after Joe Dolan established his venture and the working relationship between the businesses has blossomed since.
Right now, Joe and his team service four filling stations in Dublin, one in Dunshaughlin, one in Portlaoise and one in Ashford, Wicklow along with a couple in Dundalk which take fuel seven days a week.
During the Covid-19 pandemic, business was never better for the company as its Transport manager pointed out.
"The strange thing was when Covid kicked in here, as everybody knows, the oil prices fell through the floor and then everybody was buying oil," Davy stated.
"We were never busier during Covid, although the filling stations did slow down a lot because of people being off and that.
"Oil was still busy. There was still a lot of stuff moving during Covid because of the price basically because oil prices had never been cheaper in my memory.
"Local suppliers were buying it and storing it as well because they also knew it'd never be that cheap again."
Naturally, the busy times brought about more investment from Deerpark Haulage and these past two years have seen two new trucks added to the fleet.
So far in 2023, a new Renault (purchased from McMenamin Commercials, Letterkenny) has been added with the possibility of two more trucks in the pipeline for later this year.
When it comes to maintenance, the company carries out checks on all its vehicles, maintenance is something that they place a great emphasis on up in Newtowncunningham.
It all ensures that Deerpark Haulage can operate to the best of its ability for its client as soon as its trucks hit the road in the morning.
So, all of that considered, the burning question is what has been the secret behind the company's success over these past 17 years?
How has a small start-up grown from strength-to-strength year on year into what is now a thriving venture which holds an excellent reputation for delivering a first-class service.
The way Davy sees it, much of it comes down to the fact that they have been efficient and reliable for the LCC Group since the inception of the working relationship between the two.
"We have always had a great relationship with LCC because we were there when they opened the oil terminal in Derry. We were there from 'Day One'," he outlined.
"We're 20 minutes away from their oil terminal, so if loads come on at short notice, we're available to do it. We've never had any problems; we've never had any insurance claims or any issues and we have managed to keep a good relationship with their customers.
"We're dealing with their customers down south all the time and, for that reason, they have kept us in work and they haven't really gone out looking for someone else to do it cheaper.
"I'm sure at some point they've had other hauliers coming in looking to price work but, fortunately, they've kept us going and hopefully it stays that way for the foreseeable future."
Looking towards the coming months for the business, Davy says they'll simply be hoping for more of the same at Deerpark Haulage.
So far, it's been a success story for the Donegal haulage venture and, while there are plenty of challenges for the industry out there at the moment, its Transport Manager is largely optimistic for what's coming down the road.
"We're looking at putting another couple of new trucks on," he stated. "LCC are still growing and looking at other sites and filling stations around the country, so we're just hoping that we'll be able to carry on and supply the demand that they require from us.
"Hopefully, that'll carry on throughout the year." Here's hoping.
Deerpark Haulage Ltd
Newtowncunningham,
Co Donegal
Tel: (074) 910 8892
Email: [email protected]
First published in Irish Trucker magazine Vol 26 No 4 July 2023