MDS Truck-Wash Naas continues proud partnership with Tipperary Truck Show
24/08/2023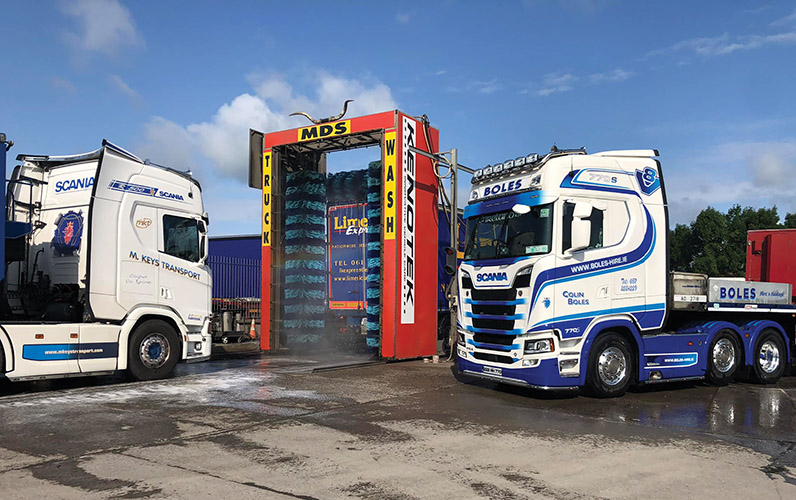 Successfully pulling off an event of the ambitious size, scale and scope of Tipperary Truck Show represents an enormous undertaking from the organisers. The input that goes into making this show happen is immeasurable and it simply wouldn't be possible without the support of the event's generous sponsors, including MDS Truck-Wash Naas.
The eighth staging of Tipperary Truck Show promises to be the biggest and best yet. Very much a key component of the annual, wide-ranging Dualla Show, which offers visitors a vast array of attractions, the truck show is growing in popularity with each passing year and excitement levels have been building for months ahead of the 2023 edition, taking place over the last weekend of August.
Truckers and truck enthusiasts will flock to Dualla in their thousands, from near and far, to take in the many attractions of what has developed organically from modest beginnings into one of Ireland's premier annual truck shows. The investment of time, effort, energy and money that goes into making sure that Tipperary Truck Show not only runs smoothly but is everything it can be would be impossible to measure – but suffice to say it is significant.
Each year, the event benefits from the support, promotion and backing of a number of key sponsors, who go above and beyond the call of duty, putting their money where their mouths are to help make the show such a resounding success. Fronted by Mike Moran, MDS Truck-Wash Naas was one of the official sponsors of last year's show and Mike is back on board again to provide his unwavering support to Tipperary Truck Show 2023.
Due to the very nature of his work – operating one of Ireland's busiest and most popular truck washes as well as being an agent for the renowned Kenotek Auto Cleaning range - Mike has an innate understanding of the thought, time, effort and attention to detail that truckers invest into making sure that their vehicles are turned out in immaculate condition at all times – not least for truck shows or other events.
Indeed, depending on the location of the show, trucks and their owners often call into MDS Truck-Wash Naas for a meticulous final wash en route. While Full of the Pipe was being staged in Punchestown, for example, the state-of-the-art County Kildare truck wash was generally flat-out in the build-up to that popular event. But it's always busy here for obvious reasons: conveniently located in Naas Industrial Estate, between Junction 9 off the M7, MDS Truck-Wash Naas is a real hive of activity morning, noon and often into the night.
Mike himself has a great passion for trucks and gets on well with everybody in the trucking industry. He goes out of his way to not just provide an excellent service at MDS Truck-Wash Naas but also offers a personal touch and goes out of his way to look after customers.
At this point, he's an integral part of the trucking community and truck show circuit, and his modern, thorough truck wash benefits from a large volume of repeat business as well as constantly drawing in new customers.
Kenotek vehicle care products have been instrumental in the success of MDS Truck Wash Naas. And Mike is not the only Kenotek UK & Ireland ambassador to be closely associated with Tipperary Truck Show. One of the show's main organisers and sponsors, Paddy Graham of Paddy Graham Truck & Trailer Repairs & Servicing is also an agent for the game-changing auto cleaning brand.
An outstanding cleaning product that is loved by truck owners and operators, Kenotek is growing in popularity, with the iconic Cargo 4100 wash widely regarded as the best vehicle detergent on the market.
Synonymous with innovative vehicle care, Kenotek manufactures the most-powerful products in vehicle care. The aforementioned flagship product, Cargo 4100 Forté contactless snow foam is an extra strong, concentrated exterior cleaner for all vehicles. It has a strong degreasing power and ensures the efficient cleaning of stubborn traffic film. The specific foaming guarantees good coverage of the entire vehicle and better soaking power of the dirt.
A three-in-one bodywork degreaser, alkaline wheel cleaner and insect remover and the detergent of choice of a growing number of fleet operators the length and breadth of Ireland, Cargo 4100 Forté is a unique product suitable for touchless application, effortlessly cleaning away oil, grease, insects and static road film. Revolutionising the vehicle washing industry across Ireland and the UK, Kenotek's brushless application is truly innovative and is just one of up to 200 vehicle cleaning and care products and accessories offered by Kenotek.
Explore the full Kenotek range at MDS Truck-Wash Naas, official sponsor of Tipperary Truck Show 2023 and a business providing invaluable service and support to Ireland's trucking community on a daily basis.
MDS Truck-Wash Naas,
Naas Industrial Estate,
Naas,
County Kildare
Tel: 087 9664181
Email: [email protected]
The Tipperary Truck Show takes place on Sunday 27 August. To get more details visit https://www.duallashow.ie/trucks/