Dermot is the D in DTT!
23/08/2023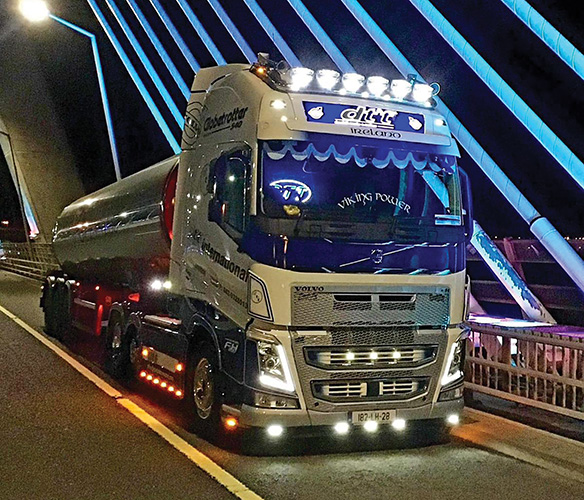 A familiar face to all his peers at Tipperary Truck Show, much-loved County Louth trucker Dermot Harrison won't be driving his trusty Volvo 182 to Dualla this year after having been involved in an unfortunate accident, but his colleagues at DTT (Dundalk Trucks & Trailers Ltd.) send their very best wishes to their vastly-experienced and universally-liked driver and wish him a very speedy recovery.
It would be no exaggeration to state that DTT proprietor Sean Hand holds his senior driver Dermot Harrison in the highest regard. One of the most likeable truckers in the North East – or even the island as a whole - Dermot has been an inherent part of the excellent driving team at DTT since Sean took over the reins of the family business from his late father Oliver Hand.
Indeed, his association with the Hand family in Dundalk goes back much further as Dermot originally drove for Oliver Hand Transport prior to the formation in 1987 of Dundalk Trucks & Trailers – popularly abbreviated to DTT. For 44 years and counting, between the existing company and its precursor, Dermot has been an integral and inspirational part of the team, described by his employer and friend Sean Hand as "a one-of-a-kind driver".
Down through the years, in his capacity as a best-in-class truck driver with DTT, Dermot became a familiar face on the roads of Ireland, the UK and Europe, and a man held in the highest regard by all who crossed paths with him – be that his colleagues at the long-standing Dundalk-headquartered general haulage company or fellow truckers he met on the road or socially, perhaps at the annual Tipperary Truck Show in Dualla or an industry gathering elsewhere.
Unfortunately, on Thursday, May 25th last, the popular Dundalk trucker was the unlucky victim of a freak accident which left him in a critical condition in hospital after he was struck by bricks and masonry which fell from the partially-collapsed roof of a streetside second-storey residential apartment as he walked along a footpath on Clanbrassil Street in the centre of the town.
Dermot received serious injuries but survived an accident that could have gone either way and his recovery is ongoing. However, as a result of the terrible accident, he won't be amongst the attendees at the 2023 Tipperary Tuck Show on August 27th. But no doubt everybody who attends the event – many of whom will know Dermot - will be sending him their best wishes.
"Dermot is highly regarded in the Irish trucking hierarchy as a man who is happy to help young drivers and is an excellent mentor. He really loves his job and shows a good example to young drivers while sharing his knowledge of the trucking world and industry. If you want to know, just ask Dermot!" says Sean, who runs DTT with his sister Claire and their mother Gretta, with Sean's son Ryan and Claire's son Ciaran also involved in this close-knit family business."
As Sean Hand confirms, Dermot Harrison has been a key figure in the DTT team going back as far as he can remember:
"Dermot was a hard worker from an early age and would help out on local farms in the area. He came to DTT at eighteen years old with a dream of driving a lorry. However, he began his driving career on a David Brown tractor before moving on to a Mercedes 1626 lorry. It was in this lorry that Dermot would pass his HGV test at the very first attempt."
The Louth man took to driving lorries like a duck to water and quickly became an indispensable member of the friendly DTT crew, his successful and accomplished driving career and the growth of the company dovetailing perfectly with one another. Indeed, there is no doubting that Dermot's exceptional driving over the past four-and-a-half decades has been instrumental in the steady growth of the business he serves so well…
"Dermot showed his talent as a young driver and became accustomed to all the Irish routes while driving a Mercedes 2033," Sean continues. "He then advanced on to the UK and mainland Europe routes driving an F10 Volvo, which he soon traded for a Volvo FH in 1995. Dermot's passion for driving was rewarded in early 2000 when he became the proud driver of a new Volvo FH and he has been a staunch Volvo man ever since."
DTT is an industry-leading haulage company, which currently runs a fleet of 14 trucks, including the iconic Guinness-liveried FH540 Lite Globetrotter complete with Guinness and Six Nations rugby livery. As well as pulling Diageo-owned tankers between Dublin and Belfast, DTT also provides a host of other general haulage solutions for a variety of customers.
Very much of the mind-set that a haulage company is nothing without its staff, Sean Hand has great time for all his drivers and his thoughts are very much with Dermot at this difficult time:
"Dermot married Ann in 1987 but sadly Ann died in 2021 following a long illness. RIP," he concludes. "Dermot and his three sons, Stephen, Wayne and Ben, gave exceptional loving care to Ann during her illness. Dermot really is a great lad. He worked for my father and for myself and we think the world of him. Everyone at DTT sends our best wishes to Dermot for a full and speedy recovery."
The Tipperary Truck Show takes place on Sunday 27 August. To get more details visit https://www.duallashow.ie/trucks/