It's not about winning for Martin
22/08/2023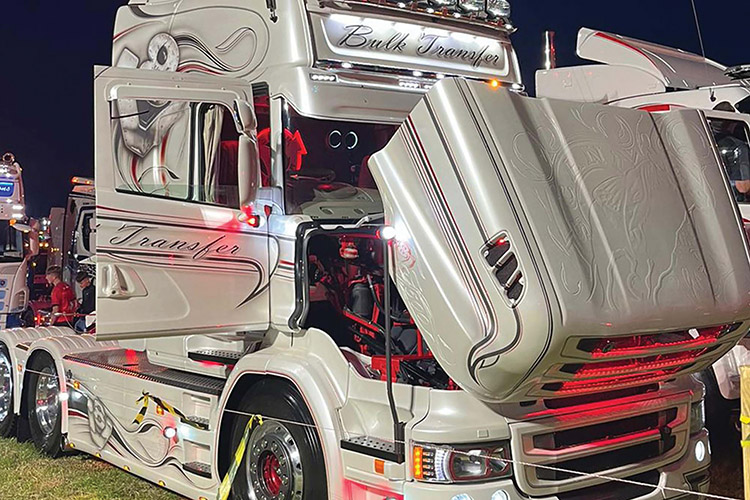 Martin Lavalle's magnificent bullnose Scania scooped the Best Truck prize at the 2022 Tipperary Truck Show and the proprietor of Bulk Transfer in the UK is taking another convoy of eye-catching lorries to Dualla this August. But, for this personable second-generation Irish trucker, taking part is way more important than winning.
Bulk Transfer's stunning show lorries are a familiar sight at truck shows across Ireland and the UK. Martin Lavalle has been bringing a number of trucks to Tipperary Truck Show since 2016 and in 2022 – at the seventh staging of the popular show in Dualla – he took home the coveted Best Truck prize for his easy-on-the-eye and fully-airbrushed Scania T730 bullnose, which features a full custom interior by Special Interiors in Holland.
While he's returning to Dualla to defend the title on the weekend of August 27th, Martin – who also won the Best Large Fleet prize last year - points out that winning awards is the last thing on his mind when he displays his beautiful lorries at Waterford and Tipperary each year:
"To be honest, it was great to win last year but to me it isn't about winning anything," says the owner of family-run waste management, recycling, site clearance and aggregates specialists Bulk Transfer, who currently run a fantastic fleet of 43 trucks from their Maple Cross, Hertfordshire HQ. "This is a show we have done for many years and for us it's all about the whole road trip over and enjoying the craic. While it was great to win last year, I wasn't expecting it. Tipperary is about much, much more than winning.
"It's a great trip for the whole family, including kids. My brother and his kids came over and some of the drivers also brought their kids along. It's a family thing first and foremost and we always make sure we are at both Waterford and Tipperary every year."
Martin and Ed own a number of wonderful old vintage trucks and a convoy of 16-17 lorries will be making the trip to Dualla, as was the case for Waterford in July. "We make a weekend of it," Martin continues. "We get the ferry over to Wexford, where I have family, on the Friday and stay in Corcorans in New Ross, and we'll call back in there again on the way home.
"The whole atmosphere in Dualla is great and it's a lovely show. We have made a lot of friends there over the years and I wouldn't change it for the world. It's one show that I wouldn't miss. It's great for kids and even lads who are English and have never been to Ireland in their lives before fully enjoy it.
"We are located on the outskirts of London and there is a big Irish connection here. I'm second-generation Irish myself – my dad is from Mayo and my mother is from Wexford - and we have a lot of lads from Ireland working for us, who will be coming over for the show.
"It's good craic and a good atmosphere – a bit of fun after a long week of work. The whole experience is brilliant. We enjoy the journey over and the whole convoy … it's the same for us as for Irish lads who are taking their trucks over to shows in the UK, just a great weekend and a wonderful experience."
The money that has to be invested in bringing so many lorries from Hertfordshire to Tipperary is substantial and underlines the genuine passion Martin has for attending and participating in the show: "It is a lot of money but it's worth every penny as I enjoy it and the kids thrive on it. It's a couple of expensive weekends but as far as I'm concerned there's no point having nice lorries and not showing them.
"For example, I have an eight-wheel Hino tipper that gets a lot more attention in Ireland – where they love Hinos – than it does over here. I spend a lot of money getting the lorries done up and if I don't show them then what's the point in having them?
"I have a queue of lads here every year who want to go over to Waterford and Tipperary for the experience and I bring the lads who are truck-mad and who have their lorries up to scratch and really look after them. It's a nice bonus for them and they always enjoy it and so do I."
The scintillating Scania bullnose that was named Best Truck at Tipperary Truck Show 2022 is a 2011 reg, which has been part of the Bulk Transfer fleet for going on six years. "It's not about winning awards," Martin reiterates. "I had it airbrushed with my dad on the back and that's what it's about – a tribute to him. It's a personal thing."
The late John Lavalle was tragically killed in an accident when he was only 51 and Martin has had the Scania done up as a fitting tribute to his father. "It helps in a way to keep his memory alive, which is important to us. Our old vintage trucks are all similar to lorries that he would have had back in the day. He came over from Ireland and set up here before me. We started this current business about twelve years ago and I was an owner-driver prior to that."
Getting back to the theme of Tipperary Truck Show 2023, Martin enthuses: "It's a gathering of like-minded people and a celebration of what we do. There's a lot of craic and banter, and I've made some great friends through the show.
"The organisers are top class and it's a very well-run show. Because we have the Irish connection, we enjoy it and we get to see our family over there, who have lorries too actually and do a bit of forestry work with them. It's all about taking part, meeting other people, and enjoying ourselves.
"This is what we do," he concludes. "My son has just turned 18 and has got his HGV licence and this is going to be his first trip. It's a family thing and it's what we do. It's not about the prizes and never was. If you have something nice, it's nice to show it and to talk to people about it. The people who go to these shows have a huge interest in these trucks and it's important for owners to bring their lorries and show them."
The Tipperary Truck Show takes place on Sunday 27 August. To register and get more details visit https://www.duallashow.ie/trucks/