Dennison right behind Tipperary Truck Show 2023
17/08/2023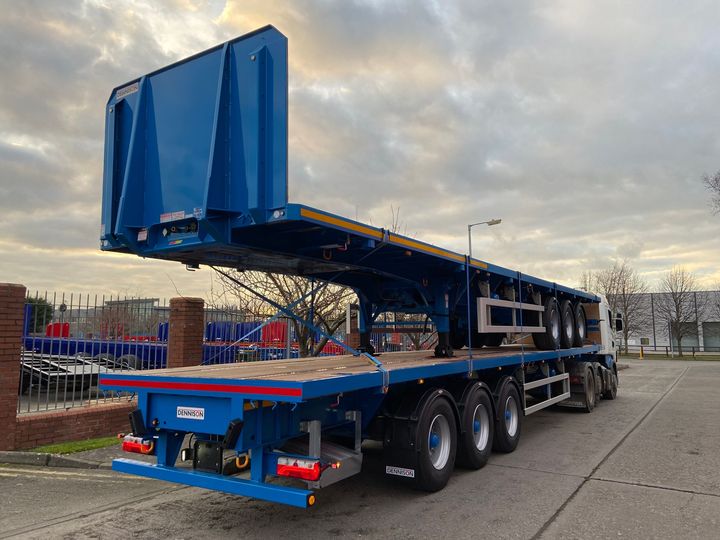 Now a key component of the annual Dualla Show, the eighth staging of the highly popular Tipperary Truck Show takes place on Sunday, August 27th, 2023, with the field opening at 10am on the Saturday for truck show entrants. This year's event is sponsored by the team at Dennison Trailers.
Featuring custom, vintage and working trucks, Tipperary Truck Show 2023 is proudly supported by Dennison Trailers Ltd., who have been announced as the main sponsors this year. Organisers Daire, Paddy and Philip are grateful to the long-established, industry-leading trailer manufacturer for coming on board, while each class / category also has its own dedicated sponsor. Without the invaluable backing of these supporters, the show simply could not go on…
Main sponsor Dennison Trailers have been building high-quality trailers since 1964, with a passion for engineering excellence, continuous product development and the highest standards of customer service. At their facility in Naas, the company manufactures skeletals, platforms, machinery carriers and drawbar trailers together with a range of specialist trailers and all models for the European markets they serve. Still a family-owned and run business, Dennison Trailers is a market-leading manufacturer of semi- trailers, with customers throughout Ireland and the UK, and a healthy export market.
Dennison Trailers has been synonymous with high-quality trailers for coming up on 60 years. They started manufacturing trailers in Northern Ireland in 1964 (their very first trailer is still in existence and kept as a museum piece), moving to a site on the outskirts of Dublin in 1970 before opening their current manufacturing plant in Naas in 1983. Six years later, to serve the UK market, Dennison Trailers opened a manufacturing plant in Lancaster.
Dennison also acquired a local metal processing supplier in Naas in 2017 and total headcount in the county Kildare town now stands at 200.
Dennison Trailers are one of the market leaders in container haulage having developed a 14 lightweight sliding skeletal bogie trailer in the mid 1990's. The success of this trailer in Ireland and the UK led the company to develop a range of new container trailers for the European market in recent years. The rise and slide trailer continental container trailer won a trailer award for its innovative features and the trailer is now proving very successful in continental markets.
At the recent Multimodal show in Birmingham, the company launched a new splitting curtainsider trailer. According to David Dennison, innovation Director, "The trend in deliveries is now on smaller loads going to smaller retail units especially in major cities, another trend is for pallet and parcel deliveries is the use of local hubs or collection points to consolidate deliveries at one location. That is why we developed the splitting curtainsider so that a 13.6metre trailer cane be split, loaded, the two units combine again and head off to a national or regional depot for sorting and forwarding."
David added that the patented spitting trailer comprises two fully road legal smaller urban trailers in their own right and added that it is part of a family of products with boxvan and fridge variants also available.
The company is always looking at new opportunities and one of these has been the move into a scale curtainsider trailer manufacturer in recent years. The company offer a range of pillarless and pillared curtainsider trailers. These trailers are available to ENXL standard. David explains: "The company originally built curtainsider trailers as some customers wanted a one stop shop and Dennison originally specialised in container chassis and platform trailers, and any curtain trailers were built to serve the existing customer base.
However, the curtains that were built were noticed by other potential customers and demand from a new customer base led to the company adding extra capacity to be able to supply curtainsiders at scale. On a single shift the company can cater for up to 1500 curtainsiders a year and still meet the demand from its skeletal and general haulage customers."
Dennison have always been an innovative company, with continuous research and development prominent at the very core of the business. In 1977, Dennison Trailers became the first and only company in Ireland to develop and manufacture its own tractor units, producing 250 Dennison trucks over four years at a site in Dublin. Sadly, the truck company was severely affected by the devaluation of the Irish Punt against Sterling in 1979 when the currency dropped by over 30%.
David explained that the reason for Dennison sponsoring the Dualla show was two fold, one is that the Dennison family with its long history in Trailer and Truck Manufacturing wanted to support the vintage and modern vehicle enthusiasts who keep the history and industry to the forefront giving many hours in the pursuit of their hobby. Secondly, The Dualla show has grown in reputation over the last number of years, and it is a credit to the local organising committee and what they have achieved.
Leading the way with innovative products and renowned for consistently achieving engineering excellence, Dennison Trailers are committed to a high-level aftercare service.
Complementing Dennison Trailers and assisting with the provision of unbeatable aftermarket services, Dennison Fast Parts is dedicated to keeping trailers on the road and in first class condition. As speed of response and availability of stock are critical to operators, Dennison Fast Parts offers a single source of high quality, approved parts by reputable manufacturers for all makes of trailers. Be it for a fleet or a single trailer, they are available throughout Ireland and the UK via a highly responsive Fast Parts operation, designed to get parts to operators whenever and wherever they need them.
Their Naas and Lancaster factories carry a substantial stock of genuine axle & suspension components from the most respected names in the industry complimented by a comprehensive stock of Jost Fifth wheels, landing legs, Tridec Steering systems, Firestone air bags as well as all aspects of trailer air brake systems.
"We are also agents for Aspoeck & Truck-Lite lighting systems suppling both the trailer and agricultural markets in Ireland. We are also the principle agent for Daken tool boxes in Ireland, a range that covers all sizes in Plastic, Stainless Steel and powder coated steel."
Celebrating six decades at the forefront of the trailer-manufacturing market in Ireland and the UK next year, Dennison Trailers is a true market leader, generously providing invaluable support to Tipperary Truck Show 2023 as main sponsor.
Dennison has been an innovative company, with continuous research and development prominent at the very core of the business. In 1977, Dennison Trailers became the first and only company in Ireland to develop and manufacture its own tractor units, producing 250 Dennison trucks over four years at a site in Dublin.
Dennison Trailers Ltd
Maudlins Cross
Naas
IRE +353 (0)45 866468
The Tipperary Truck Show takes place on Sunday 27 August. To register and get more details visit https://www.duallashow.ie/trucks/