High praise for Tipperary Truck Show from across the sea
16/08/2023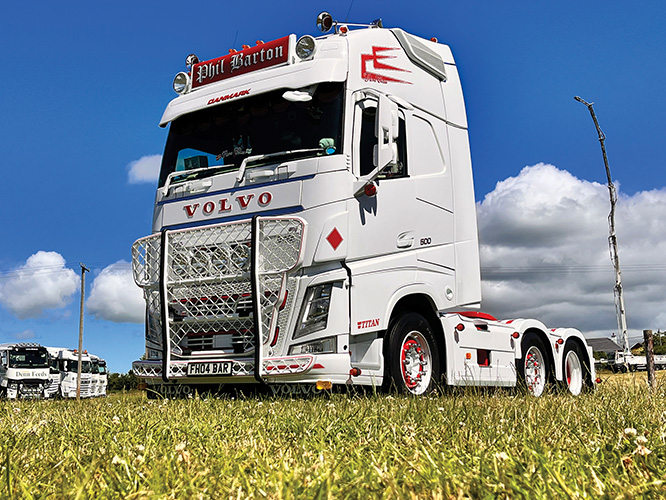 Every year, truckers travel from near and far to participate in and support Tipperary Truck Show. In late August, UK-based Phil Barton and his eye-catching, Danish-style Volvo FH Globetrotter will be taking the ferry across the Irish Sea once more to attend the 2023 edition of the Dualla extravaganza.
Originally from Lincolnshire but now operating out of Yorkshire, Phil Barton has been providing unrivalled haulage services across the UK since 2006. The popular English trucker is a familiar face at trucks shows in Ireland, the UK and on the continent, so it says a lot about the event put on in Dualla each year when he states that Tipperary Truck Show is right up there with the best of the best:
"I've been over at Dualla twice before and I'm really looking forward to coming over again this year," he told Irish Trucker. "I just find it to be an incredibly friendly show. Irish folk are very friendly and that is something that differentiates Tipperary from a lot of the English shows.
"I really like the personal touch and that's very much part of the experience at Tipperary Truck Show. Unlike a lot of other shows, it's not just about making money. It's a charity event and it is genuinely there for the trucker – not to squeeze money out of you. I'm paying for my diesel to come across from England and putting my time and effort into attending and the one thing I really appreciate about both Waterford and Tipperary is that you get that all-important personal touch. Daire and Philip know you personally and they make you feel welcome.
"Don't get me wrong, there are shows like this over here too – Swedefest, the show for Volvo and Scania, is a nice one that springs to mind – but it's hard to beat Dualla and I 100 per cent enjoy the show every time I come over."
Twice a winner previously at Tipperary Truck Show – while his partner, Louise, also picked up a trophy in 2019 – Phil's latest Scandinavia-themed Volvo FH Globetrotter XL 500 looks absolutely magnificent both inside and out and is a real head turner everywhere it goes.
"I'm a Volvo man and Louise is a Scania lady," he notes. "She drives a baby 440 Scania, which is ten years old now but looks very tidy, and does bulk tipper work, drawing wheat, barley and grain, while I'm doing general haulage and groupage for DSV, delivering cargo that comes in from Denmark all over the UK – into England, Wales and a lot of it into Scotland."
Phil originally specialised in chemical transportation but that all changed when an opportunity to work for the aforementioned global Danish logistics giant DSV presented itself (hence the Scandinavian theme of his truck) and he opted to move to general haulage (full loads and groupage) hauling ferry trailers to and from Immingham throughout the UK.
Always attracted to the Scandinavian way of customising trucks and now finding himself working for a Danish company, the temptation proved too great and in 2014, Phil bought another Volvo truck, (this being his fourth of his favoured marque), but this time he took it to a specialist truck refinisher in Denmark and asked them to give it a typical Scandinavian makeover, both inside and out. Delighted with the results, this first 'British Scandinavian' truck attracted much attention amongst truck spotters and enthusiasts and was regularly seen on the truck show circuit.
By 2020, he was ready to replace his first Scandinavian themed Volvo and decided to repeat the customisation exercise with another Danish makeover. This time, however, he decided to go one better by having a superb airbrushing of a Viking ship adorn the back of the cab as a means of complementing the overall Scandinavian theme. The custom interior has once again been fully kitted out in Denmark, resulting in an extremely comfortable cab which feels just like home from home.
As luck would have it, the weekend of Tipperary Truck Show coincides with a Bank Holiday Monday in the UK, which works out perfectly for Phil and Louise, who are planning on travelling to Hacketstown on the Sunday night to take in a bit of traditional Irish pub life with Carlow-born, UK-based trucker Charlie Doyle of C Doyle Plant Hire & Construction – a man known near and far for his beautiful airbrushed Scanias.
Regarding his own passion for Volvo trucks, Phil reveals: "I've always had Volvos since the beginning and it's just a very good brand as far as I'm concerned. The dealership I deal with here in the UK is a very good dealership and they are fair to me and I really like Volvo.
"I'm not anti-Scania, far from it, I just prefer Volvo myself. They are a great truck and the package I get with my dealership is so good that it wouldn't make any sense to leave. A bit like the truck show in Tipperary, there's a personal touch there, too, which I like. Those little things make all the difference. If I want to, I can stand in the garage and watch it being serviced and I'm really happy with where I am, so there's no point even thinking of changing. Louise gets her Scania serviced by an independent Scania dealer and they are very, very good as well."
Truck-show-wise, 2023 has been a busy summer for the man behind Phil Barton Transport and his prized Volvo FH, who exhibited at a show in Holland and then Waterford before getting ready for his third appearance in Dualla.
"The competition is fierce with a lot of very nice trucks out there," he concludes. "But I go for it and put the money and effort into my truck, so I'm always hoping it'll make a good impression at the shows."
It consistently does and will no doubt get heads turning and tongues wagging once more over the weekend of August 27th!
The Tipperary Truck Show takes place on Sunday 27 August. To register and get more details visit https://www.duallashow.ie/trucks/