Tipperary Truck Show a real year highlight for Shane
15/08/2023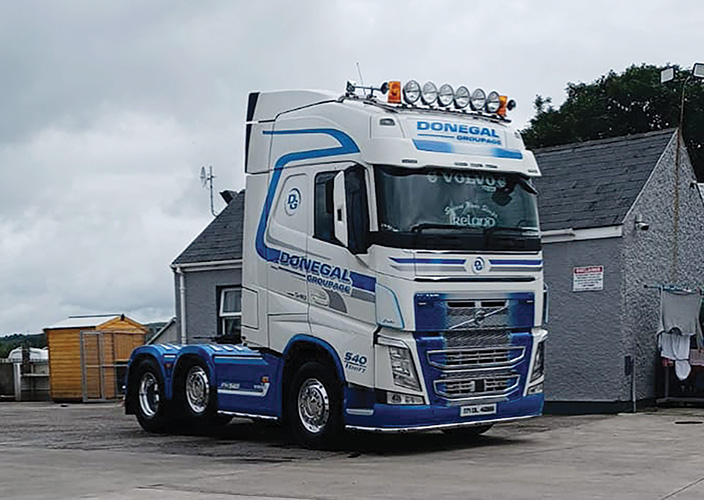 It goes without saying that an event such as Tipperary Truck Show would not be the success it is without the support, loyalty, input and enthusiasm of the truckers who flock to Dualla each year to mingle with their peers and put their trucks on display. Truck-loving couple Shane Bogle and Jolene McBride of Donegal Groupage will be taking the trip to Tipp from the north west once more in August, 2023.
Excitement levels are rising ahead of the eighth staging of Tipperary Truck Show over the last weekend of August, with familiar faces - and new ones, too - getting ready to congregate once more in Dualla for a celebration of all things trucking.
Representing the Donegal Groupage team, driver Shane Bogle and his fiancée Jolene McBride (director) are no strangers to Tipperary Truck Show and the popular couple are dusting down their trusty Volvo and Scania respectively ahead of the eagerly-awaited 2023 edition of this unique and energising event.
Although trucking is a vocation, the haulage game isn't always easy and truck shows provide the people who work so hard in the industry with a welcome opportunity to let their hair down, meet up with like-minded individuals, put their vehicles on display (and check out those of the competition!) and essentially to celebrate who they are and recharge the batteries.
A key member of the Donegal Groupage team for the past six years and counting, Shane Bogle can't wait to make the journey south to Dualla for the third time. Looking forward to Tipperary Truck Show 2023, the personable Donegal driver told Irish Trucker:
"It's a very well organised show and I know Daire [Maher, who organises the show along with Paddy Graham and Philly Ryan] well through the truck industry. It's a great show and one of the things I really like is that it's not all about trucks. It's a family event and there's a lot for children to do as well. It's very well-run and the lads do an amazing job every year in accommodating everyone and making us feel welcome.
"It's a good weekend in good company and we always look forward to getting there every year. As far as truck shows go, Dualla in my first choice. It's the only show in Ireland that I go to. I've been to Edinburgh a few times but it's hard to beat Tipperary."
A trucker for 18 years, Shane has been behind the wheel of a fantastic Volvo FH 540 for the past four of those – a lorry he's been driving on behalf of Donegal Groupage since it was a year old. "It's a brilliant all-round lorry and a pleasure to drive," he notes. "Donegal Groupage run a fleet of ten lorries at the moment – a mixture of Volvo and Renault plus one Scania."
The plan is that driver TJ McGee will bring down Shane's Volvo, while Shane is going to drive the company's show lorry – a Scania 164, which is Jolene's pride and joy. Jolene runs the business alongside her father, Kenneth McBride.
Celebrating 20 years in business next year, Donegal Groupage provides a nationwide distribution service, Dublin express deliveries, warehouse storage facilities and an international freight service.
From parcels and pallets to full loads, Donegal Groupage offers a complete delivery service. Customers choose this exceptional St Johnston-based operation because it offers a reliable, flexible, value-for-money and efficient next-day delivery service of parcels and pallets to the 32 counties, same-day delivery, proof of delivery, 48-hour service to and from the UK, while full loads are catered for throughout Ireland and the UK.
Donegal Groupage run a modern fleet of articulated trucks, rigid trucks and vans as well as standard curtainsiders and double decker curtainsiders. Always immaculately turned out, the trucks are monitored by satellite tracking while tail lifts and electric pallet trucks are other additional features.
Donegal Groupage are Dachser Ireland's groupage partners in Donegal, Derry and Tyrone and enjoy an excellent working relationship with Landbridge Logistics, Primeline Express, Nightline, Superior Express, Irish Shipping, Geodis Logistics and Connect Logistics.
The company's groupage partnership with Dachser Ireland since 2010 has enabled them to grow and prosper, whilst continuing to provide a full load service for The Pallet Network, with whom they first partnered in 2004.
Although it's quite a long drive from St Johnston (located two miles from Lifford) to Dualla – close to 400km! – by mixing business with pleasure, the cost of attending the show can be kept to a minimum:
"We'll take a load to Dublin on the Friday and leave the trailer in a customer's yard for the weekend and then bounce on down to Tipperary from there," says Shane. "It's only an-hour-and-a-half to two hours from Dublin to Dualla and let me tell you it's well worth it for a show like that! We can't wait and we'll get the trucks looking as good as we can. I'll spend two or three days working on them if I can get a bit of a quiet spell at all in the week leading up to the show."
In these tough times for the economy and for individuals, with the cost of living threatening to spiral out of control, Shane believes an event like Tipperary Truck Show is good for the head:
"You couldn't put a price on something like that," he concludes. "It's just good for everybody to get together for a weekend like that. You catch up with people and you also make new friends every year, which is great. We wouldn't miss it for anything."
The Tipperary Truck Show takes place on Sunday 27 August. To register and get more details visit https://www.duallashow.ie/trucks/