Interparts Ltd – Keeping Your Wheels in Motion 
31/07/2023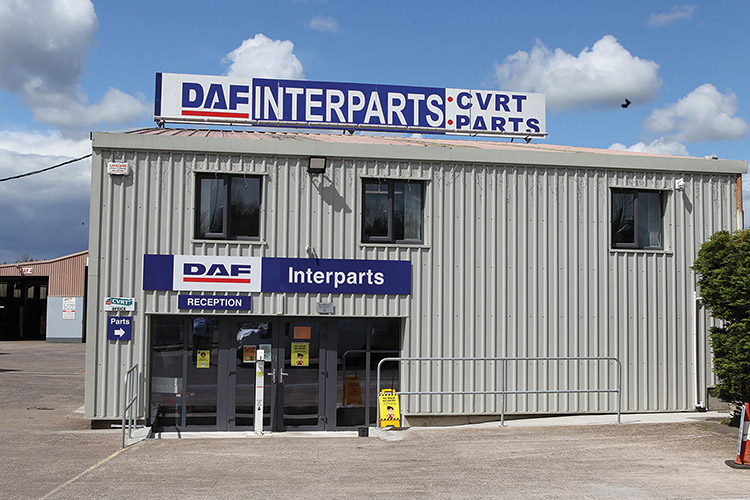 Interparts Drumalee Ltd has been a one-stop shop for all your commercial testing, repairs, maintenance, and parts needs in Cavan and beyond for almost 40 years.
These are exciting times for Interparts Ltd which is constantly growing and evolving to cater for its customers' requirements. As well as being a main DAF dealer, Interparts Ltd is an NSAI and ATC-approved Heavy Goods and Light Commercial Vehicle Test Centre holding ISO certification. It is fully authorised to carry out all LCV, HCV, ADR and Fast Tractor Testing. The garage also undertakes voluntary safety checks to see what repairs are required prior to the CVRT test if requested by the customer.
In addition, Interparts Ltd opened a second parts depot in Greenogue Business Park, Rathcoole, Co. Dublin in May 2021 to service the Dublin and wider Leinster areas. This depot is run by father-and-son Pat and Damien O'Connell.
Established in 1984 by former Ballinamore, Drumalee and Leitrim footballer Joe Gormley, and employing 40 people, Interparts Ltd is the leading CVRT test centre in its region. Strategically located on the Dublin Road on the outskirts of Cavan town, it offers customers a wide range of services, including truck sales, parts for all makes and models of commercial vehicles, servicing, repairs, tachograph fitting, 13-week vehicle inspections with brake tests recorded on CVRT portal, breakdown recovery, speed limiter and vehicle plating.
The company has invested heavily in the latest equipment for testing all LGV and HGV commercial vehicles. It boasts a new waiting room area where customers can relax with a cup of tea or coffee while their test is being completed, and a new late opening time Monday to Thursday to 9pm.
"We have made a significant investment in providing the best facilities for our customers. Their safety on the road and the safety of others is of paramount importance to us," test centre manager Annamarie Costello says.
"Our team of testers in our state-of-the-art workshop are more than happy to answer any questions that you may have before or after the test. We place a strong emphasis on customer service. We will always try to accommodate our customers at a time that best suits them. We are now open from 9am to 9pm Monday-Thursday. Our new waiting area offers free WiFi among other things. It's a nice, friendly atmosphere and we have ample parking space."
Annamarie continues: "There has been a big take-up in our new pre-CVRT inspection which is a voluntary safety check. The purpose of the pre-check is to make sure the vehicle passes its CVRT test. It eliminates the need for a re-test, while also speeding up the process.
"We also carry out ADR and Fast Tractor testing. The ADR is a specialist test for vehicles carrying dangerous or hazardous goods in bulk by road. We also have a special ramp for testing Fast Tractor brakes. Booking online has also become very popular and we have a strong online presence when it comes to buying parts too."
Interparts Ltd's clients range from large fleets and garages to bus operators and owner-drivers. Among the fleets who avail of its test centre on a regular basis are Duffy Transport, O'Harte Transport, Exsol, eir, Bus Eireann and Breffni Plant.
Interparts Ltd is going from strength to strength under the watchful eye of proprietor Joe Gormley and general manager Robbie Malone. Financial controller Donal McAdam puts its success down to exceptional customer service.
"We build lasting relationships with customers and our staff are all well-known and experienced. We're nearly 40 years in business and have earned an excellent reputation in the industry not just for testing, but for a full range of services," he says.
"We provide a professional, knowledgeable service and our testers are vastly-experienced and fully-qualified. The test centre also feeds off the fact that, as a main DAF dealer and aftersales agent, we have an authorised DAF workshop and can carry out all necessary servicing or repairs on any commercial vehicle, while we also stock parts for all makes and models. So we have everything here to meet our customers' needs."
The state-of-the-art parts department and warehouse in Cavan stocks over 30,000 items and is a one-stop shop for all HGV, LGV, truck, trailer, van and car parts needs. In addition to DAF, the company supplies TRP parts - a quality brand supported by DAF suitable for all makes and models of trucks and trailers including DAF, Scania, Volvo, MAN, Mercedes, Dennis, Iveco, Renault, Hino, RoR, Bpw, Saf, Daimler Chrysler, etc. Interparts Ltd also carries an extensive range of LUK clutches and diesel tanks for all vehicles.
Interparts Ltd only stocks and supplies trusted brands to cater for its cabin, engine, braking, driveline, airbrake, electrical, exhaust and consumable products ranges and all parts come with a 12-month manufacturer warranty.
"We offer next-day delivery nationwide for parts for all makes and models of commercial vehicles, using our own fleet of vans for deliveries in surrounding counties. Due to growing demand, we've also opened another parts depot in Rathcoole in Dublin which has hit the ground running," general manager Robbie Malone explains.
As Interparts Ltd looks forward to continuing to serve the needs of its many customers in the months and years ahead, it would like to take this opportunity to thank them and its suppliers for their support and loyalty as well as its dedicated team for their hard work and expertise.
Interparts Drumalee Ltd
Dublin Road,
Co. Cavan,
H12 Y8N1.
Tel: 049 433 1777
Email: [email protected]
Web: www.interparts.ie
First published in Irish Trucker magazine Vol 26 No 4 July 2023