Progressive McCauley Trailers synonymous with quality and innovation
27/07/2023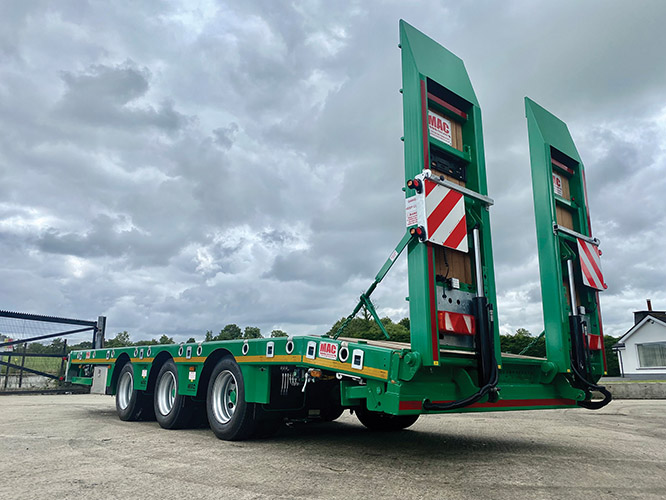 A proven policy of constantly innovating whilst focusing on the highest levels of quality has helped McCauley Trailers Ltd. (who produce the renowned MAC Trailer brand) establish themselves as one of Ireland's premier manufacturers of industry-leading commercial and agricultural trailers.
The recent installation of a new robotic chassis welding bay at their state-of-the-art manufacturing facility in Toomebridge, County Antrim epitomises McCauley's successful strategy of consistently embracing technology and moving with the times.
Although trading since 1955 and firmly established as a market leader, McCauley Trailers has never been a company to rest on its laurels. To the contrary, management are constantly seeking out ways to improve products, manufacturing efficiencies and customer service.
Last year was their busiest to date and in keeping with their stated objective of reducing lead times and continuing to improve on quality, £1m was invested in a full robotic chassis welding bay, with six robots which can produce low loaders to the highest possible quality. The introduction of full trailer chassis welding automation not only increases efficiency when working on more standard trailers, but the robots also free up the company's skilled welders to work on more bespoke trailers.
"With this investment in robotics, we can produce extremely high-quality, hassle-free products, whilst assigning more welders to the more bespoke jobs on the welding bay," confirms Sales Manager for Ireland Martin McAfee. "That investment has been huge and it shows that we have no plans to disappear. Indeed, we have aspirations to grow the business substantially and to push it on even further.
"Investing in the robotic welders means we can continue to introduce new products as well as redeveloping existing products, which are always being adapted and improved. We are constantly moving forward and with the robots in, we are in a better position than ever to work on new designs. That allows us to be even more flexible in what we are doing and everything here is geared towards innovation, efficiency and quality. That's what we are driving towards all the time."
The genesis of McCauley Trailers Ltd / MAC Trailers – Northern Ireland's longest-established agri and commercial trailer manufacturer – goes back almost eight decades. "In the early days, it was all agri trailers and small car trailers and a market was then identified for high-quality dump trailers and low loaders," notes HR and Finance Manager Caitriona Gribben.
"One of the biggest breakthroughs was getting into the export market in 2004," Martin continues. "On the back of those exports, the company started to grow and that led to a lot of developments. We are ISO certified and hold European Whole Vehicle Type-Approval as well as UK Vehicle Type-Approval.
"We have successfully broken into export markets all over the world – from Canada to Australia and New Zealand to New York – and, indeed, in the factory as we speak, we are building commercial trailers to go to New Zealand – a market we are hoping to expand."
MAC Trailers design and manufacture a complete range of commercial and agricultural trailers, with all aspects of the production process handled in-house. The entire manufacturing process takes place in one of two sites at Toomebridge and Ballymena, where a highly-skilled and vastly-experienced team of 80 is employed. McCauley Trailers also have a fully stocked parts department to deal with aftersales requirements.
McCauley Trailers manufacture one of the widest ranges of trailers available for the transportation of plant and machinery. They have a standard range of agricultural and commercial trailers and from this base can provide a wide variety of options to meet all customer requirements.
Over the years, they have developed a diverse product range to address virtually all transportation requirements, so customers can be certain that no matter what type of machinery they are transporting, MAC Trailers will have a trailer to suit their needs.
An in-house design team allows for customisation of trailers, using 3D Computer Aided Design to provide a one stop shop for trailer design and fabrication whilst giving customers a realistic virtual look at what the final product will look like. McCauley Trailers specialise in the manufacture of bespoke trailers to suit individual requirements and are happy to speak to customers about any specific needs they may have.
"There have obviously been major changes in the market in recent years and customers are always looking for the most economical and cost-efficient solutions," says Martin. "Contractors and construction companies are always looking at expenditure. We are getting more and more enquiries about commercial trailers in the Republic of Ireland and Northern Ireland markets and, as we offer a bespoke service, we work with customers to make sure they are getting the maximum out of their product.
"We are not a mass production company. We tailor the trailers to suit customers and we are one of very few companies to offer that service."
As Caitriona stresses, the fact that McCauley Trailers is a local company represents another major strength: "We are a local company and we find that a lot of other trailers are imported and mass produced. With those trailers, you buy what you see and you then have to modify it to suit your yard. We will manufacture a bespoke trailer and will carry out all those minor modifications to make sure the customer is getting the exact trailer they need.
"The trailers are locally-produced to spec and the back-up service is also local, and our customers in Ireland have complete peace of mind in knowing they are dealing with a local company with a proven track record for quality, service and innovation."
A relentless pursuit of perfection has been behind the extraordinary success of MAC Trailers. "Quality control is a big thing here and is very important," Martin confirms. "As a family business, everybody – from the engineering team to the production team, admin staff and the people on the floor who make it all happen - takes great pride in what they are doing and the owner is here every day to oversee everything."
"We are very proud of the fact that we do everything ourselves in-house," Caitriona concludes. "From design to fabrication right down to piping and wiring, it's all done here on site. We all take a great sense of satisfaction from seeing the raw materials come in one gate and the high-quality finished product go out another."
Each trailer is an innovative work of art that looks fantastic and delivers optimal performance. This is why McCauley Trailers benefit from a large volume of repeat business and – some 78 years on from the company's inception – continue to attract new customers both here in Ireland and around the world.
McCauley Trailers Ltd.,
72 Gloverstown Road,
Toomebridge,
County Antrim.
TEL: +44 (0)28 7965 9191
Email: [email protected]
Web: mccauleys.co.uk
First published in Irish Trucker magazine Vol 26 No 4 July 2023