Exciting times for Baku GLS Ltd
27/07/2023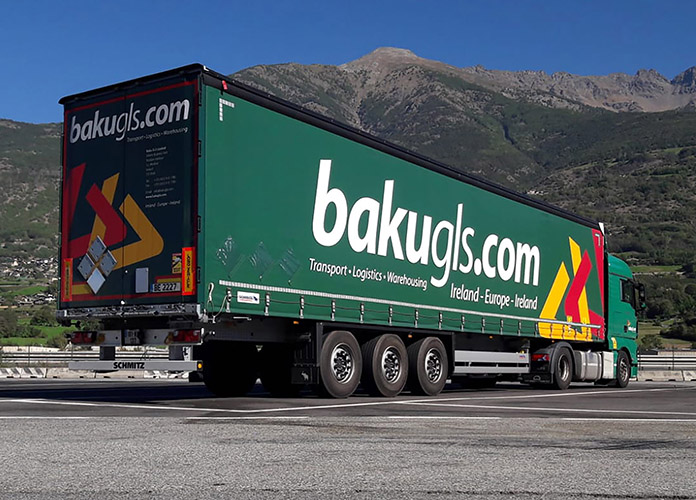 These are exciting times for Baku GLS Ltd. The company, based in Rosslare, Co. Wexford, has just put in an order of 30 new MAN trucks and 20 new Schmitz trailers, and is also in the planning stages for a new 80,000 sq. ft. ambient and temperature-controlled warehouse facility beside Rosslare Europort.
One of Ireland's fastest growing national and international transport, distribution and warehousing companies, Baku GLS delivers excellence first time – every time. Baku GLS is the transport partner of choice for over 3,000 customers whose goods always reach their final destination on time. For Baku GLS, transport is about more than shipping from A to B – it's about support and commitment
From humble beginnings in 2000 when it was founded with the vision of developing a consolidation centre in the south-east of Ireland for import and export groupage and part load cargo, Baku GLS has grown to employ almost 140 people and runs a fleet of 60 trucks and 150 trailers. The tractor units are all MAN, while the trailers are all Schmitz and all their fridge units are fitted with Thermo King motors. All vehicles are fitted with live tracking, external cameras, panic buttons and are fully alarmed.
A well-oiled machine, the award-winning company offers a wide range of services which include: trailer service ambient and temperature-controlled exports to the UK and Europe; trailer service ambient and temperature-controlled imports from the UK and Europe; warehousing; ADR shipments; domestic transport; and customs clearance.
In addition, Baku GLS has a GDP (Good Distribution Practice) Passport and GDP Champion certified with all staff being GDP trained. All drivers are also ADR and Airfreight Module 12 trained, while all office and warehouse staff are trained in Chemical Awareness. The company has an in-house DGSA Officer as well.
The countries Baku GLS ships to and from are the UK, France, Spain, Portugal, Italy, Belgium, Luxembourg, Germany, The Netherlands, Denmark , Poland, Hungary, Austria, Romania , Slovakia, Slovenia, Croatia and Switzerland.
As part of its replenishment programme and green standard to reduce emissions, Baku GLS has ordered 10 new left-hand drive MAN TGX 510 Euro 6+ and 20 MAN TGX 470 Euro 6+ tractor units from Den Engleson in Nijmegen Netherlands which it will take delivery of over the next six-24 months.
"This investment underlines our commitment to offering customers an exceptional service. We wouldn't be able to deliver on that commitment without having reliable equipment, staff and experienced drivers," Baku GLS Fleet Manager Phil Cassidy says.
"We insist on keeping our trucks fresh and changing them every six years. We choose MAN because of their fuel economy and low emissions. Our fuel consumption is 27 litres to 100km over the year.
"MAN are also a very driver-friendly truck. They have features like automatic gearbox , roof-mounted air pod units and XXL cabs which are ideal for our husband-and-wife driving teams. We have 12 double driving teams in total.
"We have 42 Euro (left-hand drive) and 18 domestic (right-hand drive) trucks in our fleet, all are Euro 6 vehicles. The new trucks will be put to work on the Continent where we have a growing customer-base. Our Schmitz trailers are a mix of boxes, refrigerated units and euroliners."
Behind the wheel of every truck is a top-class driver. The Co. Wexford company employs 88 drivers and a further 50 people in its office, warehousing and customs operations.
"Our drivers are professional, dependable and always deliver on time. They take tremendous pride in their work and look after the trucks as if they were their own. But it's a real team effort from the people in operations , garage, administration and warehousing to those out on the road," Phil continues.
"Our multilingual team of experts are well-known in the industry. Whether you're delivering locally or across the Continent, we've got the experience and knowledge to make almost anything happen.
"Furthermore, we provide driver-training and can train drivers to our specifications regardless of their experience. We also teach manual handling and are approved by the LAA (Logistics Associate Apprenticeship) which provides academic education and practical training across the freight, logistics, shipping and distribution industries. We were also awarded the TruckSafe Gold Standard by the FTA a few years ago and are hoping to achieve the Green Standard this year as well."
Next year is expected to see the opening of Baku GLS's brand new state-of-the-art ambient and temperature-controlled warehouse just off the new Rosslare Europort entry road. The facility will be a future-proof, flexible storage and logistics hub just 1km from Ireland's gateway to Europe. With daily services to Fishguard, Pembroke, Zeebrugge, Cherbourg, Bilbao and Dunkirk, port volume at Rosslare has grown by a whopping 480%. It's set to get even busier in the years ahead with new technology and infrastructure projects on the way.
"We're developing this new customs-bonded warehouse to cater for the increased volume of goods direct to Europe," Baku GLS Business Development Manager Mary Mullins explains.
"Rosslare Europort is expanding and we want to be at the forefront of that growth. It's close to the export and import market. The new warehouse will be ambient and temperature-controlled with capacity for over 16,000 pallets. It will also be fitted with solar panels and will be sustainable and energy efficient."
The new warehouse will allow exporters to hold stock prior to export, while importers can run a national distribution hub with 3PL and 4PL support. It will also enable UK and non-EU businesses to set up Irish subsidiaries in a prime strategic location. Baku is also AEO approved.
Features of the new warehouse will include: 16,000+ pallet capacity; 11 loading bays; sustainably powered; high bay narrow aisle racking system; temperature and humidity controlled; customs bonded; bio science storage (devices and cryo); fully secured site (alarmed and permanently monitored); flexible storage (accepts pallets, containers, package and non-palletised goods); digital inventory controls (SAP, EDI and WMS); 3PL, 4PL and pick & pack support; contingency storage; long leases and partnerships available.
For growing and established businesses, Baku GLS can provide a 'one-stop shop' service where it takes control of their logistics requirements and gets each job done in a way that's sensitive to their unique needs. The company's tamper-proof trailer security, 24/7 cargo monitoring and state-of-the-art real time navigation systems keeps your cargo safe, secure and on-time throughout its journey.
Baku GLS is proud to have won a number of awards and certificates for its high standards of safety , knowledge and service . The rapidly-expanding company would like to take this opportunity to thank its clients and suppliers for their continued support as well as its dedicated team for their hard work and expertise.
Baku GLS Ltd
Kilrane Business Park,
Rosslare Harbour,
Co. Wexford,
Y35 Y06K.
Telephone: +353 (0)53 91 61786
Email: [email protected]
Web: www.bakugls.com
First published in Irish Trucker magazine Vol 26 No 4 July 2023