Radius Components marks a decade in business
20/07/2023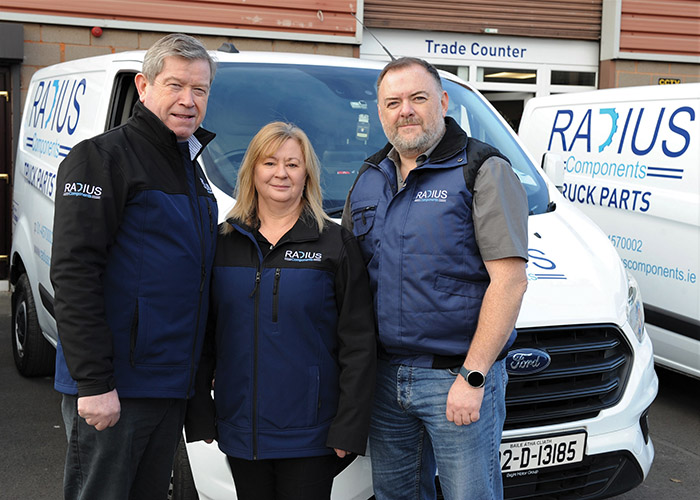 Based in Clondalkin, Dublin 22, Radius Components Ltd specialises in the supply of commercial vehicle and trailer parts to its customers in the automotive industry. Irish Trucker touched base with its founder and proprietor Christy Deegan to learn more about the company which has just hit a milestone as it celebrates 10 years in business.
These are busy times at Radius Components Ltd and they pride themselves on their ability to respond to their customers ever evolving requirements and demands. The management team of Christy Deegan, Breda Deegan and Dave McNamara are confident that the business will continue to grow and progressively capture market share.
Operating with 11 staff on its books and six vans on the road, the company has been going from strength to strength since its inception on March 1, 2013.
Right now, business is as good as it's ever been for Radius Components Ltd and "progressively getting better", according to Christy Deegan.
Irish Trucker spoke with the Managing Director to hear all about the overall status of business at the moment, along with the company's origins and how the Covid-19 pandemic impacted it.
"Like everybody, we struggled through the downturn but bounced back and business is getting stronger ever since," Christy outlined.
"We're well established now and I feel we've come far as a business. We've embraced more products and turned this from a small business into a large business within our sector."
Through its excellent customer care, top of the line products and first-class service for customers, Radius Components Ltd has enjoyed progressive growth over the past decade.
The business has a solid reputation when it comes to putting its customers first and offers them bespoke services to meet the precise requirements of each individual vehicle/owner.
It's this approach which has stood to Radius Components Ltd since 'Day One', and you can be sure they'll continue to work hard to find ways to improve the service even further.
Of course, recent times did see a significant set-back in the form of the Covid-19 pandemic which effected businesses worldwide.
"Everybody hit a wall on the Friday didn't they, after Leo Varadkar announced what was happening," he said.
"We kind of made ourselves essential throughout it – that really was our saving thing. A lot of garages closed, a lot of companies closed but, I suppose, because of the nature of what we do, we bounced back fairly quickly.
"It did impact us but we got it back."
It's safe to say the lockdown era of 2020/21 brought about some of the toughest challenges for Christy, his wife Breda and their excellent team at Unit 2 Besser Drive since the very beginning.
Rewind back a decade or so to a time when Radius Components Ltd was getting off the ground and as one could imagine, the obstacles were plentiful.
Coming off the back of the economic recession which hit hard in '08, it was difficult getting off the ground and took hard work and immense dedication to do so effectively.
"It was damn hard," Christy stated plainly. "It was tough because we were trying to cut our way into a market that was well established. I'd been working in it for around 25 years before I started my own business.
"There was a downturn in 2010 and we'd been working elsewhere for the couple of years before we started (in 2013) and it was tough. You've got to be dedicated and put yourself last and put the customers and business first.
"Nothing can be bigger than what you're trying to do. So, any profits we made we put back into the business and that allowed us to get one or two staff members in the early stages and build it up slowly. We have just taken on our 11th staff member."
As it stands, the company sells commercial vehicle aftermarket products to its customers, which include garages, owner-drivers along with large fleet operators, and up to 80 per cent of its business is located within the greater Dublin area.
It's a hugely competitive market and Radius Components Ltd has always done its utmost as a business to stay out in front.
Ask him why customers choose his company first ahead of other competitors out there and Christy will put it to you plainly:
"Our dynamic tends to be we do what we say and we say what we do. We don't over promise, we kind of over deliver, I suppose, and that's the secret to it."
The Dublin native added: "I think, in this industry, standing still is going backwards so you've got to be proactive. You've got to be thinking all the time and looking for new suppliers and other products and the niche or edge that nobody else seems to have."
Delivering a bespoke service to each and every client has been Radius Components' forte for these last 10 years and, no doubt, that approach will carry on as it looks to continue its growing trend.
Looking at the months ahead for the business, Christy wants more of the same growth-wise while also ensuring the high level of service that Radius Components Ltd has always provided.
"We'll be looking at consolidation of what we've already achieved and then steady progressive growth.
"I'm not looking to go out and set the world on fire because that's overtrading. It's slow, steady growth.
Radius Components Ltd.,
Unit 2 Besser Drive,
Clondalkin Industrial Estate,
Dublin 22, D22 K466.
Tel: 01 4570002
Email: [email protected]
Web: www.radiuscomponents.ie
First published in Irish Trucker magazine Vol 26 No 3, May/June 2023