O'Harte Transport takes delivery of new trucks and trailers
25/05/2023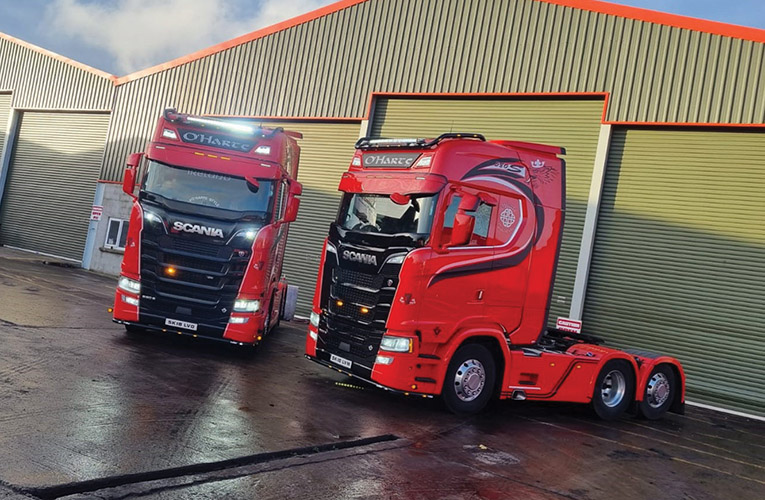 O'Harte Transport Ltd has bolstered its logistics operations with the addition of three new trucks, 10 new curtainsiders and three new walking floor trailers. The new arrivals have been put to work transporting goods across Ireland and the UK.
While the Clones, Co. Monaghan-based company was only formed in May 2019, the O'Harte family have been in the transport business for over 30 years. They also set up a separate company just across the border in Ballygawley, Co. Tyrone called O'Harte UK in response to Brexit, and hold transport licences for both Ireland and UK which allow them to operate within both countries.
Specialising in walking floors, bulk tippers, flat trailer and low loader transport services, O'Harte Transport employs over 30 people, including four technicians and four fitters / welders who man the company's state-of-the-art workshop, which carries out maintenance and repairs to its own trucks and trailers as well as to those of local transport companies. The garage boasts a full range of diagnostics for all makes and models, and offers a prompt, clean, value-for-money and friendly service.
"The work is coming to us. The garage has been very busy since we opened it a few years ago. It's another string to our bow and brings in extra business," says managing director Aidan O'Harte, who is joined in the business by his wife Julie.
"Our six-bay workshop provides general maintenance and repairs for our own fleet and other fleets. We can cater for everything from aluminium welding to 12-week vehicle inspections and DOE test preparation."
By operating one of the most modern fleets in Ireland, O'Harte Transport is able to deliver an unrivalled service to its clients. The company is currently running 35 trucks, which are a mix of Scania, DAF and Renault, and 50-60 walking floor, curtainside, tipper and low loader trailers.
"We pride ourselves on our modern fleet of trucks and trailers, and on our exceptional and reliable service. We haul everything from plastic and tin to woodchip, compost and sawdust, and also do a lot of groupage work."
With every load being precious, O'Harte Transport is constantly upgrading its vehicles. The company's eye-catching red fleet has been embellished by the arrival of a stunning new Scania S650 which bears the registration number 222-MN-40. Supplied by McElvaney Motors in Monaghan, the superbly spec'd Dutch-style twin-wheel tag axle tractor unit is fitted with lights and bars from Bits & Bobs Truck Accessories, also in Monaghan. Additional works include paintwork by Tierney's Motors in Emyvale, Co. Monaghan.
The haulage firm has also collected two new Renault T-High Evolution 520hp 6x2 tractor units from Setanta Vehicle Sales Ltd to add to its growing Renault fleet. The new tractor units are equipped with every possible extra, including 60T rear axle, front air suspension, pneumatic sliding fifth wheel, durabrite alloy wheels, top and bottom light bars. Each truck is fitted with satellite tracking and a fleet management system which allows customers to track their products as they move, from anywhere in the world.
In addition, O'Harte Transport has received a delivery of 10 new curtainsiders from SDC Trailers and three new STAS 120 CYD walking floor trailers from TC Trailers. "Our walking floor trailers are very flexible which gives us a distinct advantage over many of our competitors."
Behind the wheel of every O'Harte Transport vehicle is a reliable, experienced and courteous driver. "Our drivers are the best in the business. They always deliver the goods," Aidan asserts.
"Our objective at all times is to provide the best possible service to our customers. We always go the extra mile for them. Our customers can rest assured that their goods will be delivered in a safe and timely manner. We treat every customer the same regardless of their size."
The COVID-19 pandemic posed problems for many fleet operators, but not for O'Harte Transport who availed of new opportunities and are going from strength to strength.
The Clones operator would like to take this opportunity to thank its customers and suppliers for their continued support as well as its drivers, workshop and office staff for their hard work, dedication and expertise.

O'Harte Transport
Coraghy,
Clones,
Co. Monaghan.
Telephone: 047 51557 ext3 / 087 3363791