Generations of haulage excellence
18/05/2023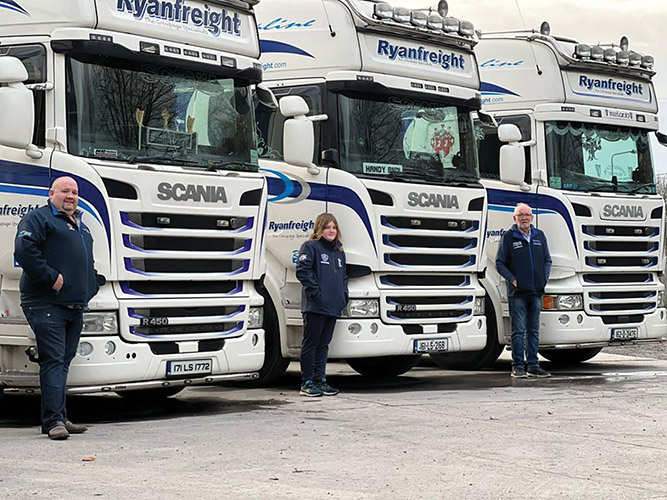 Specialising in refrigerated transport, JS Ryanfreight is an industry-leading, family-run haulage company that has been delivering the goods for 40 years and counting. Irish Trucker travelled to the midlands and touched base with hands-on director John Ryan to find out more about this award-winning operation.
Synonymous with invariably providing prompt and professional transportation services to an ever-expanding customer base across the midlands and beyond, Castletown, County Laois headquartered JS Ryanfreight Ltd. has experienced significant growth over the past few years and continues to go from strength to strength.
The genesis of this exceptional family-run business goes back 40 years, as proprietor John Ryan – a true trucker at heart, who was named Owner Driver Haulier of the Year 2023 at the Fleet Transport Awards on November 10th last – reflects:
"JS Ryanfreight in its current form was established ten years ago but my father, Paddy, started out on his own, with one van, as Midland Couriers, in 1982. The business has evolved from there and today we do all refrigerated transport, running a fleet of 13 Scanias, with staff of 23. We've enjoyed massive growth over the past three or four years, in particular."
This period of growth is down to the exceptional level of service provided, which John in turn attributes to his wonderful team of drivers: "Good staff is important in any line of work and having good drivers is absolutely key," the Laois haulier confirms. "Without good staff, we would have nothing. I'm not boasting, but we definitely have some of the best.
"As a driver myself, I know what it takes and all of our drivers are top class. You can have the shiniest lorries in the world, but without good men steering them, they are no good. We bought our first-ever Scania four years ago and today we are running 13 of them – that gives you a good idea of the growth we have recorded."
John operates a fleet of fresh, immaculately-maintained trucks, replenishing regularly with the addition of quality second-hand lorries. Why does he opt for Scania? "Our lorries work seven days and seven nights a week and a lot of them are double-manned. You need a quality, dependable truck. We've tried others but Scania works best for our needs. We get the best performance out of them and that's what you need from a lorry."
A dedicated subcontractor for Derry Refrigerated Transport, JS Ryanfreight transport chilled, frozen and ambient produce, predominantly from Aldi's regional distribution centre to stores across the island of Ireland 24/7, 364 days per year, with all trucks GPS-tracked and all trailers temperature controlled and monitored to ensure optimal service levels. Other valued customers include Kepak Group, Global Fruit, Southgate Distribution and Primeline.
"We had one truck with Aldi in 2019 and we have seven with them now, so that contract has been instrumental in our growth," says John. "We pride ourselves on providing all our customers with an unbeatable service. Whatever we do, we always do it right. There's no such thing as won't or can't as far as we are concerned – that would be key. Do it right or don't do it at all.
"As a family business, we also provide a personal touch. You have to make yourself available to your customers and you have to do everything in your power to accommodate them."
A true trucker in every sense of the word, who runs the business in a hands-on manner and enjoys attending truck shows and other industry-related events, John took over the reins of the family business twelve years ago. "I've had a mad keen interest in trucks all my life," the personable Laois man confirms. "I left school at 16 and served my apprenticeship as a mechanic before getting my haulage licence at 19.
"I came back to work for my father in 2003 and have been here since. I took over the running of the business in 2011. Dad was always the driving force here and a big inspiration. He retired recently but is still a vital link in the chain. He keeps it all together."
Indeed, JS Ryanfreight could become a third-generation family business sooner rather than later as, at the age of eleven, John's son, Johnnie, is already showing a massive interest both in trucks and how the business works!
Looking to the future, consolidation rather than growth is the immediate priority of JS Ryanfreight. "The main thing is to retain the work we have and to make sure we have a team of quality drivers to provide an excellent service. Further expansion would obviously be welcome but only if it is controlled and sustainable growth.
"The most pressing matter is to make sure that we maintain the level of service we have and to keep that personal touch we are renowned for. That's very important. We are known for the level of service we provide and it's vitally important that we maintain that reputation. Our reputation is built on good service and we want to keep it that way."
As for being named as Owner Driver Haulier of the Year at the 2023 Fleet Transport Awards, where JS Ryanfreight was also shortlisted as National Haulier of the Year and team member Liam Phelan was shortlisted for the Technician of the Year award, John concludes:
"That was a major surprise and is still only sinking in. Liam has been with us for 18 months and is a godsend, looking after everything from DOE to parts, maintenance and compliance. The key to success is your staff, there's no doubt about it. The work that's going on in the garage makes it possible to keep going at this pace and we wouldn't have any lorries on the road without our brilliant office and garage staff and drivers."
JS Ryanfreight Ltd.,
Rosehill,
Castletown,
County Laois.
Tel: 083 1228010
Email: [email protected]
Web: jsryanfreight.com
First published in Irish Trucker magazine Vol 26 No 2, March/April 2023