M12 Truck Wash opens with a splash at Lavery Transport
03/05/2023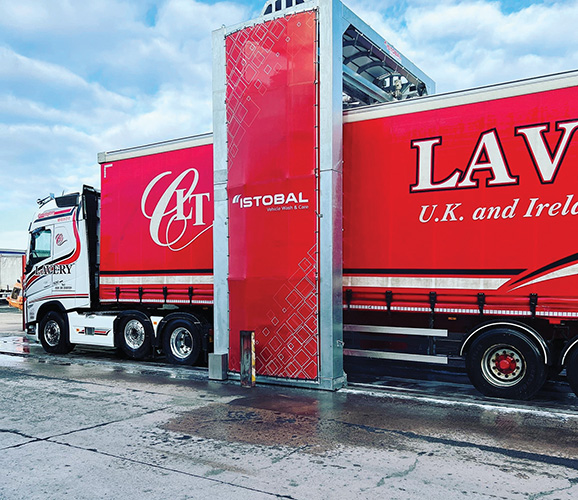 Based in Portadown, Co. Armagh, Lavery Transport Ltd is a leading provider of road haulage and distribution solutions throughout Ireland and the UK. It is also home to a brand new truck wash which has proven to be a huge success since opening to the public last year.
A clean vehicle says a lot about your business so it's little wonder that haulage operators are flocking to the M12 Truck Wash at 14 Derryvore Lane in Portadown to have their trucks shined up. The state-of-the-art drive thru Istobal truck and van washing machine has been working overtime since opening in early 2022. It is open to the public from 8am to 6pm Monday-Saturday and afterhours for regular users.
It costs £25 to wash an artic and trailer, £15 for an artic only and £20 for a rigid.
"It's getting great use," Emma Lavery of Lavery Transport Ltd enthuses.
"We saw an opening for a facility like this as there are no other truck washes open to the public in our area. It also offers hauliers value-for-money and saves them having to invest in their own expensive truck washing equipment. Our location just off the M12 makes the truck wash easy to access.
"We already had a truck wash which had reached the end of its natural life. When we invested in the new one, we said to ourselves, 'why not open it up to the public and make it pay for itself?' Needless to say, it's a decision that has worked out very well for us."
The M12 Truck Wash is another string to the bow of Lavery Transport Ltd which was founded by the late Charlie Lavery in 1984 and continues to go from strength to strength under the direction of his daughters Emma and Nicola, and son Niall. Charlie's wife Rosaleen is also a director, but isn't involved in the day-to-day running of the business.
"It's a real family affair," Emma says.
"Nicola and I are both based in the office, while Niall is on the road. I actually drove myself for six years. Ethel Bryars works in the office with us and while she isn't part of the family, she might as well be! We have 30 staff in total, with over 20 of them being drivers.
"Our father, who passed away in 2012, grew up on a farm before buying his first lorry and starting from there. He built up the business to what it is today and we're committed to not only keeping it going, but to growing it. The transport business is all we know."
The company has grown from just one rigid vehicle on cross-border distribution to a current fleet of 30 trucks and 60 curtain-side trailers, which provide an overnight service to most regions in Ireland, England and Scotland. The Laverys run an all-Volvo fleet of artics and rigids which are upgraded and replenished on a regular basis. They've invested in five new trucks in the past two years and have two new Volvo FH12 500s ordered from Dennison Commercials in Ballyclare for delivery in early 2023.
The curtain-siders are a mixture of SDC and Montracon, several of which are equipped with sliding roofs.
"We usually buy our trucks from Dennison Commercials. We have forged a strong relationship with them down through the years. Maintenance, servicing and repairs are carried out in-house by our qualified mechanics," Emma explains.
All of the vehicles are fitted with GPS tracking devices, which provide added peace of mind for the customer. The drivers employed are reliable, highly-skilled, professional, experienced and enjoy a great rapport with customers. All drivers are CPC covered.
Lavery Transport Ltd prides itself on the superior service it provides to new and existing customers. Services include groupage throughout Ireland and the UK, next-day deliveries in Ireland, two-day deliveries in Scotland and England, next-day deliveries to Scotland on request and tail lift collections / deliveries when required throughout Ireland. In addition, the company is fully licenced to cover waste collection in Ireland and UK, and fully covered under RHA 1998 goods in transit insurance and liability. As part of a nationwide network of distributors, Lavery Transport Ltd can deliver your goods quickly and seamlessly.
One of the haulage firm's strongest selling points is its location just off the M12 Motorway. The Seagoe depot is just 30 minutes from Belfast and less than two hours from Dublin. Facilities at the depot include a purpose-built office, a garage with capacity for two units and a 45ft trailer, a large secure concrete yard with parking capacity for a full fleet and 5,000sq ft of warehouse storage.
Lavery Transport Ltd specialises in all types of haulage and transport services. "We move everything and anything. We cater for all of our customers' needs," Emma adds.
The company has a long and loyal customer-base which includes the likes of CMI Logistics, SAM Mouldings, W Howard and Xtratherm. It distributes MDF products for SAM Mouldings in Antrim and W Howard in Kill, Co. Kildare. Both are leading manufacturers of MDF mouldings and profiles.
Lavery Transport Ltd has come a long way over the past 39 years by providing a first-class service to all of its clients. Committed to offering a cost-effective, and wide and flexible range of transport solutions, this exceptional family business is certain to be around for many more years to come.
"We would like to take this opportunity to thank all of our customers and suppliers for their continued support and loyalty," Emma concludes.
Lavery Transport Ltd
14 Derryvore Lane,
Seagoe,
Portadown,
Co. Armagh BT63 5RS.
Telephone: 028 38350231
Email: [email protected]
Web: www.laverytransport.co.uk
First published in Irish Trucker magazine Vol 26 No 2, March/April 2023