Mountbruis Transport always goes that extra mile 
27/04/2023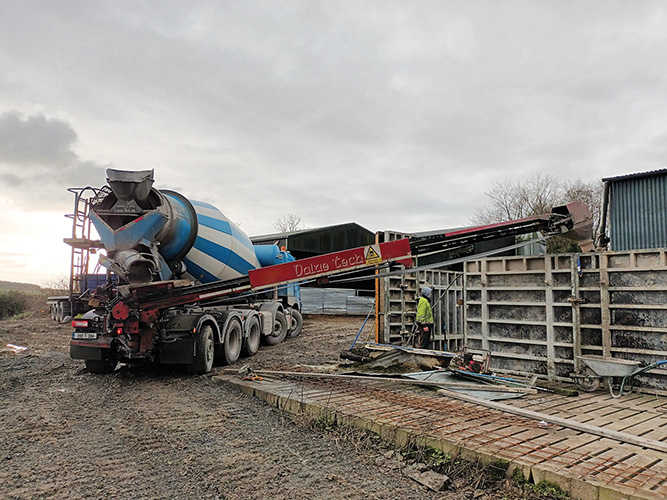 As a leading family business providing the keenest personal touch, Tipperary-headquartered Mountbruis Transport has been delivering premium concrete, stone and tarmacadam transportation solutions covering large swathes of Munster and Leinster for more than three decades. Irish Trucker sat down with hands-on proprietor John Merrigan to get an update.
For going on three-and-a-half decades now, John Merrigan has been providing unrivalled readymix / tipper services to the construction and agri sectors, covering a large catchment area that stretches across counties Tipperary, Clare, Waterford, Wexford, Kilkenny and Offaly.
Alongside his wife, Susan and with help from their children Paul and Ciara, John runs Mountbruis Transport, which currently operates a wonderful fleet of 12 trucks, predominantly delivering readymix concrete from Roadstone to construction sites and farmyards in the southern half of Ireland.
"We're mostly doing mixer work and the fleet is predominantly Volvo," notes the Tipperary haulier, who operates a handful of interchangeable bodies, which allow Mountbruis Transport to provide a flexible and versatile service. "We are constantly upgrading the fleet and the newest addition is a 221-reg five-axle FMX with lifted steer at the back, all air.
"Most of our work is with Roadstone and we are kept busy, thankfully. Ten or twelve of the lorries are out on the road every day and we supplement the mixers with some tipper work, drawing stone, tar and sand."
No two days are the same at Mountbruis Transport, who possess the machinery and manpower to provide industry-leading services to both the construction industry and agri sector.
"Most of our work in Waterford is city-based but outside of that, we do a lot of agri. Farmers are investing in upgrading their facilities and we're always delivering a lot of concrete and other materials into farmyards, both for the farmers themselves and also for builders who are working there," says John.
"Down through the years, there has been a lot of construction and that's still fairly busy, although private houses have gone slow with prices having gone up so much, so we are probably depending on farmers a little more than we used to.
"The farm work was important during Covid, too. When building went very quiet, a lot of the work on farms was deemed as essential, so we were kept tipping away."
The 10% levy on concrete blocks and pouring concrete announced in this year's budget came as a blow to both the construction and haulage sectors. This has since been halved, to 5%, and won't come into force until September of 2023, but nevertheless represents a significant additional cost on top of the many other rising costs that consumers and businesses are having to content with at present.
"It's still another tax and let's not forget that carbon tax has also been added onto concrete a few times already. All these increases add up and put pressure on consumers and suppliers alike," states John, whose focus is on continuing to provide the high-quality, professional haulage service for which Mountbruis Transport is renowned near and far.
Traditionally, John ran a fleet of Hinos but he has been gradually changing over to Volvo since purchasing his first FM13 400 mixer / tipper interchangeable in 2016. The Tipp trucker invariably gets a good deal from McCarthy Commercials as well as a great back-up service.
He finds that Volvos are a very nice lorry to drive, robust and hard-working. The five axles can handle heavy loads and are more manoeuvrable and comfortable. "They travel better and I find that they are a trouble-free lorry all-round," he told Irish Trucker.
Meanwhile, Liebherr concrete mixers are sourced from Value Tech Ltd. in Cork, where Tim O'Riordan also offers outstanding service levels to complement high-quality products, while Roadstone - Mountbruis Transport's biggest customer - are also a pleasure to work with:
"They are an excellent company to work for," John confirms. "They are very proactive when it comes to compliance with Health & Safety and they have been very fair and understanding when it comes to the increased cost of diesel.
"These are challenging times and nothing is simple.
"If it was just diesel that had gone up, it wouldn't be so bad, but the price of everything has gone crazy. Everything associated with transport has gone up. The increase in the price of tyres is unbelievable, toll charges are rising too. There are huge price hikes right across the board and you'd be hoping that the situation will improve sooner rather than later."
While a robust, dependable and immaculately-maintained fleet is central to the business, the trucks and trailers would be of little or no use without good men and women to operate them. To this end, John says his dedicated, reliable staff are key to the enduring success and viability of Mountbruis Transport:
"They are the backbone of the whole thing. You need good reliable drivers and without them I'd have nothing. You pay a lot of money these days for a new Volvo and mixer with conveyor system, so it goes without saying that you need good drivers to operate them. Prices of lorries are gone crazy, too, but you have to invest the money. If you don't have the equipment, you won't get the work."
Mountbruis Transport,
Rathkea,
Tipperary,
County Tipperary.
Tel: 062 55229
Mobile: 086 2772240
First published in Irish Trucker magazine Vol 26 No 2, March/April 2023