CTL Express moving with the times!
27/04/2023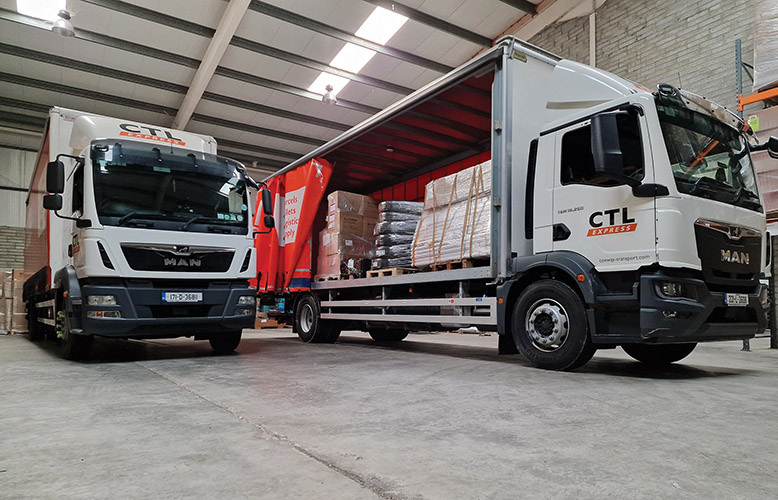 Limerick-headquartered express delivery specialist Conway Transport Ltd. has rebranded as CTL Express. The name on their stunning fleet may have changed but the exceptional, customer-focused courier and haulage services for which this long-established, family-run company is renowned remains the same, as Irish Trucker discovered when travelling to Newcastle West to get an update from transport manager Peter Conway.
Down through the decades, Conway Transport Ltd. – now CTL Express - has become synonymous with providing a full suite of fast, flexible, efficient and cost-effective delivery solutions across Limerick, Munster and nationwide.
The genesis of this industry-leading express delivery operation, which specialises in both courier and haulage services, goes back to 1980, when owner Gerard Conway started out as a sole trader. Alongside his wife Claire, Gerard incorporated Conway Transport as a limited company 30 years ago. Creating the perfect customer experience through a winning combination of superb vehicles, skilled and experienced operatives, and unbeatable service levels, this outstanding family business has consistently gone from strength to strength.
Today, the Conways operate a magnificent, fresh and modern fleet of 30 trucks and 50 vans, each tastefully decked out in the company's familiar, striking orange-and-white colour scheme and emblazoned with the new, abbreviated brand name, CTL Express.
The superb fleet, regularly replenished and expanded, is very much at the heart of the business. The most recent addition is a stunning Volvo FH13 500 6x2 Pusher, with turbo compound technology and enhanced finish including complete cab paint, company livery and much more besides. Purchased from McCarthy Commercials, this model features Volvo's new aerodynamic design, which reduces flow separation and pressure drag, helping save fuel on long haul operations. A new MAN rigid was also acquired from Dennehy Commercials earlier in the year, as well as five new vans – a mix of MAN, Ford, Renault and LDV (one of the LDVs is half box, half curtain). "We've also added the very first electric van to our fleet – an LDV van, which we got from Hireco," notes transport manager Peter Conway, son of founders Gerard and Claire. "It's a small LDV and is doing local deliveries around west Limerick. It doesn't really have the range to travel beyond the Limerick borders but we got it to get a feel of where we are going to be heading in the next few years." Specialising in next-day delivery and collection across Limerick, Kerry and Clare, CTL Express is part of the Palletxpress network and also has its own broad base of regular customers, including a who's who of well-known courier and distribution companies. All types of deliveries are accommodated – invariably in a prompt, professional and value-added manner – with the exception of chilled / frozen produce.
"We can cater for literally everything from a full load right down to a single parcel or envelope," Peter confirms. "We are unique within the Palletxpress network due to the fact that we have so many vans on the road and handle a lot of smaller deliveries. We are able to carry out all deliveries large and small in our part of the country. While we only cover Limerick, Kerry and Clare out of our depot in Newcastle West, we do also provide a full nationwide service through both the network and our various other partners."
During the summer of 2022, CTL Express dedicated a two-man crew to a new departure doing home deliveries in counties Limerick, Clare and Kerry – an area where there could be potential for expansion moving forward.
Behind the enduring success of the business is a brilliant team of people, currently comprising 90 professional personnel in total across the entire operation. As a family business, CTL Express always provides a personal touch and a strong family ethos prevails, with every member of the team treated as part of an extended family.
"My father is still the owner and very much the driving force behind the business," Peter states. "He's old school and has a great reputation. He insists on everything being done right and on time. Everything is done efficiently and economically, with no time or money wasted, and no mistakes. Customer service is paramount and that results from strong communication, co-operation, compliance and focus.
"We wouldn't be where we are without our great team - in the office and on the road. My brother Pat is financial controller and our cousin Mary looks after accounts and the payroll. Maurice and Paul are in operations; Noreen oversees vehicle maintenance; and Ger looks after Sales and HR. Our warehouse planners Damien and Donie keep the show on the road.
"We have excellent drivers and that is key. You generally have a big turnover of staff in this line of work but a lot of our drivers have been with dad for 20 years or more. Behind the drivers, we have great staff in the office and warehouse, who help keep the whole thing moving smoothly." There's never a dull or quiet day at CTL Express and this was even the case during the darkest days of the Covid-19 pandemic. "The fact that we have such a broad customer base – covering food, drink, medical, pharma and general freight - meant we remained very busy," Peter reflects. "The volume of deliveries in pharma, medical and food all increased and there was also a surge in online shopping and smaller parcels.
"We were never idle, that's for sure. That surge in online shopping continued right through until after Christmas 2020 but it has now returned to more normal pre-Covid volumes." While further growth of the business is possible, only sustainable, controlled growth is an option and Peter feels it's vital that CTL don't compromise on the exceptional service levels upon which they've built their reputation: "The way things are going with the price of fuel and energy, we will take stock of things and consolidate and make sure we stay within our comfort zone," he concludes. "There are driver shortages too, so you don't want to be taking on too much. We'll concentrate on what we have, keep it tight and try to keep our costs down as much as we can. Once you do that, you can continue to provide your customers with the best service possible."
CTL Express,
Desmond Business Park,
Newcastle West,
County Limerick.
Tel: 069 62793
Fax: 069 61730
Email: [email protected]
Web: conway-transport.com
First published in Irish Trucker magazine Vol 26 No 2, March/April 2023