Due recognition for LCC Group's performance-focused transport manager
19/04/2023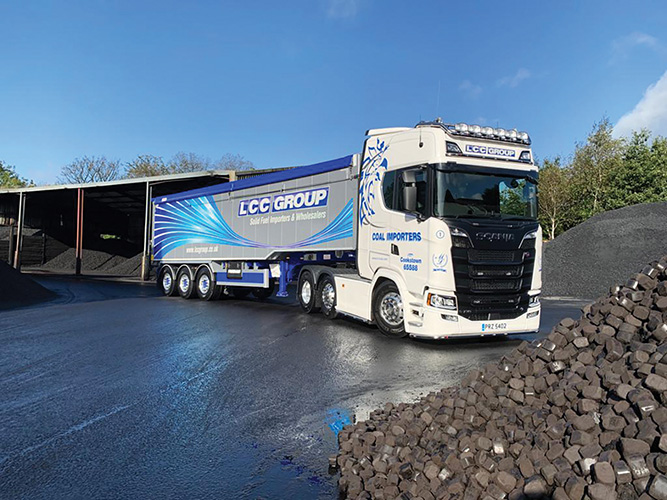 Eugene Hughes took home the prestigious Transport Manager of the Year Award at the 2022 Export & Freight Transport & Logistics Awards in September. Irish Trucker interrupted the award-winning TM's busy schedule to discuss his day-to-day duties overseeing one of Ireland's largest and best-performing fleets.
Widely regarded as the premier event in the transport calendar on the island of Ireland, the 19th annual Export & Freight Transport & Logistics Awards ceremony – and first since 2019 – was staged at the Crowne Plaza Hotel in South Belfast on Thursday, September 15th, 2022. Amongst the major winners on the night was LCC Group's Eugene Hughes, who was named Transport Manager of the Year.
Since becoming Transport Manager at LCC Group in September, 2020, Eugene has delivered outstanding results. This has not happened by chance. Subscribing to the ethos that you can only get out of something what you are prepared to put into it, he has invested tremendous reserves of energy, knowhow, professionalism, vision, organisation, dedication and sheer hard work into making sure that LCC's vast fleet operates consistently at optimum levels in terms of both efficiency and performance.
With regards to picking up the Transport Manager of the Year Award, Eugene notes: "It's always nice to receive any industry award and it helps both my own profile and the company's profile. I'm here to do a job, not to win awards, but at the same time the fact that I was only 30 when I won this is probably quite a good achievement. I don't like blowing my own trumpet but you have to take it when you get it.
"When you win an award like this, that's a welcome bonus. I feel really honoured to win it. It was great just to be shortlisted in the first place; then to make the Top 3 was brilliant; and to win the award outright on the night was the icing on the cake.
"I do put everything into my role with LCC. As far as I'm concerned, if I'm not going to do something 110 per cent, then I'm not going to do it at all. That's the way I am – I couldn't put my name to something that isn't perfect. Everybody else aims for 100 per cent, but I'm always insisting on 110. Perfection is where it's at."
Eugene manages the LCC fleet with an exacting, uncompromising attention to detail that borders on obsessive. "If I see a dirty truck, it's like getting a kick in the stomach," he states. "You are portraying a certain image with your fleet. When you are providing a service, if you have a good brand, then people are going to associate you with providing a very good service. By generating the right image through a clean and tidy fleet, you create the right impression and there is a positive knock-on effect from that.
"Projecting a good image is vital and one of the most effective ways of doing this is through your fleet. The vehicles provide you with an opportunity to advertise your business.
Established as LCC Coal in 1986, LCC Group is the leading solid fuel importer and distributor on the island of Ireland, handling and delivering domestic and industrial coal at all levels of the supply chain. LCC Oil was established in 1997 and supplies oil products to domestic, commercial and industrial customers all over Ireland.
Meanwhile, GO is a contemporary local brand for retail and unmanned forecourts for the supply of petrol, diesel, kerosene and other fuels, while GO Power is one of the leading electricity and gas suppliers to the industrial and commercial sectors in Ireland.
There are a number of other brands within the group including Patmond Energy (which specialises in shipping bulk materials and fuel trading worldwide); LSS Limited (an oil terminal on the banks of the River Foyle which specialises in storage and loading of gasoline and distillate products); FPI (a coal washing, processing and bulk storage facility in Derry); LCC Spain (a coal washing and processing facility in the port of Gijon, with its own export quay); LCC Belgium (a solid fuel processing facility in Ghent); LCC Colombia (incorporated in 2012, responding to LCC's need for effective procurement of coal and coke in Colombia); Star Fuels (solid fuel and oil distributors located in Aghadowey and Mallusk); Riverside Oils (solid fuel and oil distributors located in Antrim); Campsie Fuels (solid fuel and oil distributors in Derry); Black Emerald Fuels (solid fuel and oil distributors in Ballymena); and ClickOil (an online ordering home heating oil supplier delivering in the greater Belfast area),
The continuing success of LCC stems from a commitment to providing the same dedicated personal service to all customers - as has been invariably offered since the genesis of the company 37 years ago. Central to this is a magnificent fleet of vehicles and industry-leading personnel, including an award-winning, results-orientated, no-nonsense Transport Manager:
"We are all part of a team and every link in that chain has to work perfectly," Eugen remarks. "Everybody in LCC involved in transport has to invest everything into their work. I would say to the drivers and the rest of the team that this is a billion-pound freight train moving in one direction and you are either with me or not. We need total buy-in from everybody and in fairness everyone aspires to reach the levels expected and are rewarded accordingly."
Regarding the current size of the LCC Group truck fleet, Eugene reveals: "There are 99 units at the moment and we are currently trying to get licensed for 175. However, for now, we are only going to take it up to 160 units. The plan would be to reach 120 by the end of January, but the limited supply of new trucks is slowing us down. Despite that, I'm confident that we will definitely be at 140 units by Christmas, 2023.
"We've recently acquired a cement factory and are taking over the logistics of it. That business will be run exactly the same way because we know what works for us and what isn't going to work. We have the expertise and experience to do it. The only way to make sure that something is done properly is to do it yourself. You could explain in great detail to somebody else exactly how to do it, but you still have no guarantee that they are going to do it right."
LCC Group operates a mixed fleet of lorries. "It was predominantly MAN for fuel but we then started dealing with Renault and also have some Volvo and Scania. We've also recently started buying Mercedes from MBNI Truck and Van," says Eugene.
"We try to keep one make of truck to each type of work. So it's MAN diesel for short haul fuel, Renault for long haul fuel, and generally Mercedes or Scania for long-distance bulk tipper UK or Europe work. The long haul tipper men also like to drive DAF. You can't put all your eggs in one supplier's basket because things could get very tight – like they did last year."
Full-time employment is generated for 96 drivers as well as a number of seasonal workers for domestic oil deliveries. "In Ireland, there are people who want to farm during the summer and deliver oil in the winter. This works perfectly for us and we have ad-hoc drivers who disappear in March and then come back to us again in October."
The fleet will be replenished with the addition of 20 brand-new units by February. "We are always looking a year ahead to see what we are going to need, what has a short life and what are our maintenance lads telling us" Eugene points out. "We buy them outright and each truck becomes an important asset of the business. With the second-hand market so strong at the moment, we can decide to either hold onto them or shift them on and get a good return.
"We have 46 company-owned sites at present and will be adding many more during the current calendar year, so we have to work out what trucks and manpower will be needed to service those additional sites. You have to have the equipment, manpower and fuel to service all the sites.
"We operate our own oil terminal and everything comes down to effective logistics and planning – and being able to react. It takes time to get things properly planned and prepped but you will reap the rewards. Once you are providing a good service, the business will function effectively and you will get back good reports."
It's fair to say that Eugene Hughes eats, sleeps and breathes his job as Transport Manager at LCC Group! "It's a pride thing," he concludes. "You have to take pride in your work – and your reputation. See if you don't obsess over it and you miss something? … all your good work will be wasted.
"Drivers are humans at the end of the day. You have to work with them. If they see that you are dedicated and mean business, then they are likely to follow suit. Once you set the bar high, everybody who comes to work here will do the same.
"Keeping the trucks in prime condition is a big part of that. On a bad-weather day, the truck has to be washed. The driver is representing us, he's our promo on the road. The trucks and the uniforms have to be perfect – 110 per cent! If you show that you care, it will rub off on others. I drove before myself and I know where the drivers are coming from. I get it, I love it and I love trucks."
LCC Group,
16 Churchtown Road,
Cookstown,
County Tyrone
Tel: +44 28 8676 5588
Fax: +44 28 8676 4211
Web: lccgroup.co.uk
First published in Irish Trucker magazine Vol 26 No 2, March/April 2023