Tony Egan Transport celebrates 15 years
12/04/2023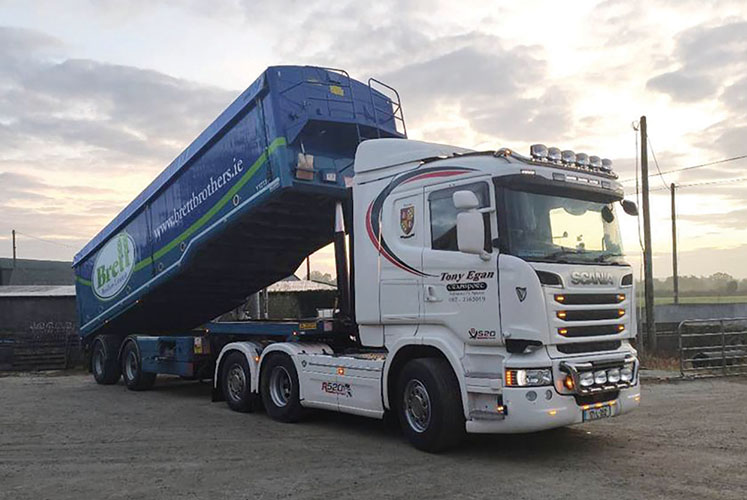 Celebrating 15 years in business this February, Tony Egan Transport Ltd is a TASSC-approved haulage contractor specialising in bulk feed and milk collection and delivery services.
Based in Mullinahone, Co. Tipperary, the company recently took delivery of a new Scania V8S 590 from T Nolans Scania in Castleisland. Featuring premium leather seats, retarder, dura brights, kelsa light bars, graphics, refrigerator, hydraulics and front air suspension, the stunning tractor unit is the latest addition to the Egan fleet which also includes two Scania R500s, a Scania R520, a Scania R450, two Renault T520s amd Renault Premium. The company is adding on two new T520s from Surehaul in the next couple of months.
The fleet also comprises two Muldoon blower trailers, three SDC and Dennison curtainsiders with Moffett mounty brackets, a Magyar bulk tanker, an SDC bulk tipper and three milk tankers which are owned by Tírlan (formerly Glanbia). Tony Egan Transport's main customers are Brett Bros, Tírlan, Mullinahone Co-op along with Montgomery Transport and Lucey Transport.
The trucks and trailers are maintained and upgraded on a regular basis to ensure there is no such thing as downtime. Maintenance, repairs and inspections are carried out by Freshford Garages Ltd and by main dealers Surehaul and T Nolans Scania. One of the company's greatest assets is its people. It employs eight full-time and three part-time drivers who work as a team to ensure the business runs smoothly.
"We have a great crew of drivers who make the business work. One of our part-time drivers is my father Eamon who runs the family dairy farm with my brother Barry. Barry's son Ned, who is 11, has a keen interest in both the farm and the trucks," says Tony, who studied Agricultural Science in Kildalton Agricultural College, Piltown before setting up his own transport company in 2008.
"We started just before the recession hit and were lucky to get work with Mullinahone Co-op, Glanbia and Brett Bros in Callan who we continue to enjoy an excellent relationship with to this day."
Tony Egan Transport provides bulk, milk and general transport services, and has been TASSC-approved since 2010. The TASCC code of practice aims to combine food / feed safety legal requirements with recognised industry good practice and specific customer requirements to provide confidence in the food / feed train. Tony's drivers are TASCC trained and up-to-speed with all current legislation. His company can arrange collection and delivery from farms, mills, docks, ships and stores anywhere in the region.
"Bulk feed and bagged feed deliveries was our 'bread and butter' until 2015 when we started providing a milk collection and delivery service for Glanbia in south Tipperary and south Kilkenny. We collect milk from 120 suppliers and bring it to Glanbia's creameries in Ballyragget, Belview and Virginia. You could say that it runs in the family as my grandfather Ned Egan, who I never knew, also collected milk years ago," Tony explains.
"Our main work for Mullinahone Co-op involves drawing away skimmed milk after they have made their products under the Compsey Creamery brand to Glanbia in Ballyragget which goes into the manufacture of skim milk powder. So we are at both ends of the cycle. We have also been carrying out fertiliser deliveries since 2009. One of the Renault T520s is painted in the Brett Bros colours and is dedicated to drawing raw materials from the ports in Dublin, Cork and Waterford back to their mill in Callan.
"In addition, we carry out general haulage for Montgomery Transport and Lucey Transport."
Decked out in the Tírlan colours, the milk collection tankers are designed to reduce collection times on farms and automate the secure transfer of information needed to pay farmers for the milk collected. They boast state-of-the-art technology such as GPS supplier recognition, date transfer by satellite and GSM. They are equipped to pump up to 60,000 litres of milk per hour and have a capacity to carry 28,000 litres.
Commenting on the new Scania V8S 590, Tony says: "We're very happy with it. It's the first new lorry we have purchased from Tom Nolan, having previously bought two second-hands from him. The follow-up service we get from both Nolans and Suirhaul is top-class."
Aged just 39, Tony is grateful for the support he receives from his wife Valerie, who keeps the books in order. The couple have two young children – Jessica (five) and Charlie (three).
As his company continues to go from strength to strength, the affable Tipperary man would like to take this opportunity to thank his clients and suppliers for their continued support as well as his drivers for their hard work, dedication and skill.
Here's to the next 15 years of Tony Egan Transport!
Tony Egan Transport Ltd
Mullinoly,
Mullinahone,
Thurles,
Co. Tipperary.
Telephone: 087 2165019
Email: [email protected]
First published in Irish Trucker magazine Vol 26 No 2, March/April 2023