Seven years of being on time
05/04/2023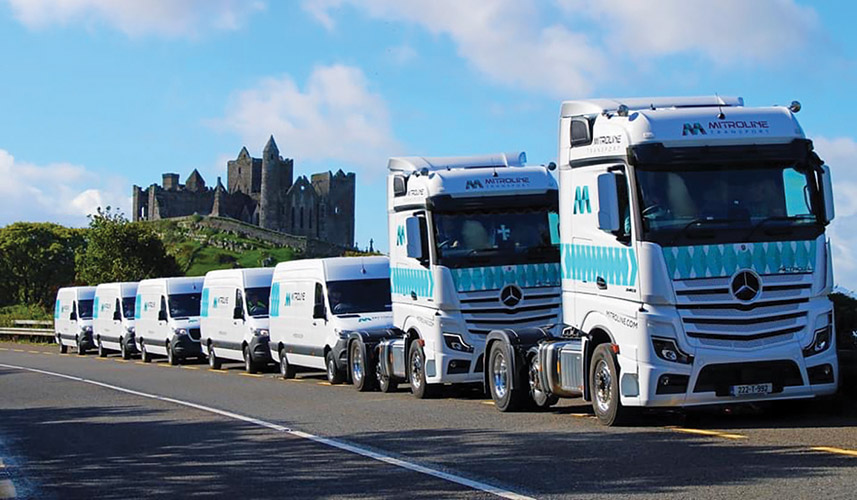 Established in 2015, Mitroline Transport Ltd has enjoyed a meteoric rise which now sees it employ 40 people directly and run a mixed fleet of 85 trucks and vans from its base in Cashel, Co. Tipperary.
Mitroline offers safe and reliable solutions that include fast delivery, distribution management, warehousing and industrial shipping. The company has gone from strength to strength under the direction of Alexandru Mitrofan who moved to Ireland from Romania in 2010 and initially worked as a chef before setting up his own transport business. At just 34 years of age, he is clearly an old head on young shoulders.
"I was working in a restaurant when I got talking to a fruit and veg delivery man whose van had broken down. He was working as a subcontractor for another company and I asked him if there was an opening for that type of work," Alexandru explains.
"He said there was so I decided to give it a go. I bought a three-year-old Mercedes Sprinter in 2013 and started doing deliveries while holding down my other job as a chef. I also trained as a transport manager during this time. After about a year of juggling the two jobs, I decided to concentrate on deliveries.
"By then, we had three vans and one rigid on the road. I had also just got married and had a baby on the way, so something had to give."
From those humble beginnings, Mitroline has grown into one of the most successful distribution, warehousing and long-haul operators in the Munster region. Alexandru now employs 40 people and the same number on a subcontract basis. He has in excess of 1,000 clients and runs one of the best fleets around. Alexandru is constantly investing in his vehicles, and recently took delivery of two new Mercedes-Benz Actros LS2453 trucks and six Sprinter 315/43 vans as well as three Renault Premium rigids, all of which are decked-out in livery highlighting Mitroline's distinctive turquoise blue logo colour scheme set against a snow-white background.
Supplied by Surehaul (Ireland) Ltd, the Mercedes-Benz Actros units include Actros StyleLine exterior and interior design and fitments, Durabright alloys and Climate Control with auxiliary overnight air conditioning. The safety and driver assistance features include Proximity Control, Active Brake Assist 5, Driver's Airbag, Attention Assist and Land Keep Assist.
"The Actros is an attractive vehicle for us, equipped with the latest technology, added driver comfort for long trips and its fuel efficiency," Alexandru says.
Features fitted to the Sprinters include MBUX multimedia system with 7-inch touch screen, Multifunction steering wheel, ECO start/stop function, Cruise Control, Reversing Camera, 'Comfort' Driver's Seat with Lumbar Support and Armrest, Driver's Airbag and 6-speed Manual Transmission.
"With the Sprinter, we found they make a huge difference to our fleet thanks to their ease of handling, safety and numerous assistance and driver information features. From their on-the-road prominence and feedback we gathered from drivers, the Sprinter proved to be our best choice when it comes to both long trips and multi-drop working," the affable managing director adds.
Fergus Conheady, sales manager for Mercedes-Benz commercial vehicles in Ireland, comments: "It is especially pleasing for us to have Mitroline among our esteemed owners as we are aware of the high standards and dedication to professionalism that permeates the Mitroline organisation, and the service demands and challenges that their vehicles are expected to meet."
Alexandru purchased his first new Mercedes vehicle in 2016 and the German brand now dominates his fleet which services routes across Europe and the UK, alongside a thriving domestic trade.
"We're currently running 60 Mercedes Sprinter and Vito vans, including about 15 which are on hire from Northgate Vehicle Hire. We also have over 20 artics and five rigids. Our fleet of trailers includes two double deckers for overnight distribution, six refrigerated and 20 curtainsiders.
"In 2020, we purchased 22 vehicles alone to cater for the demand of our customers. In 2021, we bought a new Mercedes Actros and another that was two years old. We're still a young company and are looking to grow the business further."
The fleet is maintained and serviced on a regular basis by an inhouse mechanic and by the main dealers to ensure there is no such thing as downtime. One of the company's greatest assets is its people who work as a team to ensure the business runs smoothly and continues to prosper.
The pan-European freight handler's main clients / collaborators include Primeline, Masterlink, Amazon, Limerick Fruit Suppliers and Crane Logistics.
"We deliver dry goods, dry food, parcels and packages across Ireland, the UK and Europe. We also distribute refrigerated goods in Ireland. In addition, we provide an overnight distribution service for Primeline in Kilkenny, Carlow, Waterford, Limerick and Tipperary," Alexandru reveals.
"We have built up great relationships with our customers and see big potential for a centralised hub in the Waterford and Tipperary area. It's something we're looking closely at."
Mitroline is equipped with over 16,000 sq. ft. of secure storage space and offers a comprehensive logistics concept that includes the warehousing of your freight. Supporting its activities is an office network located in Dublin, Romania and Austria which is controlled by a team of dispatchers and managers headquartered in Cashel. Each member of the Mitroline team benefits from continuous training which is aimed at delivering the best experience and professionalism to everyone who chooses to do business with Mitroline.
Alexandru would like to take this opportunity to thank his clients and suppliers for their continued support as well as his staff for their hard work, dedication and expertise.
Mitroline Transport Ltd
Unit 5,
The Rock Industrial Park,
St Patrick's Rock,
Cashel,
Co. Tipperary.
E25 XY02.
Telephone: 062 67000
Email: [email protected]
Web: www.mitroline.com
First published in Irish Trucker magazine Vol 26 No 2, March/April 2023