Through teamwork and family ethos, GCS delivering on all transport needs
27/03/2023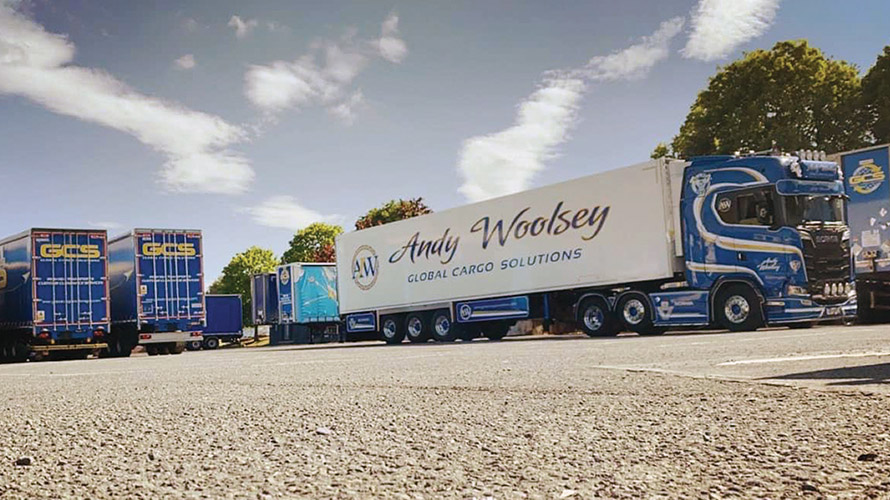 Invariably adapting a personal and professional approach, Global Cargo Solutions is an exceptional family-run business that delivers a comprehensive range of industry-leading, tailor-made transportation services across Ireland and the UK from its recently-upgraded HQ in Armagh. Irish Trucker touched base with Jemma Woolsey to get an update.
A family ethos and personal touch permeate every facet of Global Cargo Solutions Ltd. (GCS), the rapidly-expanding, client-focused transportation company which was established by Andy Woolsey alongside his daughters Jemma and Andrea in 2016.
By consistently offering high-quality, value-added freight and transportation services, GCS has grown organically in response to strong customer demand, currently running a magnificent state-of-the-art fleet of 80 trucks and some 180 trailers – including curtain siders, refrigerated trailers, tail lifts and double decks for express groupage.
"We started off with two trucks and three trailers doing a set run, and our initial intention was to have a small, easy-run trucking business," Jemma reflects. "However, since our very humble beginnings, we seemed to experience more queries, and opportunities landed on our doorstep. Due to an undeniable passion for what we do, which entails delivering a great service and a personal touch within the family-run business model, we grew rapidly.
"Sometimes not being able to say 'No' can create a lot of pressure, but in our case, we thoroughly enjoyed welcoming new customers, more drivers and contacts to our small business. Within one year, we were operating ten trucks and 45 trailers with ten subcontractors. This at the time felt huge to us, and not something we imagined would escalate. We were very humble and proud of this achievement within our first year's business.
"Growing any business takes a lot of time, and comes with pressure, but as a family-run business, we put all we had into it, to ensure its success, and we thrived on our steady growth. Having a great network of people to deal with, and a wealth of knowledge within the industry, stood to us, as did the long working hours that were invested into achieving our goals."
Jemma adds that the support GCS received from two local businesses in particular during these formative years was invaluable: "Our growth would not have been achievable without our very valued suppliers NR Trucks [Nigel and Estelle Rafferty and their team] alongside Hireco NI [Ricky Graham and his team]. From the day we opened our doors up until now, both of these suppliers have been a major part of our growth and success - we will never be able to thank them enough."
Considering the testing economic times that have prevailed over the past six years and counting – between Brexit, Covid, fuel price increases and worldwide economic crises, the growth experienced by GCS since its inception has been nothing short of remarkable. "We have to thank each and every person, current and past employees and suppliers, for their major role played in bringing Global Cargo Solutions to where it is today," Jemma notes.
Global Cargo Solutions provide unrivalled transport, distribution and storage solutions predominantly covering the UK and Ireland, alongside Europe. Services within the UK / Ireland market include express delivery, 24-hour delivery and a 48-hour service, with options of accompanied or unaccompanied transport.
"Originally, we only had plans to focus on curtain side work within the UK / Ireland. However, due to high demand, we have now added refrigerated trailers to our fleet, and currently run 20 fridge trailers," Jemma reveals. "This is a growing part of the business and we look forward to welcoming more customers. Within the fleet, we have tail lift vehicles serving a range of retail customers, while all of our curtains are 3.1 metres high, allowing for maximum space.
"We also offer ADR / Pharma trained drivers to give our customers more options. Complementing our Pharma trained drivers, the fridge trailers we have in the fleet to provide this service are high-spec, pharmaceutical-equipped."
Regularly expanded, improved and replenished, a superb fleet of vehicles is at the heart of the business: "We focus on transport here and our priority is to ensure that we do a top-class job for every customer, big or small," says Jemma. "For truck / trailer replenishment and maintenance, we pass this responsibility to qualified and competent dealers.
"We work alongside Hireco NI, NR Trucks, Scania Road Trucks, Granco and Corr Brothers Armagh to ensure the safety and quality of our truck / trailer fleet. Through longstanding relationships with each of these businesses and steady communication between our compliance team here in Global Cargo Solutions, our young fleet is very well maintained and safe at all times, which is very important to us. This great health and performance of our trucks and trailers also contributes towards our excellent level of service, with little to no issues arising whilst on the job.
"We run a modern fleet, with trailers no older than five years, and plans to update every five years. As well as maintaining all our trucks, we have been constantly adding new trucks to our fleet during the last two years, in response to growth and also to ensure again the quality aspect of what equipment we use to service our customers."
A number of new trucks were added to the fleet in the past 18 months alone – two new Iveco S-WAYS and six S Series Scania from Road Trucks as well as eight S Series Scania from NR Trucks, with plans in the pipeline for even more additions. Offering great MPG, spacious, aesthetically pleasing and loved by drivers, the Scania S Series is very much the preferred truck of choice at Global Cargo Solutions.
"We also added a V8 650 S Series – 'Lady Harriett', pride of the fleet, and safe to say Andy's baby! We custom designed a fridge trailer to stay with this truck and are constantly updating and adding to the fleet to stay ahead of the challenges we face in this industry," states Jemma.
As for the key to providing optimal transportation and logistics services, Jemma says it all comes down to service: "Here at Global Cargo Solutions, customer / logistics service is something we focus on the most. So many different factors contribute to this. Operating a safe and well-maintained fleet is paramount, to ensure as few problems as possible whilst working. Due to our well maintained and fresh fleet, we have a great record for a very small number of call-outs needed.
"Having a great driver team is also vital. We have depots in Burton-on-Trent, England and Armagh, Northern Ireland and the driving teams from each depot are a credit to our business, excellent and professional at what they do, with great timekeeping skills alongside communication between them and us at the planning desks. This teamwork between drivers and planners is a major benefit to customer service.
"Due to this great team of drivers, we enjoy paying well. Without drivers we would not have a business. Their constant loyalty and hard work is something we are so proud of and hugely thankful for.
"Communication - something we pride ourselves on again – is also crucial and something every customer deserves. We constantly update customers to ensure they know at each step of the way where their delivery is. This helps them and their customers, ensuring that there is as little stress as possible.
"Our 'family' in Global Cargo Solutions - from suppliers, drivers, office staff and subcontractors - all play key roles in maintaining service levels. We work together well to achieve this."
This strong family ethos is certainly one of the many traits that sets GCS apart from the competition. Their status as a traditional family business is very important to them and traditional family values are instilled across every aspect of the company. Staff members feel like they are part of an extended family and it certainly helps when they are being well looked after.
"We like to invest in our people and they in turn take pride in their work and look after us," Jemma continues. "Everybody is working together and pushing in the same direction as part of a team."
Personal service to customers is also a prerequisite: "This is our main focus, and has been from the day and hour we started, ensuring each customer can pick up the phone at any time and speak to someone for any reason," Jemma confirms.
"We all put huge amounts of effort in, to treat any customer big or small as if they are the only customer. We value our customers greatly, and are thankful for their constant support and loyalty, especially throughout the last two years, when fuel and other rising costs have made things very difficult for all industries."
The recent development of a new extended yard will be a central component of GCS's continued growth and viability going forward. The business had outgrown its existing facility but has just unveiled a significant extension comprising a large new fully-concreted yard finished to the highest spec, with an Istobal truck and trailer wash, where the imminent integration of crossdocking and extra warehousing facilities will open more doors for this model family-run business.
"We have more space, it's more safe, and it's a better environment all around," says Jemma. "With the new yard, we expect to double our growth over the next three years and this growth will help pay for the investment. We'll look at our refrigerated business and may put in ten bays of warehousing for chilled storage at some point in the future.
"We have a lot more space now and it's safer for staff. The facilities for washing the trucks are excellent and it's a more professional set-up. All of our trucks are in the yard on a Saturday – there isn't one here during the week – and we make sure to get them all washed, checked and fully serviced."
All in all, due to the hard work and vision of the Woolsey family and their dedicated team, it's onwards and upwards for Global Cargo Solutions, who have no intention of slowing down or compromising on the outstanding service levels they've been consistently delivering since 2006!
"We thankfully are busy, and seem to be getting busier," Jemma concludes. "However, that is through constant efforts from our driving team and office team to be as proactive as we can within the industry. We are constantly looking at ways to improve our services and how we do things. We strive to be as innovative as possible with our transport plans and with the solutions we offer customers - to save both them and ourselves time and money.
"For the future, with this in mind, we are currently looking at crossdock solutions and warehousing, with a mind on venturing more into refrigerated and chilled transport.
"We have plans to grow our teams both in Northern Ireland and England within the office to ensure we have the staff structure in place to cope with the added business we hope to achieve. The Global Cargo Solutions family will continue to work hard to keep our business running in the right direction, as we have done since our humble beginnings.
"Climate change is becoming a major concern for all globally. For the past year, we have been teaming with selected customers to ensure load fill is maximised legally, which in turn can take one truck off the road. As well as this, we are ensuring that our cars within the company are fully electric, whilst looking at our truck emissions intensely.
"While we have come a long way in a short space of time, there is no room for complacency and we want to ensure that every aspect of what we do is improved upon."
Global Cargo Solutions Ltd.,
Suite 37 & 38,
Dean Swift Building,
50 Hamiltonsbawn Road,
Armagh.
Tel: 028 38830890
Email: [email protected]
Web: globalcargosolutionsgcs.com
First published in Irish Trucker magazine Vol 26 No 1, January/February 2023