Tailored transport solutions from J&G
23/03/2023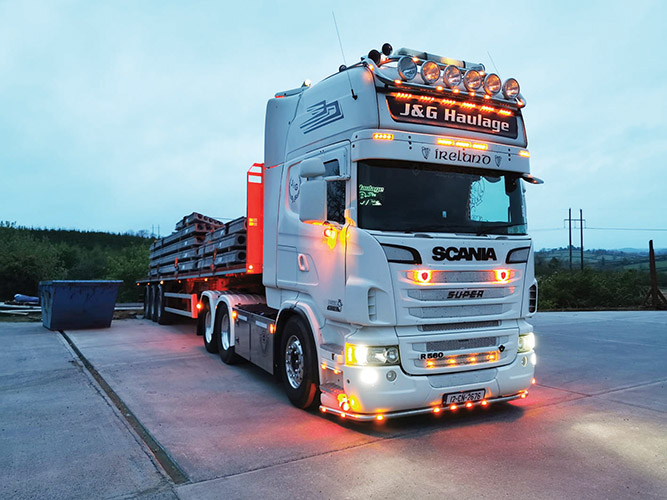 Over the past 33 years and counting, Cavan-headquartered J&G Haulage have established themselves as one of Ireland's premier transport and distribution providers. We briefly interrupted John McCabe's busy schedule to discuss the full-range of services delivered by this industry-leading, family-run business.
With an exceptional, modern and diverse fleet of trucks and trailers at their disposal – manned by vastly-experienced and skilled personnel - J&G Haulage provide a complete range of transport solutions island-wide from their well-appointed Carrickaboy, Cavan base.
Regardless of the size, nature or quantity of the goods that need to be delivered, J&G provide professional and value-added tailored transport solutions to cater for all specific needs. The business was established in 1989 by Jim McCabe and his wife Gabrielle and incorporated as a limited company in 2001. Today, Jim and Gabrielle are joined in the day-to-day running of the exceptional, multifaceted family business by their sons John and Gary.
A state-of-the-art fleet of twelve articulated trucks – tastefully decked out in the Cavan colours - is complemented by a selection of custom-made high curtainsiders, flat trailers, low loaders, extendable trailers, tippers, refrigerated units and Pezzaioli livestock trailers to ensure that all transport solutions are accommodated, covering everything from groupage to wide or abnormal loads.
Regular reliable transport and distribution services are provided throughout the island of Ireland, whilst secure, modern, high quality on-site storage and warehousing facilities are also available.
J&G pride themselves on consistently providing the highest levels of reliability, value for money and customer service and this is why they benefit from a large and steady volume of repeat business. All vehicles are fitted with modern satellite tracking technology and a first-class haulage service is guaranteed – on time, every time!
"We have a fleet of twelve artics at the moment, with eleven on the road all the time plus one spare," confirms John, who drives one of the lorries himself and has been a trucking enthusiast for as long as he can remember. "We provide a comprehensive general haulage service with a lot of curtainsider and flat work as well as livestock and tipper work. We still do a bit of refrigerated, too, but not as much as we used to.
"In the last two years, we've diversified into low loader work, delivering wide and extendable loads to Intel for Breffni Air. Around about two years ago, we also started doing walking floor work and that has also taken off. We also draw tankers of oil out of Dublin Port for Millbrook Edible Oils."
It was as a livestock haulier that founder Jim McCabe started out 33 years ago with one truck and this is still one of the specialist services offered by J&G Haulage today. A pair of three-deck Pezzaioli livestock trailers carry pigs for Rosderra Meats, while J&G also draw concrete slabs for both O'Reilly Concrete and Flood Precast as well as insulation materials for Xtratherm, as well as Loane Transport in Kesh and McBurney Transport in Ballymena.
The stunning J&G Haulage fleet of a dozen trucks and 25 trailers is regularly replenished and maintained in immaculate running order at all times. "We try to keep fresh stuff, both to ensure reliable service and also for the drivers, who are happier when they are operating good gear," says John.
"We have six Scanias at present, five Volvos and one DAF. They all love their V8s, but unfortunately they can't all have them. But we try to make sure all the trucks are fresh and economical. We also have a good spread of trailers, with up to 15 curtainsiders alone in the fleet.
"In so far as is possible, we try to maintain everything ourselves but if there is any major work that needs to be done we will take it to Sean Coyle Commercial Repairs or McDonnell Commercials, the main Volvo dealer. We've used a lot of different trucks down through the years. We started off with Volvo and changed to DAF, then Scania and back to Volvo again and we now have a mixture. When you're adding to the fleet, you look for the truck that's going to give you the best performance, efficiency and value for money."
At the moment, Volvo is ticking all the boxes and plans are afoot to add a couple more to the fleet, hopefully in the not-too-distant future: "We're hoping to add two new Volvos in 2023 but there is a long waiting list on them," John confirms.
"We are very happy with the Volvos and you are getting better value as you can pretty much get two new Volvos with curtainsiders included for the price of two new Scanias. They are still a very good truck and with that kind of saving it makes sense to go with Volvo at the moment."
J&G Haulage have clocked up serious mileage over the past 33 years but there is plenty more to come from this exceptional second-generation family business, which remains as committed as ever to delivering absolute customer satisfaction on every consignment, large or small.
"It's the same in any line of work – it all comes down to customer service and that's what we are focused on," John concludes. "We provide a personal service and we put our customers first. It's all about being there on time, safely. If you take on a job, you have to turn up and do it exactly as agreed.
"You can't let your customers down. You wouldn't last long in haulage if you did. You have to be on time, every time; that's key to us. As a transport provider, you are part of a team and you have to step up and play a team game. We are delighted that our customers place their trust in us and we invest all of our energy into making sure we repay that trust with the best-possible service."
J&G Haulage Ltd.,
Glencurran,
Carrickaboy,
Cavan.
Tel: (049) 4361085
Mobile: 086 4678910
Email: [email protected]
Web: jandghaulage.com
First published in Irish Trucker magazine Vol 26 No 1, January/February 2023