Another landmark year for Thorntons Recycling 
21/03/2023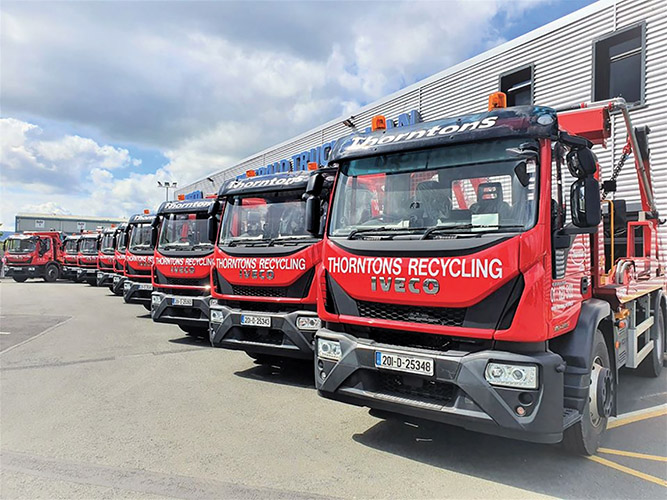 Twenty-twenty-two was another busy and productive year for Thorntons Recycling – Ireland's largest and most progressive family-owned waste management company, which continues to move with the times.
Already firmly established as proven market leaders in the increasingly vital area of waste management and recycling, Thorntons Recycling further expanded and enhanced their service levels during the course of the 2022 calendar year.
Alongside significant improvements to the best-in-class fleet of more than 150 vehicles and cutting-edge facilities, Thorntons – a family business providing employment to a vast team of experienced personnel, many of whom have been with them long-term – also acquired The City Bin Co., which will help them broaden their influence even further.
Taking their environmental and community responsibilities extremely seriously, Thorntons Recycling are deeply embedded into the communities they have served for more than four decades – not just as a waste management provider but also as a sponsor of countless bodies and events – and this will undoubtedly continue to be the case going forward.
It was announced in July that Thorntons Recycling had agreed to acquire The City Bin Co. in Galway from existing shareholders – an acquisition which combines award-winning customer service with best-in-industry waste management practices and places the enlarged group at the forefront of helping Irish businesses and households meet the challenges of the circular economy and to support them to lower their carbon footprint.
Thorntons Recycling is an Irish business owned by brothers Paul and Shane Thornton, employing more than 550 staff who are committed to providing the highest level of customer service. It has been operating in Ireland's waste sector for almost four-and-a-half decades and today handles over 700,000 tonnes of waste material across eleven depots, including Ireland's largest food waste compost facility at Kilmainhamwood, County Meath.
The company provides a full range of recycling and waste management services to over 80,000 household and commercial customers. A continuous re-investment programme in modern recovery facilities, processes, fleet, staff and equipment has positioned Thorntons at the forefront of Ireland's green economy drive, with a market-leading 90% of the waste processed by Thorntons being recycled and recovered.
The City Bin Co. was co-founded by Gene Browne in 1997 to bring a customer-centric approach to the waste management industry. The company is headquartered in Galway and operates in both Galway city and Dublin. Its core strategic focus is customer service, and it is renowned for quality of service and investment in people. In recent years, with approximately 180 people employed across its operations, the company has increased its revenues as well as customer and staff numbers while also increasing recycling rates and continuing its relentless pursuit of customer service excellence.
Referring to this landmark acquisition, which sees two major waste recycling pioneers join forces, Thorntons Recycling CEO Gary Brady, who has been with the company for 20 years, confirmed that Thorntons intend to retain The City Bin Co. brand name:
"We are delighted to acquire The City Bin Co., which has an excellent reputation in the waste management sector and is a well-known brand with a loyal customer base in Dublin and Galway city. With this investment Thorntons Recycling is making a strong commitment to delivering for Ireland's circular economy and helping the country achieve its climate action targets.
"Our two businesses are highly complementary in terms of culture and outlook, and together we will continue to deliver a premium service to our customers and excellent career opportunities to our employees."
Operating the most advanced technology for C&D waste (excavated soil, stone, concrete, brick, tiles, glass, metal, plastic and wood) recycling in Europe, Thorntons Recycling offer a variety of waste management and recycling services for home owners and businesses in Dublin, Meath, Kildare, Wicklow and nationwide including everything from a three-bin domestic waste collection service to skip hire and confidential paper and digital media shredding.
Established in 1979 by Pádraig Thornton and his wife Carmel, Thorntons Recycling are fully committed to providing clients with the exceptional service they expect and deserve. Their dual goal is to help customers increase their recycling rate and reduce their waste management costs. Thorntons Recycling invariably provide excellent customer service to all clients, with a dedicated team of recycling experts on hand to help with all waste and recycling needs.
Over the years, Thorntons Recycling has grown into one of the country's largest waste management companies, providing waste collection, recycling and recovery services to thousands of satisfied customers, and investing over €80 million in its facilities, processes, fleet and equipment. As part of this continuous replenishment and improvement, four magnificent new Renault D Range trucks were added to the fleet in early 2022.
Thorntons are proud of their yearly improvements in recycling rates, with the stated objective of ensuring the maximum amount of waste is fully recycled or reused as an alternative fuel source.
Providing a one stop shop solution for all waste. Thorntons Recycling have grown to serve more than 5,500 commercial customers and over 75,000 household customers every day, consistently delivering a premium, value for money service.
The company is fully invested in industry-leading compliance and quality. Last summer, following an FTAI TruckSafe renewal audit, Thorntons Recycling received the Silver standard. Along with their Guaranteed Irish membership, this is further proof of the providence and customer care credentials of the company.
Fully ISO-accredited, the business is operated in compliance with a number of international standards – namely ISO 9001, ISO14001, ISO45001 and EN15713.
Thorntons Recycling have a wonderful history of providing unrivalled, customer focussed waste management services and, if 2022 is anything to go by, this record of outstanding achievement is set to continue into the foreseeable future and beyond.
Thorntons Recycling,
Unit S3B,
Henry Road,
Parkwest Business Park,
Dublin 12.
Tel: 01 6235133
Email: [email protected]
First published in Irish Trucker magazine Vol 26 No 1, January/February 2023