The one-stop shop heavy lift specialist
16/03/2023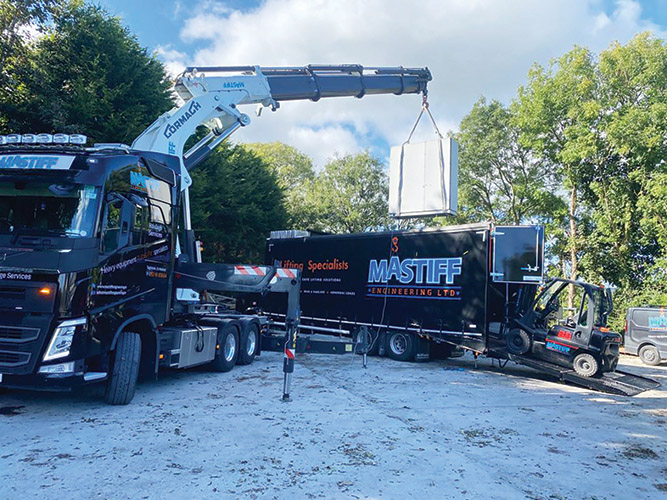 Providing safe lifting solutions, these are exciting times for Co. Wexford-based Mastiff Engineering Ltd which continues to go from strength to strength and is relocating to a bigger and better premises in 2023.
Established in 2007 by brothers Kevin and PJ Whitty, Mastiff Engineering is one of Ireland's leading rigging companies specialising in Heavy lift, Rigging, Hiab, Haulage and Hire. A one-stop shop for all your heavy lift requirements, the company has grown to employ over 100 highly-skilled people, including the office-based Mary Lawless (Operations Manager), Cathy Colfer (Transport Manager), Joanne Whitty (Accounts Manager), Sandi Kennedy (HR Administration) and Catherine French (Administration).
Mastiff Engineering provides services to a large portfolio of clients within the pharmaceutical, IT & data, food & beverage, medical, construction and energy sectors. It is constantly growing and diversifying, and has extended services to include the transportation of abnormal loads, Hiab and haulage. With a variety of trailer types available, including two-, three- and four-axle extendable low loaders, wide, high, long and heavy loads can be transported by Mastiff's professional drivers from point of collection to destination.
Furthermore, the company runs two artics (Scania and Volvo) and two rigids (DAF and Renault) with Hiabs as well as a Mercedes Sprinter drop-side pick-up van and two escort vehicles with flashing beacons for abnormal load transportation. The transport department will prepare the necessary permits while planning the route, ensuring the correct traffic management system is implemented for the load type and transport route.
The recent pandemic brought a level of business uncertainty to the economy. "We remained fully operational during the Covid lockdowns as an essential service and it actually worked for us rather than against us. The industry has grown off the back of the pandemic which has resulted in an increase in demand for our services," Mary Lawless says.
"We celebrated 15 years in business in 2022 and hope to move into our new premises in the middle of 2023. We recently purchased the old Bank of Ireland building on the Ross Road in Taghmon and will be making the short move there from our current premises on Main Street as soon as refurbishment works are completed."
When it comes to wide and abnormal loads, planning and preparation are key, as a client, you're guaranteed an unrivalled service. Mastiff works directly with local authorities and the Gardaí to ensure full compliance with RSA regulations.
In addition to the transportation element of a project, the company can offer clients the option of removal, loading, unloading and final positioning services.
"We've invested heavily in new trucks, trailers, lifting devices, rigging gear and equipment to provide a complete rigging and heavy lifting service for our growing customer-base," Mary adds.
"We offer Hiab and haulage services, transportation of loads including abnormal loads, hire of spider cranes, roto telehandlers and forklifts with an operator, load testing of lifting beams as well as GA certification of lifting tackle and rigging gear.
"These services are delivered by a top-class team of highly-qualified, experienced and competent personnel, including lift supervisors, banksmen riggers, machine operators, general operatives, truck drivers and task supervisors. They are supported by our office team who each have an important role to play. A culture of safety awareness and teamwork is constantly promoted among the work force which increases awareness of the benefits of teamwork as well as team awareness of the company supports in place to assist workers when needed.
"Everything at Mastiff is about teamwork. It fits in with our safety culture. Health & Safety is top of our agenda."
Mastiff Engineering supplies licensed Hiab and haulage services nationwide. Its range of trailers are suited to transporting a diversity of load types. From flat to extendable / low bed extendable low loaders and curtainside trailers, loads of up to 48,000kg and 20m in length can be transported. The Wexford company's truck drivers are experienced in loading, tying down loads and offloading an assortment of load types, including pipes and pipe racks, containers, cabins, tanks and skids, structural steel, factory lines, generators, compressors and heavy machinery.
"The added advantage of our truck drivers is that they are all competent riggers and machine operators and therefore can oversee and carry out offloading. That's another cost-saving measure for our clients," Mary points out.
Mastiff's PM and Cormach Hiab cranes have the capacity to lift and load weights of up to 21,000kg. All transportation services are carried out in compliance with the Irish Road Haulage Associations' Conditions of Carriage. All vehicles are tested and certified in compliance with the CVRT test and RSA regulations.
The family-run business has earned an enviable reputation for its lifting specialist services. From basic to complex lifts, the Mastiff team has the solution you're looking for. With experience working within a range of industries, lifting and fitting a variety of large machinery and equipment into position, no job is too big or too difficult for its riggers.
"It's vitally important to act on customer feedback as we're continually learning and perfecting our work systems. As members of the IRHA, we operate under their terms and conditions. We're fully compliant with all regulations and always ensure our paperwork is up to scratch.
"We pride ourselves on being a one-stop shop for all your heavy lift needs. We can organise transport among other things which improves efficiency and saves money. It gives us more control and our customers a better overall experience. We also collaborate with bigger transport and crane hire companies on a regular basis and work with some of the most reputable suppliers in the industry.
"We're lifting experts who offer advice and who try to work with our clients and help them. We will do our utmost to provide clients with options. There are strict regulations governing the transportation of abnormal loads, the transport department will work with and advise clients accordingly.
"Recently some of the company suppliers have become clients. The range of trailers available at Mastiff are suitable to carry a large variety of load types. This has enticed suppliers to engage with us in regard to transportation. We are continually building up and maintaining business relationships within the market."
Mastiff's lifting team are experts in tandem lifting which involves the simultaneous use of more than one lifting device to bring a piece of equipment to the chosen position or chosen orientation, e.g. horizontal to vertical. Depending on the way an item is packed for transportation, offloaded onsite or currently positioned will determine the way it will be lifted.
Mastiff has experience pairing lifting devices such as cranes, 360 telehandlers, forklifts, Hiab cranes and spider cranes with varying lifting capacities. By forging solid relationships with some of the most reputable crane and hire companies in Ireland, Mastiff can offer the most competitive rates available.
Mastiff's lifting team can offer solutions to height restrictions, access and egress restrictions, floor openings, confined space work and work within cleanroom areas as well as many others with limited interruption to existing good manufacturing practices or services in the area.
Mechanical and Electrical installations is another company speciality. It has developed specialist techniques over the years to lift, move, transport, install and relocate everything from air handling units (AHUs), tanks and skids, dryers and drying systems, boilers, chillers, compressors and pumps to heat exchangers, electric panels, control panels, transformers, flight simulators and structural steel.
From bidding to planning to the execution of a project, the needs of its clients are paramount at Mastiff. The Mastiff team works with clients both on and off site to guarantee projects are completed within the agreed schedule and that all Health & Safety requirements are provided for, and meet the standard set for each individual site.
As Mastiff Engineering looks forward to the next 15 years, the company would like to take this opportunity to thank its clients and suppliers for their continued support as well as their highly-motivated and dedicated team for their hard work, loyalty and expertise.
Mastiff Engineering Ltd
Main Street,
Taghmon,
Co. Wexford,
Y35 FH5H.
Telephone: 053 9183 604 / 053 9183 587
Mobile: 087 972 0519 (Kevin) / 087 210 7840 (PJ)
Email: [email protected]
Web: www.mastiffengineering.ie
First published in Irish Trucker magazine Vol 26 No 1, January/February 2023