McAuliffe Trucking Company fleet stands out from the rest
14/03/2023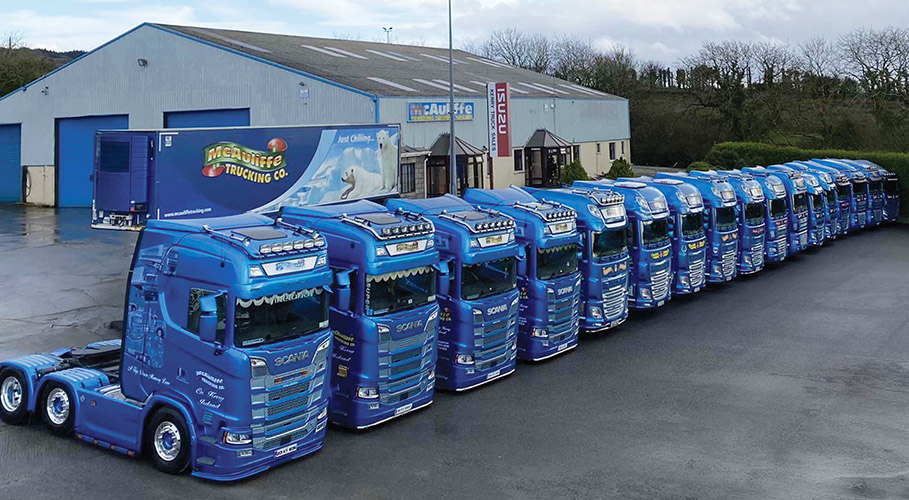 McAuliffe Truck Company in Castleisland, Co. Kerry is as well-known for its eye-catching fleet as it is for its exceptional transport service.
Every truck in the 18-strong fleet boasts impressive artwork. They even have their own names! The airbrushed trucks have a different theme which adds to their uniqueness. With some of the most attractive trucks on the road, McAuliffe Truck Company regularly showcases them at truck shows such as Full of the Pipe in Punchestown and the famous Truckstar Festival in Assen, Holland.
To mark its 50th anniversary in 2020, the third-generation family-business welcomed a stunning new Scania S650 V8 NG Highline to its fleet. Christened Lady Caroline, it was a star attraction at this year's Full of the Pipe and Truckstar Festival as Orla McAuliffe – who shares the transport manager duties with Declan Mangan – explains:
"She got a great reaction. She's the flagship truck in our fleet at the moment and my fiancé Thomas Shine drove her out to Assen in July. She's named after my future mother-in-law. We usually leave it up to the drivers to give the trucks names. They treat them like they're their own and take great pride in their appearance and how they drive them.
"We bought Lady Caroline from T Nolan's Scania here beside us in Castleisland. The artwork was carried out by Alan Smallwood of AS Airbrush in the UK. The detail is incredible. We couldn't be happier with it."
Lady Caroline was the second Scania to join the McAuliffe Trucking Company fleet in the space of two years. In 2019, the company took delivery of another S650 Highline from T Nolan Scania, which is a delightfully airbrushed mermaid-themed model called Lady Freya after driver Lorcan Regan's five-year-old niece. Lady Freya is still going strong doing runs back and forth to the Continent.
Having not had any Scanias in its fleet for many years, the Kerry haulier now has four. Since purchasing Lady Freya, it has added Lady Caroline along with two new R500s named Lady Meadbh and Lady Ciara. Lady Meadbh is named after driver Cian O'Connor's mother, while Lady Ciara is driven by Dan Murphy who named her after his new bride.
In addition, McAuliffe Trucking Company took possession of a new DAF XG530 from DAF Truck Services (Cork) last April and has another one ordered for the New Year. It has also invested in a new Chereau refrigerated trailer. In total, the company runs 30 trailers which are a mix of tankers, bulk trailers, livestock trailers, refrigerated units and curtainsiders.
Closely aligned to the family's pig farming enterprise, McAuliffe Trucking Company provides a comprehensive range of livestock, liquid, refrigerated and bulk transport services both nationwide and internationally. Orla took over the family business from her father Mike, who now concentrates on running his piggeries.
"My grandfather, Jack, had a pig farm before branching into haulage in 1970," the young transport manager reveals.
"He started drawing whey from Kerry Co-Op (Kerry Ingredients) in Listowel with a Bedford truck and tank to his own pig farm. The business grew from there and he bought two new Hino articulated trucks on the same day in 1975. Following Jack's passing in 1992, my father took over at the age of 27. He stepped aside a few years ago and is now farming in Shinrone, Co. Offaly. I've had my truck licence since I was 21 and started full-time in the business in 2018 when I was 23.
"I studied Business with Marketing in college and also hold a Transport Management certificate from the Chartered Institute of Logistics & Transport. It's handy to have the licence as I'm able to go out and relieve some of the drivers when the need arises. If they're 'out of hours' and only up the road, I can bring the truck the rest of the way.
"It's also nice to be able to get out of the office every once in a while."
McAuliffe Trucking Company continues to enjoy an excellent working relationship with Kerry Ingredients, working out of their creameries in Listowel, Newmarket and Charleville. The Castleisland operation also collects milk from dairy farms in the North Kerry and West Limerick areas for Limerick Liquid Milk Producers and North Cork Co-Op in Kanturk, having two DAF trucks dedicated to this service.
The McAuliffe fleet is also a familiar sight on mainland Europe. They transport sow carcasses to Germany and bring back everything from cheese to fruit on behalf of Allmed Logistics in Thomastown, Co. Kilkenny.
With 52 years' experience in haulage and distribution, McAuliffe Transport Co prides itself on its ability to execute its customers' shipments in a safe and timely fashion. The Kerry firm's experienced and professional management and staff have the knowledge and capabilities to provide the highest level of transportation services. Using modern GPS technology, its trucks and trailers can be tracked from anywhere in the world.
"We'd be nothing without our drivers," stresses Orla.
"We are very lucky to have a top-class team of full-time and relief drivers who are reliable, courteous and will go out of their way to look after the customer. We also have excellent staff in the office and in our state-of-the-art workshop. We have two mechanics maintaining our own fleet, while Declan (Mangan) is also a qualified mechanic and helps out when needed. He's very hands-on."
Orla welcomes the fact that more women are getting involved in the transport industry.
"It's great to see more women involved in driving and transport management. While it remains a male-dominated industry, I have never once been looked down upon because I'm female. You do, however, sometimes get funny looks when you're behind the wheel which you probably wouldn't get in Northern Ireland and the UK where it's much more accepted.
"It would be nice to see more women becoming HGV mechanics. I've never come across one before.
"Trucking is in my blood and I hope to play my part in keeping the family tradition alive for many more years to come," says Orla, who concludes by thanking her clients and suppliers for their continued support.
McAuliffe Trucking Company Ltd
Fahaduff,
Castleisland,
Co. Kerry.
Telephone: 066 7141933
Mobile: 087 2509508 (Declan), 087 9256446 (Orla)
Email: [email protected]
Web: www.mcauliffetrucking.com
First published in Irish Trucker magazine Vol 26 No 1, January/February 2023