The haulage and low loader specialists
09/03/2023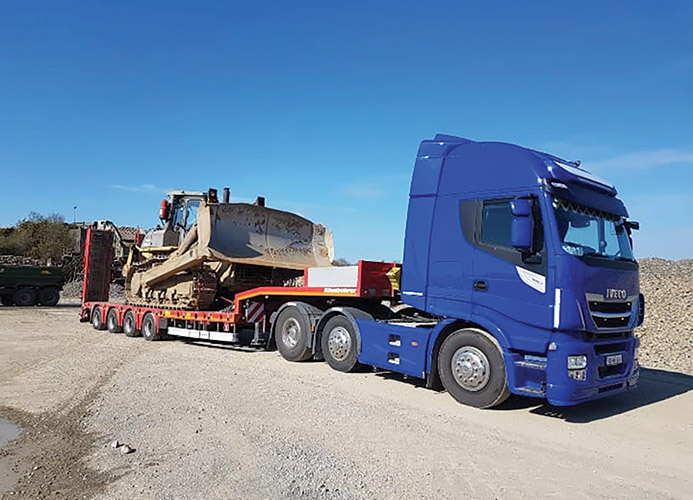 Farrelly Transport Services in Drumconrath, Co. Meath is a family-run business specialising in general haulage and low loader hire. While the company was only formed in 2011, the Farrelly family name has been synonymous with the transport industry for decades.
Founder and managing director Pat Farrelly has 35 years' experience in the business, having previously worked as transport manager with his father Paddy's company, Farrelly Plant Hire, in nearby Castletown. Pat is joined by his sons Patrick Jnr and Aaron, daughter Debra, and a small but dedicated team of drivers. The Farrelly's run an eight-strong fleet of Iveco and DAF artics and rigids, with a new Iveco Stralis from Kearns & Murtagh in Dundalk on the way. They also run 15 tipping and low loader trailers which are a mix of Kelberg and Kassbohrer.
"We are looking forward to taking delivery of the new truck which was on display at this year's Full of the Pipe Truck Show in Punchestown. Tipping gear along with other features such as side-skirts and extra lights have been added to it since then," Debra Farrelly explains.
"The Stralis is the first truck we've bought new and represents a significant investment in our fleet and business. Most of our trucks are only a few years' old, so the fleet is very modern."
Farrelly Transport Services prides itself on its dependable, trustworthy, value-for-money, friendly and unrivalled service. All trucks and trailers are maintained and serviced on a regular basis to ensure there is no such thing as downtime. Most of this is carried out by the aforementioned Kearns & Murtagh. Other suppliers include Mileage Tyres in Navan, Doyle Truck & Trailers in Clondalkin and GEM Oils in Cavan.
The Co. Meath operator takes great pride in the appearance of its trucks, which are always immaculately turned out. Farrelly Transport Services' growth and success can be attributed to the knowledge, experience and expertise of its drivers as well as the quality of its fleet. Pat, Patrick Jnr, Aaron, Debra and their professional team deliver the value and quality their clients have come to expect from them.
Blue has become the company's fleet colour owing to its association with the Breedon Group. Formerly the Lagan Group, Breedon is Farrelly Transport Services' largest client by some distance. Its other customers include Blacktop Tarmacadam Co Ltd in Duleek and Tarstone Road Maintenance Ltd in Navan.
"The work we do for Breedon accounts for about 90% of our business. We draw aggregates, tarmac and bitumen for them along with machinery and abnormal loads. They are a great company to work for. My father has dealt with them for over 30 years. We go the extra mile for all of our customers," Debra adds.
The Breedon Group has implemented strict requirements for its hauliers and owner-drivers in relation to vehicle maintenance and compliance with road traffic regulations. It acquired the Lagan Group four years ago in a £455 million deal and continues to go from strength to strength. Breedon is a leading construction materials group in the UK and Ireland which produces cement, aggregates, asphalt, ready-mixed concrete, Welsh slate, specialist concrete and clay products, while offering a range of contracting services.
Breedon has a strong asset backing, with around one billion tonnes of mineral reserves and resources. The Group's strategy is to continue growing through organic improvement and the acquisition of businesses in the heavy-side construction materials market. Breedon reports as three segments: Great Britain, Ireland and Cement. Its operations in Great Britain and Ireland are fully integrated aggregates and downstream products businesses. Its Cement business is a major producer of bulk and bagged cement in the UK and Ireland. Breedon's quarries and manufacturing plants are strategically located across Ireland to provide nationwide coverage.
Blacktop Tarmacadam Co Ltd specialises in the design, layout and supply of all Asphalt products for roads, car parks and driveways. Tarstone Road Maintenance Ltd is a specialist contractor in the field of bituminous pavement construction and maintenance, civil engineering and related activities.
Committed to quality and complete customer satisfaction, Farrelly Transport Services would like to take this opportunity to thank its customers and suppliers for their continued support, as well as its staff for their hard work, dedication and expertise.
Farrelly Transport Services
De Valera Park,
Drumconrath,
Co. Meath.
Telephone: 087 948 7482 / 087 399 2475
Email: [email protected]
First published in Irish Trucker magazine Vol 26 No 1, January/February 2023