Finnegan Bray celebrates 50 years on the road
07/03/2023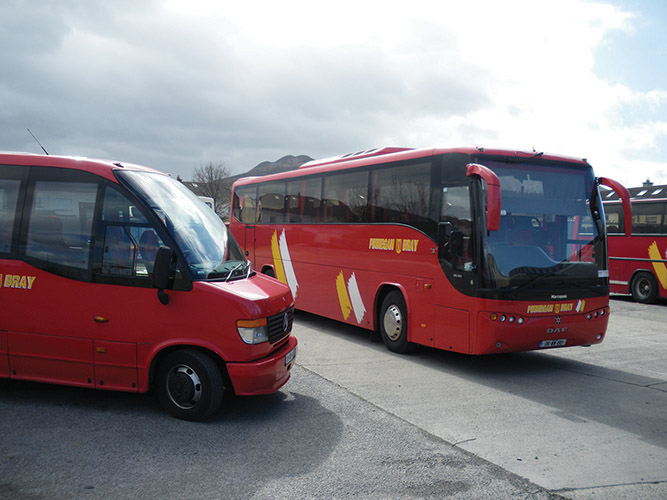 Celebrating 50 years in business, Finnegan Bray is a well-known and respected family-run company which provides coach and minibus hire for all occasions and to all locations.
Fronted by Eugene Finnegan, Finnegan Bray operates an 18-strong fleet of buses to cater for all types of groups. The latest addition to the fleet is a stunning 222-registered Volvo 9700 which was purchased from Irish Commercials in Naas. Decked out in the company's trademark red livery, the new bus offers flexibility, fuel-efficiency, comfort and safety.
It's one of the largest coaches in a stellar fleet that also includes 16-seater Ford Transit minibuses, 30-seater Iveco Turas midi-buses, a 37-seater Higer, 53-seater DAF executive coaches, a Mercedes Tourismo 59-seater and a 78-seater Volvo double decker. In addition, Finnegan Bray has Optare Solo low-floor midi-buses dedicated to its scheduled services. Taking care of all your transport requirements, the company's executive coaches offer air conditioning, WIFI, audio / video facilities, WC facilities, tinted windows and comfortable reclining seats with ample leg room.
Wheelchair accessibility is also standard on most coaches. Finnegan's dedicated team of professionals will make sure your journey is as comfortable and relaxing as possible.
The Co. Wicklow bus operator is committed to providing its passengers with the highest safety standards, with each coach fitted with seat belts and the latest safety features. All drivers are experienced, CPC-trained, courteous and professional in every aspect of their job. The fleet is maintained by an expert team of technicians at CVR (Commercial Vehicle Repairs) who share the same yard as Finnegan's in Bray and ensure maximum performance, efficiency and safety.
Grove Motors in Newtownmountkennedy also carry out some servicing and inspections, while Brian Noone Ltd in Maynooth, M50 Truck & Van Centre, Irish Commercials and the Harris Group are among Finnegan Bray's main suppliers.
"The new bus has been put to work on our group tours service," Eugene explains.
"We provide school transport on behalf of Bus Eireann, scheduled services, private group travel and bespoke guided tours for overseas students which is a real growth market for us. We provide driver guides who are very experienced and have a wealth of knowledge of popular tourist destinations like Kerry and Galway. This service is proving to be very attractive to the customer.
"We have replenished our fleet every year since 2017 with the exception of the Covid years of 2020 and '21. Our aim is to give our passengers the best possible travel experience."
As well as having vast experience in arranging large group travel requirements, Finnegan Bray provides scheduled daily services that link the Southern Cross with Bray Dart and Sandyford Luas Stations. The first service is at 6.45am and the last at 8.15pm. Until recently, the company also ran a night service from Dublin to Bray, Greystones, Charlesland and Kilcoole at the weekend.
The pandemic hit the scheduled services particularly hard and Eugene questions whether they will ever return to normal as working from home becomes the norm for so many.
"I think Mircosoft Teams and Zoom meetings are here to stay. It's a pity because that personal contact with work colleagues isn't there anymore," he laments.
"With less people now travelling to the workplace, our passenger numbers are down, but there is still a strong demand for our scheduled town service within Bray and environs. The service has been running since 1987 when we became the first privately-operated public service in the greater Dublin area since 1946."
During the pandemic, Finnegan Bray kept passengers safe with onboard hand sanitiser dispensers and wipes. Screens were also installed for driver protection, while each vehicle was cleaned and disinfected after use to practically eliminate the risk of spreading infection.
The origins of Finnegan Bray can be traced back to 1972 when Eugene set up a company called Azterck, which specialised in mini-bus camping tours across Europe. That led to him establishing Finnegan Bray in 1977 and he hasn't looked back since.
"I worked as a system analyst with the lighting company Solus at the time, but spent my summers organising camping tours to Europe. It's 50 years since my first camping tour went away to France, Italy and Switzerland," he says.
"I was among the first group of operators to take a CPC class. By the time I set up this company, I had enough Ford Transit minibuses to go into private hire. The company has grown over the years and we now have 16 drivers employed. My daughter Sarah is also involved. She's a qualified transport manager and is also qualified to drive any of the buses when she's needed."
A shortage of suitable drivers forced Eugene to suspend the aforementioned Dublin to Bray, Greystones, Charlesland and Kilcoole weekend night service. He feels more needs to be done to attract young people to the sector and is also calling on Bus Eireann to review its policy of not employing drivers who are over the age of 70.
"Driver availability is a huge issue. It's not an attractive job for youngsters due to the difficulties surrounding insurance. They also face difficulties in being accepted by some customers, which shouldn't be the case.
"The Bus Eireann retirement age is another strain on the sector. We have six people – including myself – who cannot drive on a Bus Eireann contract because we're over 70. Some of the best and most reliable drivers I know are in their seventies. That rule needs to be looked at again."
A business that continues to go places, Finnegan Bray is dedicated to offering the very best service at unbeatable prices. Passengers can rest assured that they will have the ultimate travel experience with Eugene and his team at the wheel.
Here's to the next 50 years!
Finnegan Bray
Pinewood Close,
Boghall Road,
Bray,
Co. Wicklow.
Telephone: 01 286 0061
Email: [email protected]
Web: www.finnegan-bray.ie
First published in Irish Trucker magazine Vol 26 No 1, January/February 2023