KC Commercials adds more strings to its bow
22/02/2023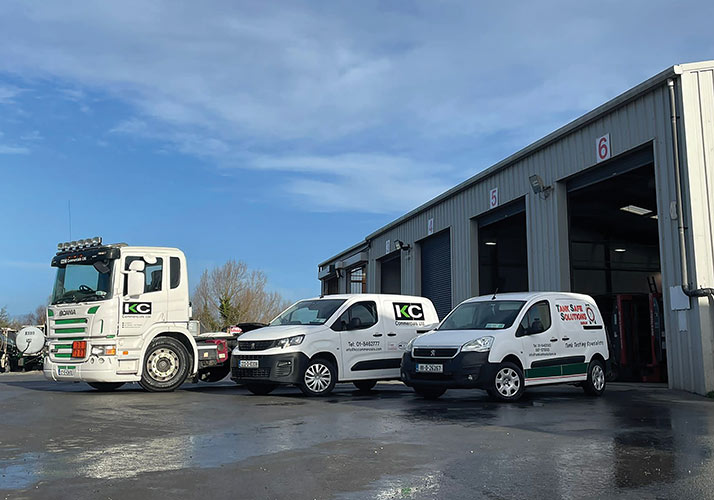 Catering for all the maintenance and repair requirements of commercial vehicle operators, and specialising in the ADR sector of the market, KC Commercials has emerged from the Covid-19 pandemic with an even greater service offering.
For over 30 years, the Dublin-based operation – which is headquartered in Kinsealy and has a depot in Dublin Port – has been an off-stop shop for the ADR sector. But not one to rest on its laurels, KC Commercials has added several more strings to its bow in the last two years. The company comprises three divisions – truck and trailer maintenance and repairs, engineering and fabrication, and tank testing. Most of the recent developments relate to the latter division which is one of only three hydraulic tank testing facilities in Ireland.
Firstly, KC Commercials now has an ISO 9001:2015 Quality Management System in place. The company is also accredited for calibration and verification of truck-mounted oil flow meters (Section 12 of the Metrology Act).
In addition, KC Commercials is now offering HVO meter calibration and repair. HVO is a new NSAI-approved fuel made from hydrotreated vegetable oil which reduces carbon emissions by in the region of 90% compared to diesel. It is also more cost-effective at a time when diesel prices are at a record high.
IPIA (Irish Petroleum Industry Association) has changed its name to FFI (Fuels for Ireland) and maintains validation of SLP inspectors, of which KC Commercials has five approved inspectors. Indeed, the company carries out the highest number of SLP inspections in the Republic of Ireland.
As an NSAI (National Standards Authority of Ireland) service partner, KC Commercials provides staff to support meter verification on both of its sites, thus reducing customer downtime and improving flexibility as part of its one-stop shop philosophy with particular emphasis on the ADR sector.
Furthermore, the Dublin firm has a service partnership / agreement on ADR recovery and provides nationwide support for specialised ADR recovery and containment support. KC Commercials staff are ERIC (Emergency Response Incident Coordinator) certified to support customers when rapid response / coordination is required for product spill, RTA etc.
KC Commercials has also invested in additional customer support vehicles and increased its staff to 20, a figure which includes three apprentices. As it looks to the future, the company is committed to training and developing more apprentices.
As an essential service provider, KC Commercials remained fully operational throughout most of the pandemic, during which it provided vital refuelling services to the Irish Air Corps' fleet of aircraft in Baldonnel and the Irish Lighthouses' helicopter fleet.
"Although Covid was a difficult time for us, we were classified as an essential service support and remained open except for a two-week period at the start of the pandemic. It presented many challenges, including Covid training to lead workers, isolation areas on site, regular staff testing, altered shift patterns and revised staff welfare layout," explains KC Commercials general manager Jimmy Monks.
"Although CVRT stopped testing and derogations / exemptions were in place, the ADR sector of the haulage industry kept all vehicles maintained and continued to carry out 12-week safety inspections, which is a credit to them. It goes without saying that we would not have been able to operate during the pandemic were it not for the dedication and commitment of our staff.
"Our aim has always been and continues to be to provide a 'best in class' service and support to our customers, and we do this with a highly-motivated and skilled workforce. We have a lot of blue-chip clients and our ethos is to offer the best possible service to all of our customers, including operational and aftersales.
"We also pride ourselves on being a nice place to work. You can't do anything without good staff. We're fortunate to have some of the best. Our people are our greatest asset."
With accreditation from FFI, KC Commercials carries out both safe load pass and tank testing at its state-of-the-art facilities in Kinsealy. Also located at the five-acre site is a fully equipped workshop with four bays, while the company also has a CVRT test lane the exact same as test centres, which is used for the pre-CVRT test.
"There has been massive investment in the business over the years, particularly in the last few where a 'Centre of Excellence' has been developed which includes an ADR bay and state-of-the-art fall arrest system for working at height and diagnostic technology which replicates that of a port facility loading gantry," Jimmy adds.
When it comes to diagnostics, what the team at KC Commercials don't know is not worth knowing. It caters for everything to do with ADR and is the only company on the island that has accreditation both north and south of the border.
There is no doubt that this is a forward-thinking concern and Jimmy praises managing director Brendan Kealy, who founded the business along with the late Robert Cray, for his foresight to drive it forward.
"There has always been a massive emphasis on training and this company has gone above and beyond in that regard as some of the staff are the most-qualified in their sector. The training covers all areas of the business from management right down to the skilled workers and office staff. Everyone is encouraged to grow within the company.
"Our welders are coded to standard BS EN 9606 for stainless, aluminium and mild steel with additional PED approvals.
"The compliance side of a business is sometimes neglected, but that is not the case here and it is managed very well. We have a software management system in place which assists the transport manager and others to make sure the business runs as smoothly as possible."
"Our customers are very happy with the service that we provide, but that doesn't stop us from looking at ways of improving the business."
As an approved operator for pressure-testing tanks, KC also provides leak-proof testing and thorough examinations on vehicles.
"An intermediate test should be carried out every three years after the tanker is put into service. All testing in this facility is carried out to standard EN 12972 by highly trained and qualified technicians," Jimmy says.
"Uniquely, our test facility monitors all pressure test values remotely with data logging equipment and records the same to cloud-based systems. As part of our ever-improving philosophy, we are currently testing digital CCTV systems for internal monitoring of the tankers, thus reducing the requirement for 'confined space working' of staff and digitally recording all information for records purposes."
As it continues to go from strength to strength, KC Commercials would like to take this opportunity to thank its clients and suppliers for their ongoing support as well as its staff for their hard work, dedication and expertise.
KC Commercials
Unit 1 Posie Row,
Kinsealy,
Dublin 17,
D17 EE06.
Telephone: (01) 846 2777
Email: [email protected]
First published in Irish Trucker magazine Vol 26 No 1, January/February 2023