Martin Boyle Haulage celebrates 40 years
20/02/2023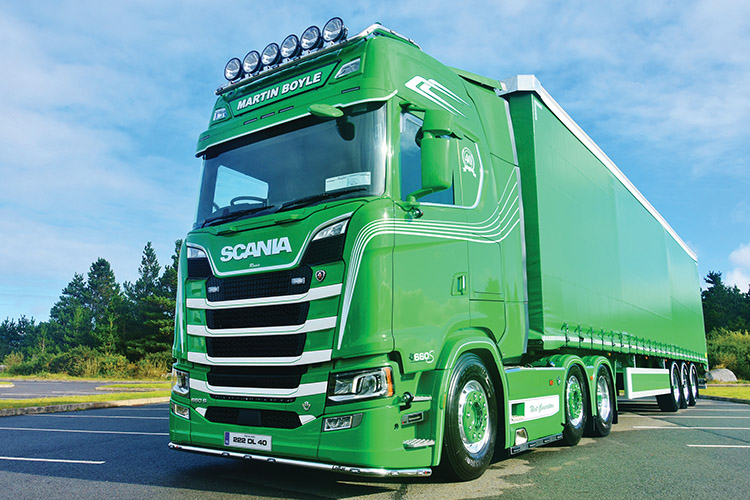 Celebrating 40 years in business, Martin Boyle Haulage Ltd is a family-run business specialising in groupage across Ireland and the UK.
Based in the Gaeltacht village of Bunbeg in Co. Donegal, the company's philosophy is to focus on the needs of its customers and develop cost-effective solutions to meet them. Over the past four decades, Martin Boyle Haulage has become a market leader within the movement of dry goods and continues to go from strength to strength by providing an unrivalled service to an ever-growing client-base.
The company is run by founder Martin Boyle Snr with the help of his son Martin Jnr, daughter Louise Coll, Martin Jnr's wife Catherine and 23 staff. The business was founded in 1982 by Martin Snr and his late wife Rosie who built it up to what it is today. From humble beginnings with one lorry, Martin and Rosie added more lorries and created more employment as the years went by. The time and dedication they poured into the foundation of the business has enabled it to go from strength to strength.
Martin Boyle Haulage prides itself on its highly-skilled and trained team as well as its modern fleet. Continued investment in the latest equipment and technology ensures total customer satisfaction.
The haulier's services consist of dry goods haulage throughout the whole of Ireland and mainland UK. Its very distinctive green and white trucks and trailers are a familiar sight on the Irish and UK road network.
"Our aim at all times is to provide the best possible service to our customers. We always go the extra mile for them," operations director Louise Coll stresses.
"Our customers can rest assured that their goods will be delivered in a safe and timely manner. We treat every customer the same regardless of their size."
Martin Boyle Haulage runs 17 trucks, including a stunning new Scania S660 which was purchased from Cawley Commercials in Sligo.
"We thought it would be a nice way to mark our 40th anniversary," Louise says of the new arrival.
"The registration is 222 DL 40. Our fleet comprises 16 artics, one rigid and two vans. The trucks are a mix of Scania and Volvo. We're also running over 40 trailers which are predominantly SDC curtainsiders. We have one refrigerated unit which is dedicated to deliveries we do for SynerChi Kombucha, who manufacture energy drinks down the road from us in Gweedore Business Park."
She adds: "How your vehicles look says everything about your company. If they are clean and well presented, it gives a good impression. We take great pride in the appearance of our trucks and how they are maintained. We have a new state-of-the-art maintenance facility onsite which is manned by two mechanics. All checks and repairs are carried out in accordance with strict RSA guidelines."
Behind the wheel of every Boyle truck is a reliable, experienced and courteous driver. "Our drivers are the best in the business. They always deliver the goods," Louise says.
"We have a team of professionals with decades of experience within the transport industry. Many of our drivers have been with us for years. It is important to have drivers that you can trust and you know will do the job to the best of their capabilities."
Martin Boyle Haulage looks after the transport and distribution requirements of several locally-based companies, including ProAmpac, Donegal Shores Hygiene & Catering and Randox. ProAmpac is a leading global flexible packaging company operating out of both Bunbeg and Gweedore. Donegal Shores Hygiene & Catering is another Gweedore-based business committed to offering expert services to the hospitality sector.
Brexit and rising fuel costs have proven more problematic than the Covid-19 pandemic for the family-run business.
"When Brexit happened, we trained our staff to deal with the new customs requirements and all the paperwork that comes with that. This has allowed us to keep the goods moving.
"Spiralling fuel costs are the single biggest issue facing the industry at the moment. It's crippling. The fact that prices are changing almost on a daily basis makes it even more challenging. You can only pass on such much to your customers before they become uncompetitive. Everyone is being affected by the soaring costs.
"Every day brings a new challenge in this business. But you just have to get on with it and do the best you can."
In summary, Martin Boyle Haulage prides itself on its professional, dependable, trustworthy, value-for-money and expertise service. Martin and all the team would like to take this opportunity to thank their clients and suppliers for their continued support.
Here's to the next 40 years!
Martin Boyle Haulage Ltd
Upper Dore,
Bunbeg,
Letterkenny,
Co. Donegal.
Telephone: +353 (0)74 953 1711
Email: [email protected]
First published in Irish Trucker magazine Vol 26 No 1, January/February 2023