Hill Road Commercials keeps your wheels turning
20/02/2023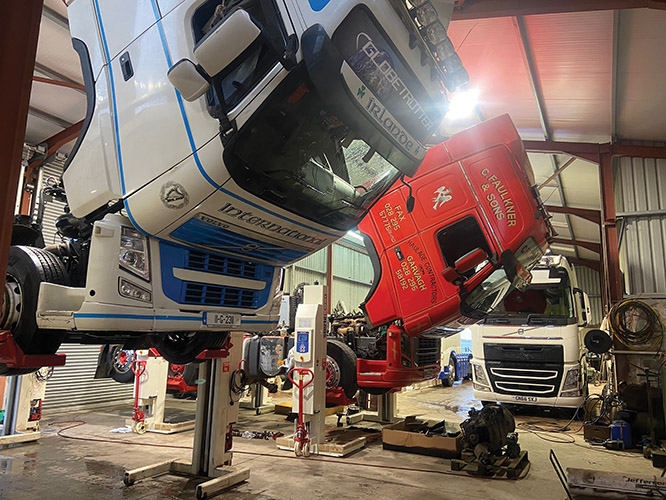 Strategically located just off the busy A1 (Belfast-Newry) Road in Banbridge, Hill Road Commercials Ltd is a one-stop shop for all your commercial vehicle repairs.
Established in 2020 by brothers Robert and David Baird, the business has grown rapidly to become the HGV repair centre of choice for a long list of clients from both sides of the border. Hill Road Commercials' highly-trained and experienced mechanics can carry out all necessary repairs to your vehicle at their state-of-the-art workshop which is constantly being upgraded and boasts a full range of diagnostics for all makes and models. The family-run business prides itself on its top-class, cost-effective and friendly truck repair and maintenance service.
Servicing, maintenance, PSV preparation, brake testing, engine repairs and builds are the main services provided by the Co. Down operation which has earned an enviable reputation in its first two years in business. Having started on their own, Robert and David are now joined by their cousin Gary Baird, Jake Dennison and Josh Hanna, who is in the third year of his apprenticeship. Ironically, all bar Jake cut their teeth with Dennison Commercials in Newry.
"The business has grown quicker than we could ever have imagined. Starting out during the Covid pandemic was daunting, but thanks to the support of the haulage community, we've hit the ground running," Robert says.
"I worked with Dennison Commercials from 1998 to 2020 and David was also on their books for six years. Gary served 16 years with them, while Jake was a mechanic with Gibson Bros Quarries here in Banbridge before joining us a year-and-a-half ago. We're thinking of taking on another mechanic as we continue to grow.
"Our workshop has expanded to five bays and we've added a parts section as well. We've also purchased new Steril-Koni Column lifts from Search Workshop Supplies in Londonderry and plan to invest in a new brake tester in 2023."
He continues: "Our father, who is also called Robert, and mother Ellie have been a tremendous support to us over the last two years. Dad runs his own haulage company, Robert Baird Transport, and our grandfather was in the business before him. So we've been around trucks all of our lives. It's in the blood."
The experience the brothers gained from working for Dennison Commercials, coupled with the customers they met, has stood them in good stead.
"I joined Dennison's after finishing school as an apprentice mechanic," Robert explains.
"After a few years, I had eight mechanics working under me. When I eventually left and took the decision to go out in tandem with David. I just felt that it was the right time to do it. David has also completed a thorough apprenticeship and gained a great mix of skills and knowledge while working alongside me in Dennison's.
"We developed good working relationships with customers in Dennison's and I think that has counted for a lot."
Hill Road Commercials already boasts a large and loyal client-base which includes McCann Transport in Newry, J Murray & Son in Ballygowan, Co. Down, Christopher Hughes Transport in Portadown, Kieran McKay Ltd in Dundalk, Strain & Shields in Armagh, Sean McMahon Storage & Distribution in Mullagh, Co. Cavan, Boyle Transport NI in Newry, Ian McCann Transport in Downpatrick, LW Surphlis & Son Ltd in Newtownstewart, M&G International Haulage Ltd in Dundalk, Wheatfield Stone in Banbridge and Stewart International Transport in Banbridge.
"We have over 100 regular customers at this stage, many of whom are from the Newry / Dundalk area. We've built up our customer-base through word of mouth and recommendations from existing clients. While we have a great name for Volvo, we can service any truck," Robert explains.
"To avoid downtime for them, we call out to our bigger customers' yard once a month to service their fleet for them. Hauliers don't want the hassle of having to carry out repairs themselves. When they come to us with a truck, they know it will be fixed right - first time."
The Banbridge garage has extended its weekday opening hours for its customers' convenience. Opening hours are 7.30am to 5.30pm on Mondays, Tuesdays and Fridays, and 7.30am to 9pm on Wednesdays and Fridays.
"We don't open on Saturdays anymore because we found that our customers prefer to bring in their trucks during the week. It also gives us the weekend off which means we're coming back nice and fresh on a Monday.
"In the event of anyone needing parts over the weekend, dad is always around the yard and will be able to get them. We won't see anyone stuck."
Robert concludes by saying: "We would like to take this opportunity to thank our customers and suppliers for their continued support. Every customer, regardless of their size, is treated the same. We are proud to be a one-stop shop for all their repair and maintenance needs."
For your next truck repair or service, be sure to give Hill Road Commercials a call.
Hill Road Commercials Ltd
20 Hill Road,
Ballinaskeagh,
Banbridge,
Co. Down
BT32EB.
Telephone: +44 7526927362
Email: [email protected]
First published in Irish Trucker magazine Vol 26 No 1, January/February 2023