AF Lucey Haulage Ltd. cementing their reputation
14/02/2023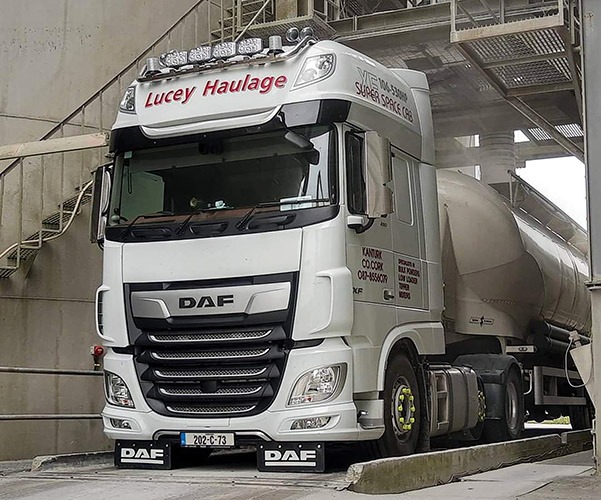 Cork-based AF Lucey Haulage Ltd. have been delivering the goods for two decades and the addition of two magnificent new Volvos to their fresh and varied fleet suggests that there will be no let-up in their relentless quest to continue providing industry-leading bulk haulage solutions. Irish Trucker touched base with founder / proprietor Albert Lucey to get an update.
Specialists in bulk haulage, low loader, tanker, tipper and readymix concrete work, AF Lucey Haulage Ltd. in Kanturk, County Cork bolstered their strong fleet with the acquisition of a pair of stunning new Volvo trucks from McCarthy Commercials Watergrasshill earlier this year.
This is part of an ongoing fleet replenishment programme which keeps this standard-setting operator, which works predominantly for Breedon Group, transporting concrete, blocks, bulk cement, stone, agri lime and blacktop, on top of their game.
"We've taken possession this year of a new five-axle readymix lorry with telescopic conveyor and a new Volvo FH13 540 6x4 double drive tag axle," confirms owner Albert Lucey. "Our fleet is mostly Volvo and DAF, with a couple of older Scanias and one Hino.
"We like to spread it around a bit and each addition will come down to the price and the performance of the lorry. We have two more Volvos on order for next year but I also find that DAF are great lorries too, offering excellent fuel efficiency. It all depends on what we are looking for at any given time and who can give us the best deal."
The lead time for new lorries at the moment is close to nine months, which is far from ideal as a great deal can change between the time of ordering and receiving a new lorry. Operators are placed in a difficult situation, where they almost need to be able to predict the future, although the alternative – i.e., not upgrading the fleet – is unthinkable to Albert, who prides himself on running a fresh and immaculately-maintained fleet:
"A lot can certainly change in nine months," the Cork trucker agrees. "That's the way the thing has turned and you have to act in advance. With the way inflation and interest rates are going, you wonder will the economy hold, so you are taking a chance, but there's no other option.
"You have to keep positive. Over the last couple of years, we've all be through a hell of a lot of changes. Things that we never thought could happen have happened, but we have come through it so far. You really don't have a choice; you have to find a way to get through the challenges that are put in front of you."
Elaborating further on the secret of delivering an outstanding haulage service, Albert continues: "You have to put the time and dedication into providing a service that matches your customers' needs. Once you are getting positive feedback and some recognition and appreciation of the service you're providing, that gives you more drive.
"If a customer comes to me and needs this or that, I will sit down and find a way to make it happen. It's all about coming up with the best solution.
"Every truck here has to run at full capacity all the time and that's why I keep them so modern. We have spare trucks to make sure that a driver is never off due to a breakdown but, with the cost of putting a truck out on the road today, they have to go out full to capacity to ensure a worthwhile return. Our customers don't sell their products for nothing and I can't draw them for nothing – there has to be something in it for both parties."
AF Lucey Haulage Ltd. have a full-time team of drivers at present and Albert says his staff make an immeasurable contribution to the success of the business: "I have a lot the same lads with me all the time. If they like it, they are going to stay, it's the same as anything. We have a very small turnover of staff and some of them have been here for ten years and over.
"I try to look after them every way possible and they understand how difficult transport is. You will be rewarded with good work and loyalty. Also, they will mind the gear and look after it, which is important. A driver has a very big responsibility these days. They could be driving a truck worth €250,000-€300,000 and that means a lot of responsibility.
"With modern technology, you have dash cams, which are a good asset. We also have tracking systems on all the trucks. Even with the standard technology on a truck we really are getting the most out of modern tech in this game. Things have come on an awful lot in the past ten years.
"Fellas are obeying the tachographs, too, and we are 100% compliant and running efficiently and effectively. If it doesn't work out at that, then we will step aside and hand it over to the next fellow."
Regarding day-to-day activities at AF Lucey Haulage, Albert says there's always plenty going on and no two days are the same: "We do a lot of bulk cement for Breedon Group and we also do the majority of their readymix concrete. We have artic tippers, tipper trucks, low loaders, flat trailers. The fleet is flexible … the new 6x4 double drive tag axle was bought to pull a readymix trailer but has that flexibility if concrete goes quiet.
"We also draw agri lime for Breedon and do blacktop with a walking floor trailer. We also have a HIAB lorry with a block crane and can literally move anything they need to move.
"Breedon Group have expanded and taken over more of the market in Cork. They're a great company to work for and I enjoy a very good working relationship with them. I'd still have private customers as well and we'd draw the same materials for them, but 90% of our work is for Breedon."
Looking to the future, like the rest of us. Albert hopes the economy begins to recover sooner rather than later. "With the way costs are rising, you'd be hoping things would level out and that prices will start to come down a bit," he concludes. "It was in the third quarter of last year that diesel prices started to go up. It was €1.04 plus VAT in May and went up to €1.28 by November and that hike took all the good out of it.
"Transport will turn good again, as hauliers will have to charge more as drivers will go scarce and companies will have to work closer with hauliers. Trucks across the country will have to run more efficiently and at the end of the day everything has to travel by road in Ireland."
AF Lucey Haulage Ltd.,
Rathmaher,
Kanturk,
County Cork.
Tel: 0878556079
First published in Irish Trucker magazine Vol 26 No 1, January/February 2023